GLENFAIR LANES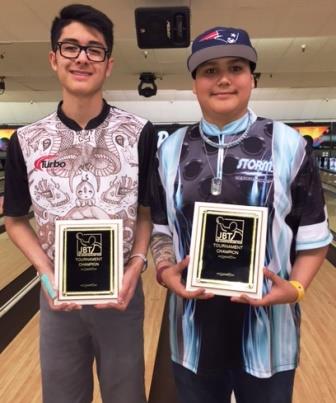 champs Cortez Schenck & Elijah Melchor
Two bowlers on big-time winning streaks kept at it, winning JBT titles in exciting Arizona Conference action at Glenfair Lanes.
Derek Acuff began the scratch division stepladder finals with a 211-148 win over Joey Balistreri. Acuff then got past another ASU bowler, Matt Zweig, 214-181. In a low-scoring semifinal on the tough new 2016 USBC Nationals pattern, a tenth frame washout from Acuff proved to be fatal in a 180-178 decision in favor of Cortez Schenck.
Top seed Eric Hatchett was seeking revenge against Schenck for a number of recent stepladder defeats, but it was not to be, as a tenth frame greek church ended matters, and Cortez' resulting 194-183 win was good for the 69th title of his amazing JBT career.
Elijah Melchor climbed up the handicap division stepladder, staring with a 240-196 win over Ryan Zent. Melchor then squeaked by Phillip Sauve 218-213, and followed with a 206-170 win over Sarah Halligan to reach the title game.
9 year-old Kendall Bollea grabbed the top seed with a big final game, but had her hands full with Melchor, who also climbed the stepladder for his last win, at Christown in December. In a close game, Elijah beat Kendall 200-191, completing the ladder climb, winning his eight straight stepladder match in the process, and earning the third title of his JBT career.
Cierra Chamot grabbed the top seed for the day's Women's Series event, then won her first girls title of the season with a 196-180 win over Savannah Carr.
Thanks as always to Glenfair for a great job hosting us. Want in on the most fun events for bowlers of all ages and averages? Just check out our schedule and come on down!
Glenfair Lanes- final results and scholarship winners
2/27/2016
Scratch Division
rank
bowler
prize
1
Cortez Schenck
$241
2
Eric Hatchett
$100
3
Derek Acuff
$60
4
Matt Zweig
$40
5
Joey Balistreri
$30
6
Russ Oviatt
7
Keith Fung
$30
8
Harley Sweigart
$15
9
Sergio Torres
10
KJ Martinez
11
Cristian Roque
12
Steven Acuff
13
Josh Demick
14
Nick Devlin
15
Cierra Chamot
16
Savannah Carr
17
Jerod Walker
18
Jacob Merki
19
Austin Muldoon
20
Zack Long
$5
21
Danny Varholdt
22
Max Polhill
23
Kyle Simi
24
Paul Colyer
25
Alex Washburn
26
Josh Fearing
27
Stefanny Toala
28
Zach Rapp
29
Jeff Mabry
Handicap Division
1
Elijah Melchor
$225
2
Kendall Bollea
$140
3
Sarah Halligan
$160
4
Phillip Sauve
$75
5
Ryan Zent
$125
6
Silas Phillips
$40
7
Bex Boyko
$43
8
Clifford Robbins
$20
9
Sebastian Polhill
10
Destiny Johnson
$20
11
Trent Sleasman
12
Tim Hill
$15
13
William Robbins
14
Kyle Gilbert
$20
15
Marguerite Evans
16
Amelia Mosley
17
Amanda Atkin
18
Rachel Francone
19
Christian Caron
20
Seth Krich
21
Joshua Molloy
22
Josh Mabry
23
Kyle Lawrence
24
Mark Sauve
$8
25
Ryan Perry
26
Andrew Thomas
27
Tyler Hedges
28
Rachael Berg
29
Megan Carlson
30
Baylee Snow
31
Rashaad Jordan
32
Mathew Adragna
$8
33
Justin Lawrence
34
Joshua Grissom
35
Jesse Becker
36
CJ Todeschi
37
Annie Hurley
38
Abby Franklin
$15
39
Alyssa Caron
40
Allie May
41
Zachary Nesius
42
Michael Chamot
43
Bella Flowers
44
Dante Rohe
45
Chris Hill
46
Jacob Soulierre
Women's Series
1
Chamot -112*
2
Carr -113
3
Boyko -118
4
Atkin -141
5
Francone -144
High Games
Scratch
Handicap
1
Hatchett 266
C Robbins 266
2
Acuff 256
Sellers 270
3
Zweig 248
M Chamot 267
4
Fung 247
Atkin 255
5
Torres 242
M Chamot 253
Round Leaders
Scratch
Handicap
1
Sweigart
Boyko
2
Sweigart
Boyko
3
Zweig
Boyko
4
Hatchett
Halligan
5
Hatchett
Halligan
6
Hatchett
Halligan
7
Hatchett
Halligan
8
Hatchett
Bollea
TOTAL AWARDED THIS EVENT: $1,436