MOJAVE DOUBLES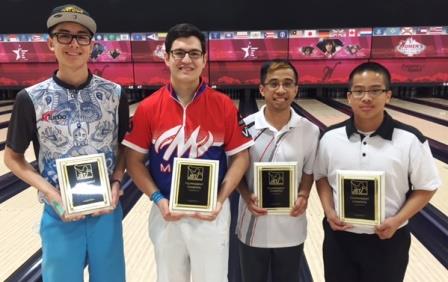 champs Cortez Schenck & Kris Prather and Jeremy & Cerell Cardines
A high-scoring day of action had even more excitement in store in the stepladders, and in the end the Cardines brothers joined Cortez Schenck and Kris Prather as champions of the JBT Mojave Doubles classic, held at the South Point Bowling Plaza.
You'd think it was Sam's Town, not South Point, in round one of the handicap finals, as Samm Cosby and Marguerite Evans won a 205-201 thriller over Samantha Conti and Sam Espiritu. Cosby and Evans then escaped again, this time 193-190 over the sibling duo of Nolan and Kayll Am-Khong. Their luck ran out in the semifinals, as Kirk Chui and Dawson Reese rolled to a 247-169 win, advancing to the title match.
Cerell Cardines and his older brother Jeremy dominated the event right from the start, as Cerell stared the event with 299-300, by far the best two-game start in JBT history. Jeremy more than did his part as well, way over average all day long as well. Their +720 seven-game total with bonuses was awesome, but in a stepladder format you still have to win one more game to win it all. The match stayed close until the end, but the Cardines crew finally pulled away, winning 223-200, for Cerell's 6th and Jeremy's 5th career JBT title.
The scratch division stepladder was one of the craziest ever, as Austin Thompson watched younger brother Trevor double in the tenth to apparantly win their match against Eric Hatchett and Alex Watanabe, but a greek church on the fill left the match tied at 213, and Hatchett took advantage for a 10-8 win in the tiebreaker to advance. In match two, Paul Colyer had a chance to double in his tenth to win the game for him and his partner Josh Demick, but Paul couldn't get the hit, and the boys wearing the Irish-rainbow-unicorn shirts lucked out again, this time winning 207-197. The pace went way up in the next game, as Sergio Torres, and bowling legend Johnny Petraglia's son John Jr. ran the front seven, but that turned out to not be enough, as Hatchett and Watanabe combined for a 261 effort, which held up when Torres could not strike in the tenth frame, finishing with 247.
All that was enough drama for multiple finals, but more was in store as Eric and Alex took on top seeds Cortez Schenck and Kris Prather. After multiple bad-break 9-counts, Kris left a 2-10 in the tenth that he didn't convert, leaving the door wide open. Watanabe got lucky to leave only the 1-2 on his first shot, which he spared, but then a down-the-middle fill ball went awry for a 6-count that amazingly tied the match at 213. Schenck then left a ringing-10 on his rolloff shot, leaving Watanabe with a chance at redemption. Unfortunately Alex couldn't regroup, leaving another 6 count that gave the once and future Wichita State stars a breathless win, and the 71st, and perhaps most unlikely, title of Cortez' JBT career.
Huge thanks to all the adult alumni who came out to bowl with today's JBT stars, as well as to Mike Monyak and the team at South Point for their usual fantastic hosting job. Want in on all teh fun for all ages and averages? Just check out our schedule and come on down!
Mojave Doubles- final results and scholarship winners
3/12/2016
Scratch Division
rank
bowler
prize
bowler
prize
total
1
Cortez Schenck
$330
Kris Prather
$330
2
Eric Hatchett
$150
Alex Watanabe
$150
3
Sergio Torres
$80
John Petraglia Jr
$80
4
Josh Demick
$35
Paul Colyer
$35
$70
5
Austin Thompson
$75
Trevor Thompson
$88
$163
6
Jakob Butturff
Megan Carlson
7
Brandon Wanders
Nick Pollak
8
Joe Gerencser
$45
John Rubio
$45
9
Correen Lieber
Kyle Duster
10
Cristian Roque
Jerod Walker
11
Teagan Smale
$15
Brandon Allred
$15
12
Joe Grondin
Adam Ishman
13
Kyle Reed
$5
Zack Long
$5
14
Brandon Rouse
John Newton
15
Eric Hay
Jamison Peyton
16
Kennison Andrews
Kyle Andrews
17
Ben Stedman
Olivia Stedman
Handicap Division
1
Cerell Cardines
$300
Jeremy Cardines
$300
2
Kirk Chui
$100
Dawson Reese
$100
$200
3
Samm Cosby
Marguerite Evans
$140
$140
4
Nolan Am-Khong
$50
Kaylee Am-Khong
$50
$100
5
Samantha Conti
$45
Sam Espiritu
$103
$148
6
Eri Leong
$40
Crystalene Pineda
$40
$80
7
Christine Cibura
Alex Cibura
8
Dante Rohe
$99
Phillip Sauve
$99
9
Alberto Bernal
Rene Bernal
10
Jeff Mabry
Joshua Mabry
11
Dominic Olivares
Kyle Wilson
12
Justin Burkhardt
Jasen Aguon
13
Evrin Peacha
Lorie Schmidt
14
Devyn Patalina
Kyle Gilbert
15
Seth Krich
Dave Inoshita
16
Avery Domaguin
$13
Brandon McCoy
$13
17
Daryus Alo
Casey Nagamine
18
Mathew Adragna
$25
Morgan Peacha
$25
19
Jordan Katz
Raymond Johnson
20
Nicole Baranowski
Jacob Childress
21
Lexi Cassman
John Bertolina
22
Elijah Lomotan
Ezikiel Lomotan
23
Brendan Lindsey
Kyle Rendon
$15
$15
24
Jopfel Gafate
Katie Cox
25
Dylan Dormuth
Justin Dormuth
26
Mason Snow
Tyler Hedges
27
Justyce McCoy
Noah Clark
28
April McDonnell
Wendy MacPherson
29
Destiny Johnson
Rachael Berg
$10
$10
30
Jayson McCoy
Brandon Duffy
31
Mark Sauve
$15
Silas Phillips
$15
32
Tyler Fujimoto
Kyle Fujimoto
33
Brandt Leavitt
Meagan Huggins
34
TJ Rock
Rachel Csanyi
$5
$5
35
Emily Dormuth
Jim Dormuth
High Games
Scratch
Handicap
1
Pollak 279
Cardines 297
2
T Thompson 279
Cardines 296
3
Torres 279
Burkhardt 273
4
Schenck 279
A Cibura 271
5
Colyer 278
Espiritu 270
Round Leaders
Scratch
Handicap
1
Demick - Colyer
Cardines - Cardines
2
Lieber - Duster
Cardines - Cardines
3
Thompson - Thompson
Cardines - Cardines
4
Thompson - Thompson
Cardines - Cardines
5
Demick - Colyer
Cardines - Cardines
6
Torres - Petraglia
Cardines - Cardines
7
Schenck - Prather
Cardines - Cardines
TOTAL AWARDED THIS EVENT: $1,964