NOB HILL BOWL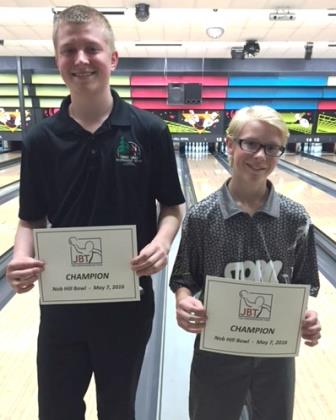 champs Daniel Hanson & Jordan Jonker
Daniel Hanson made a successful return to the northwest, while Jordan Jonker tasted victory for the first time, in exciting JBT action at Yakima's Nob Hill Bowl.
Ten frames wasn't enough to decide the opening match of the scratch division finals, as Jake Mullen and Andy Herrmann tied the game at 213. Jake escaped in the rolloff 9-7 to advance. Mullen dodged a second bullet in round two, wining 214-204 over Jacob Herriges. Jake caught fire after that, rolling past Jeff Jonker 248-182 to climb all the way up to the title match.
Top seed Daniel Hanson, fresh off the national collegiate singles championship as an RMU freshman, showed the same skills that brought him that accolade here by grabbing the lead. An anticipated high scoring match turned into an absolute grind as both players struggled with a late transition. In the end Hanson had just enough to grind out a 176-156 win, good for the 7th title of his JBT career.
Payton Edwards began a climb up the handicap division stepladder finals with a 259-241 slugfest win over Andrew Martin. Edwards then snuck past Holden Childs 209-187. Tyler Bishop then stepped in and blasted a huge 278 scratch game, good for a 312-185 win over Edwards to move up to the title game.
Top seed Jordan Jonker was enjoying his best JBT event ever, but found himself in a dogfight against fellow non-winner Bishop. A late surge by Jonker gave him the space he needed for a 246-218 win over Bishop, earning him the first title of his JBT career.
Kelsey Abrahamsen and AJ Schock squared off in the day's girls title match, with top seed Abrahamsen coming away with a 223-165 win and the day's ladies' crown.
Thanks as always to the incredible Jim Kent and his team at Nob Hill for a great job hosting us. Want in on all this fun and excitement for all ages and averages? Just come on down to the next JBT event, that's all you have to do!
Nob Hill Bowl- final results and scholarship winners
5/9/2016
Scratch Division
rank
bowler
prize
1
Daniel Hanson
$223
2
Jake Mullen
$100
3
Jeff Jonker
$101
4
Jacob Herriges
$50
5
Andy Herrmann
$81
6
Chris Tuholski
7
Ryan Nikolas
$23
8
Tyler Boe
$33
9
Kyle Adams
10
Tyler Hogstrom
11
Ryan Harris
12
Kolby Crowell
$28
13
Kelsey Abrahamsen
14
AJ Schock
$5
15
Jerry Jennings
$33
16
Simon Dyck
17
Collin Young
18
Johnny Leggett
19
Tommie McNeal
20
Ryan DeFazio
$13
21
Mari Pizzini
22
Tommy Croskrey
23
Hayden Childs
Handicap Division
1
Jordan Jonker
$225
2
Tyler Bishop
$125
3
Payton Edwards
$137
4
Holden Childs
$75
5
Andrw Martin
$50
6
Brandon Nodland
$40
7
Jordan Muir
$43
8
Kyle Hays
$33
9
Austin Vik-Rae
$20
10
Colt Jance
$13
11
Madison Bash
12
Hannah Russell
13
Daniel Johnson
$75
14
Olivia Kolppa
$13
15
Celeste Johnson
16
Hannah Abney
17
Maddi Durr
$30
18
Andria Valdez-Hicks
19
Rayna Tilley
20
Mackenzie Brumbaugh
21
Ethan Maxwell
22
Evan Smith
$60
23
Sara Harris
24
Tyler Denune
25
Brendan Hopkins
$15
26
Bailey Peters
27
Michael Strothman
28
Bradley Baltazar
29
Simon Myers
30
Michael Creel
31
Karlee Nuss
32
Chevy Nowlin
33
Ray Ann Davis
34
Hannah Saunders
35
Zane Hays
36
Tyler Ficek
37
Reagan Lorey
38
Molly Warshaw
$5
39
Derek Haight
40
Candice Goldfinch
41
Cameron Pierre
42
Shannon Bliquez
43
Morgan Gosney
High Games
Scratch
Handicap
1
Mullen 269
Bishop 312
2
Herriges 268
Childs 289
3
Jonker 267
Martin 287
4
Schock 258
Childs 267
5
Mullen 258
K Hays 259
Edwards 259
High Female
1
Abrahamsen -15*
2
Schock -29
3
Brumbaugh -32
4
Abney -100
5
Goldfinch -102
5
S Harris -155
Round Leaders
Scratch
Handicap
1
Schock
Brumbaugh
2
Adams
Abney
3
Adams
Bishop
4
Jonker
Bishop
5
Herriges
Bishop
6
Jonker
Bishop
7
Hanson
Bishop
8
Hanson
Jonker
TOTAL AWARDED THIS EVENT: $1,649
z