PACIFIC NORTHWEST INVITATIONAL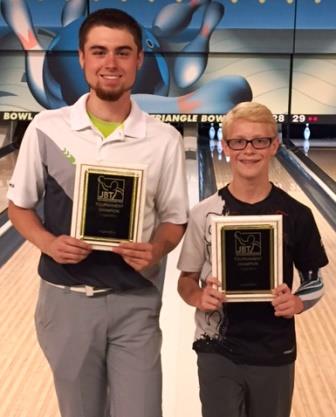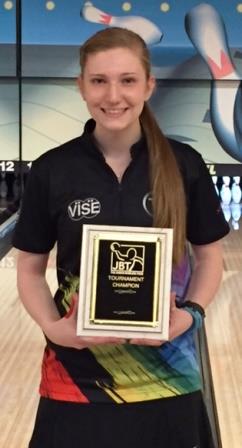 champs Ryan Nikolas, Jordan Jonker, and Kelsey Abrahamse
Ryan Nikolas, Jordan Jonker, and Kelsey Abrahamsen each scored huge victories, claiming JBT titles at the Pacific Northwest Invitational, hosted by Triangle Bowl in Longview.

Nikolas qualified seventh for the triple elimination matchplay finals, but was the last remaining undefeated player, finally losing his first match in round six. By round eight only four bowlers remained. In that round, top seed Tommie McNeal eliminated Jefff Jonker, while #9 Tyler Boe handed Nikolas his second loss, leaving three bowlers remaining and giving Ryan a bye. McNeal eliminated Boe in third in the ensuing match, leaving him to play Nikolas in a one game title match. Tommie put up a good fight, but Ryan would not be denied this exclamation point on his Bowler of the Year season, winning the game 234-188 for the 10th title of his JBT career and $1,000 payday.

14-seed Payton Edwards stayed undefeated through six rounds of the handicap finals to take the advantage going into the final stages. Only three bowlers were left standing by round eight, and that gave #4 Jordan Jonker a bye, while #15 Holden Childs stayed alive by giving Edwards his second loss. Still, it was Payton's turn for a bye, and when Jonker beat Childs, it left Jordan and Payton to play one game for the title.

The title match was all Jonker, and he claimed the $1,000 top prize with the title match win. In addition to the $500 runner-up prize, Edwards gained enough points to lock up the handicap division Bowler of the Year crown.

The Girls Invitational provided the most drama for season-ending honors, as three bowlers were in contention for girls Bowler of the Year. Michayla Garden averaged nearly 200 in qualifying to gain the top seed, and Kelsey Abrahamsen's edging out Candice Goldfinch for the #2 seed meant that she needed to win the Invitational to swipe away Bowler of the Year from AJ Schock. That's a lot of pressure, but Kelsey was up to the task, winning the game 222-197 for the Invite title and BOY crown.

Huge thanks to Beau Little and his team at Triangle for a great job hosting our Tour as always. Over $5,600 in scholarships were awarded to all ages and averages. Want in on all this fun? Check out our schedule and come on down for every event of the 2016-17 season!
Pac NW Invitational- final results and scholarship winners
6/12/2016
Scratch Division
rank
bowler
prize
1
Ryan Nikolas
$1,000
2
Tommie McNeal
$500
3
Tyler Boe
$258
4
Jeff Jonker
$150
5
Cortez Schenck
$269
6
Jake Mullen
$58
7
Jacob Herriges
8
Chris Tuholski
$50
9
Brennan Haugh
$120
10
AJ Brockett
11
Kelsey Abrahamsen
$200
12
Ryan DeFazio
13
Andy Herrmann
$60
14
Parker Portalski
15
Josh Mullen
16
Johnny Leggett
$50
17
Jerry Jennings
18
Nick Devlin
19
Kolby Crowell
20
Daniel Hanson
21
Aidghan Ziegler
22
Collin Young
23
Hayden Childs
24
Tyler Hogstrom
25
Luke Jordan
26
Jonathan Bautista
27
Elise Yates
28
AJ Schock
$10
29
Gabe Bogner
Handicap Division
1
Jordan Jonker
$1,013
2
Payton Edwards
$500
3
Holden Childs
$305
4
Amanda Burton
$200
5
Kyle Hays
$173
6
Reagan Lorey
$125
7
Brendan Hopkins
$136
8
Zane Hays
$100
9
Natasha Richardson
$100
10
Bradley Baltazar
$14
11
Brandon Nodland
12
Michayla Garden
$30
13
Madison Bash
$50
14
Jordan Muir
$13
15
Evan Smith
$75
16
Bailey Peters
$50
17
Molly Warshaw
18
Lohrghan Ziegler
19
Maddi Durr
20
Paul Rosales
21
Brittany Bland
$45
22
Perrin Easley-Clark
23
Daniel Johnson
24
Dyana Perkins
25
Zoe Mahn
26
Hannah Russell
27
Michelle Jensen
$13
28
Isaac Richardson
29
Candice Goldfinch
30
Celeste Johnson
31
Sara Harris
32
Shannon Bliquez
33
Ryno Roberts
34
Tyler Bishop
35
Hannah Abney
36
Hannah Saunders
37
Kerissa Anderson
38
Alana Brown
39
Collins Davis
40
Austin Portalski
41
Blake Portalski
42
Olivia Kolppa
43
Tyler Denune
44
Tyler Coates
45
Michael Creel
46
Christian Roberts
47
Matthew Salinas
48
Derek Haight
49
Austin Vik-Rae
High Games
Scratch
Handicap
1
Boe 287
Jonker 282
2
Jonker 267
Easley-Clark 279
3
DeFazio 267
Mahn 268
4
McNeal 266
Smith 267
5
Boe 262
Burton 262
Girls Invitational
1
Garden -5
2
Abrahamsen -50*
3
Goldfinch -64
4
Jensen -112
5
Peters -138
6
Yates -153
7
Russell -165
8
Anderson -185
9
Shock -190
10
Bliquez -204
11
Lorey -212
Round Leaders
Scratch
Handicap
1
McNeal
Durr
2
Brockett
Smith
3
McNeal
Smith
4
Haugh
Hopkins
5
McNeal
Smith
TOTAL AWARDED THIS EVENT: $5,619