BRC PREMIER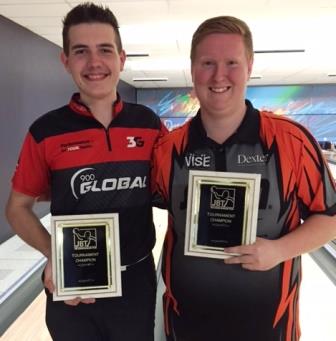 champs Russ Oviatt & Ryan Galland
In what may be the tallest combined height of JBT champs, Russ Oviatt and Ryan Galland captured titles in exciting Southern California Conference action at BRC Premier Lanes in Chula Vista.
73-time champ Cortez Schenck opened the scratch division stepladder finals with a 243-204 win over Eric Hatchett. Ryan Lee then stopped Schenck 238-210, and followed with a 223-151 win over Harley Sweigart to advance to his first career title match.
Top seed Russ Oviatt had been stringing the strikes all weekend, with two more front-8 runs today to gain the #1 spot. He and Lee engaged in a classic title match, bowling well above the day's scoring pace on the challenging Shark lane pattern. Needing a double to win in the tenth, Lee crushed the first hit, but hit the out of bounds on the second shot, and the result was a 254-247 win for Oviatt, notching the 11th title of his excellent JBT career.
First time finalist Ranelle Ulanday opened the handicap division stepladder finals with a 195-169 win over Katelyn Abigania. Ulanday then rolled past Zach Greim 216-196, before Galland halted her fine run with a 229-194 victory to advance to the title match.
Top seed Eric Phillips bowled brilliantly in the semifinals to grab the lead, but in the battle of non-champions, Galland finished strong, defeating Phillips 242-186 for a long awaited first career JBT title.
Another first time winner on the day was Michaela Buhain, who snuck out a 183-177 win over Megan Carpenter for the day's girls' title.
Thanks as always to the crew at Premier for a great hosting job. Want in on all this fun for all ages and averages? Just check out our schedule and come on down, that's all there is to it!
BRC Premier- final results and scholarship winners
4/3/2016
Scratch Division
rank
bowler
prize
1
Russ Oviatt
$200
2
Ryan Lee
$128
3
Harley Sweigart
$50
4
Cortez Schenck
$130
5
Eric Hatchett
$30
6
Wesley Low
7
Joe Grondin
8
Anthony Schanen
9
Solomon Salama
10
Matt Zweig
$15
11
Cristian Roque
12
Sergio Torres
$15
13
Michaela Buhain
14
Brandon Wanders
15
Matt Alford
16
Jerod Walker
17
Kyle Reed
18
Taylor Berry
$10
19
Ricardo Mendoza
20
Kennison Andrews
21
Kyle Andrews
22
Matt Carpenter
23
Trevor Thompson
Handicap Division
1
Ryan Galland
$200
2
Eric Phillips
$100
3
Ranelle Ulanday
$90
4
Zach Greim
$110
5
Katelyn Abigania
$80
6
Tim Hill
$60
7
Elijah Melchor
$30
8
James McGough
$35
9
Avery Domaguin
$13
10
Samantha Potter
$15
11
Kendall Bollea
$15
12
Carlos Perez
$53
13
Sterling Lopez
14
Dustin Yauney
15
Elias Luna
16
Rieley Ulanday
17
Lawrence Buhain
18
Jacob Murray
$28
19
Joshua Abigania
20
Caleb Rothstein
21
Megan Carpenter
22
Louis Luna
23
Ryan Leangenhorst
24
Secilia Kalvelage
25
Brandon Lim
$23
26
Dawson Reese
$15
27
David Ramirez
28
Kyle Gilbert
29
Nolan Am-Khong
30
Dante Villa
31
Alberto Bernal
32
Dominic Stratton
33
Joey Queller
34
Marguerite Evans
35
Marc Villalobos
36
Zian Sasaki
37
Maikayla Villa
38
Maheleah Potter
39
Jeff Rodda
40
Leah Zweig
41
Lindsay Greim
42
Andrew Yzaguirre
43
Kaylee Am-Khong
44
Ashley Wilcox
45
Ryland Pimentel
46
Matt Chesnut
47
Renee Gentry
48
Brandon Loss
High Games
Scratch
Handicap
1
Oviatt 287
Galland 265
2
Oviatt 279
Domaguin 258
3
Schanen 277
Galland 256
4
Hatchett 267
Galland 250
5
Sweigart 266
Ranelle Ulanday 247
High Female
1
Buhain -81*
2
Carpenter -165
3
Potter -181
4
AM-Khong -186
5
Domaguin -202
Round Leaders
Scratch
Handicap
1
Oviatt
Domaguin
2
Oviatt
Domaguin
3
Oviatt
Domaguin
4
Oviatt
Domaguin
5
Sweihgart
Domaguin
6
Oviatt
Phillips
7
Oviatt
Phillips
8
Oviatt
Phillips
Total Awarded This Event: $1,485