RED ROCK LANES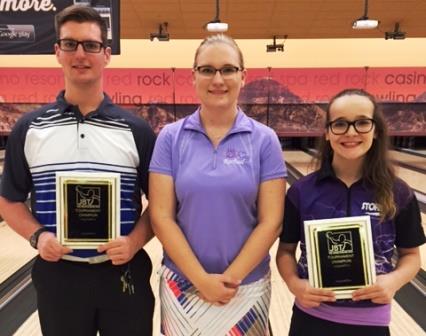 champs Harley Sweigart, Rachael Berg, and Samantha Conti
Harley Sweigart and Samantha Conti survived tough roads to JBT titles in exciting Mojave Conference action at Red Rock Lanes in Las Vegas.
Sweigart qualified second to last for the 'super-survivor' portion of the tournament, where the low game and low series are eliminated each game, meaning he was always in double-danger of being eliminated. He scraped by the early rounds though, and then stepped on the gas, firing 257 with four bowlers remaining, to pass Nick Devlin on pinfall, while Nick Pollak's 202 was the low game, eliminating the Nicks third and fourth.
That left Harley to play Cortez Schenck, who although never leading a round, was always right behind the leaders. He also had to survive a do-or-die moment early in super-survivor, as he avoided low game with a clutch tenth frame double. From there he cruised, but seeking a sweep of the weekend, he was unable to keep up with Sweigart, who poured on second-half strikes for a 247-182 title match win, and the 8th title of his JBT career.
Fifteen handicap survivors were carved down to six, and in that round Nicole Baranowki bowed out with low game, while Douglas Csanyi and Jopfel Gafate were eliminated as the lowest two total series (though 'low' gets pretty high by that round). That left both Reyes entries, RJ and LeeAnn, as well as Samantha Conti, remaining. Conti blasted a 240 semifinal game to advance to the finals, while LeeAnn's 214 fell to brother RJ's 229, advancing RJ to the final as well.
Reyes struggled in the title match, and Conti took advantage for a 219-163 win and the second title of her JBT career.
LeeAnn's day wasn't over, as she then took on Rachael Berg for the day's Women's Series title. In that game, Rachael came away with the 185-171 win for her second girls' title of the season.
Thanks as always to the team at Red Rock, and all our sponsors and suppliers, for all they do for our Tour. Want in on all the fun? Just check out our schedule and come on down, that's all there is to it!
Red Rock- final results and scholarship winners
10/11/2015
Scratch Division
rank
bowler
prize
1
Harley Sweigart
$200
2
Cortez Schenck
$130
3
Nick Pollak
$50
4
Nick Devlin
$59
5
Teagan Smale
$35
6
Dallas Leong
$14
7
KJ Martinez
8
Joe Gerencser
9
Talon Hendrickson
10
Jamison Peyton
11
Russ Oviatt
12
Austin Muldoon
13
Sergio Torres
14
Eric Hatchett
15
Austin Schleidt
$5
16
Andrew Guba
17
Cerell Cardines
$5
18
TJ Rock
19
Paul Colyer
20
Michael Rose
21
Zack Long
$14
22
Kirk Chui
23
Garrett Thompson
Handicap Division
1
Samantha Conti
$315
2
RJ Reyes
$125
3
LeeAnn Reyes
$75
4
Jopfel Gafate
$50
5
Douglas Csanyi
$30
6
Nicole Baranowski
$20
7
Justin Burkhardt
8
Kyle Wilson
9
Mason Snow
$15
10
Dante Rohe
$20
11
Jacob Childress
12
James Wilson
13
Kyle Rendon
14
Brendan Lindsey
15
Ashley Wilcox
16
Sam Espiritu
$30
17
Cameron Criss
$14
18
Crystalene Pineda
19
Tyler Hedges
20
Marguerite Evans
$15
21
April McDonnell
22
Dawson Reese
23
Jarred Starr-Moncayo
24
Dee Handley
25
Devyn Patalina
26
Justin Freeman
27
Lexi Cassman
28
Brandon Duffy
29
Rachael Berg
30
Nikolai Baron
31
Kyle Gilbert
32
Silas Phillips
33
Ryan Perry
34
Katie Cox
35
Rachel Csanyi
High Games
Scratch
Handicap
1
Devlin 279
Reyes RJ 284
2
Smale 277
Snow 270
3
Hendrickson 274
L Reyes 263
4
Sweigart 269
Wilson 262
5
Pollak 269
Childress 259
High Female
1
L Reyes -79
2
Berg -139*
3
Pineda -146
4
Wilcox -157
5
Conti -169
Round Leaders
Scratch
Handicap
1
Hendrickson
Wilson
2
Hendrickson
RJ Reyes
3
Hendrickson
Rendon
4
Hendrickson
RJ Reyes
5
Pollak
RJ Reyes
Total Awarded This Event: $1,217