REVOLUTIONS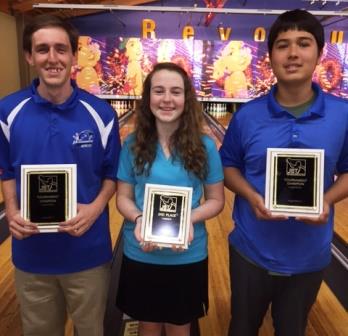 champs Joe Grondin, Katie Kipler, & James McGough
A long day of action at Revolutions saw three bowlers grind out victories in exciting dual So Cal and Mojave Conference action in Barstow.
Eric Hatchett has had a drought in stepladder finals matches, but finally got off the schneid with a 208-184 win over Cerell Cardines to begin the scratch division's finals. Kevin Banaag, having his best ever JBT event, then stepped in and stopped Hatchett 203-186. Grondin then turned the tables on Banaag with a 212-188 win to advance to the title match.
Top seed Harley Sweigart continued a red-hot April by being the dominant bowler here, but found himself in a low scoring dogfight with Grondin as they both battled the deteriorating conditions. In the end, Grondin had just enough for a 194-192 win, earning the 8th title of his JBT career.
Megan Carpenter began the handicap division's 8-bowler stepladder finals with a 219 game that eliminated Eric Phillips (187) and Rieley Ulanday (175). Phillip Sauve then came in and blasted 242, but his hard luck in finals continued as that wasn't enough, as Carpenter beat that with a big 255 to advance, while Dawson Reese bowed out in fifth place with 174. James McGough then won the semifinal match against Carpenter and Jeff Rodda to move on to the title game.
Top seed Katie Kipler absolutely dominated the large field in her home house, perhaps more used to the conditions unique to the wood surface at Revolutions. However, she slowed down in the title match while the veteran McGough hung in there nicely. In the end, needing 9 pins to win on the last ball, James threw a beautiful strike for a 214-212 win, grabbing away the title, the third of his JBT career.
Sergio Torres had the high game of the day, a fantastic 300 effort, worth an extra $100 bonus from MSC, a big supporter of So Cal JBT events and JBT Tour-wide.
Kipler's big day continued with a 217-149 win over Michaela Buhain to earn the day's Girls title.
Thanks to Paula and the crew at Revolutions for hosting us. Want in on all this fun and action for all ages and averages? Just check out schedule and come on down!
Revolutions- final results and scholarship winners
4/30/2016
Scratch Division
rank
bowler
prize
1
Joe Grondin
$200
2
Harley Sweigart
$141
3
Kevin Banaag
$60
4
Eric Hatchett
$40
5
Cerell Cardines
$30
6
Nick Pollak
7
Paul Colyer
8
Cortez Schenck
$26
9
Kyle Reed
10
Zack Long
11
Donovan Koff
12
Joe Gerencser
$68
13
Anthony Schanen
14
Derek Acuff
15
Richard Paul
16
Solomon Salama
17
Michaela Buhain
18
Sergio Torres
19
Austin Gilbert
20
Kylie Shishima
21
Matthew Green
22
Jerod Walker
23
Matt Alford
24
Taylor Berry
25
Matt Carpenter
26
Daven Hornback
27
Cristian Roque
Handicap Division
1
James McGough
$265
2
Katie Kipler
$223
3
Jeff Rodda
$125
4
Megan Carpenter
$153
5
Dawson Reese
$95
6
Phillip Sauve
$60
7
Rieley Ulanday
$65
8
Eric Phillips
$45
9
Andre Yzaguirre
$30
10
Ryan Galland
$20
11
Ashley Wilcox
$13
12
Katelyn Abigania
$73
13
Samantha Conti
14
Kyle Rendon
15
Andrew Chan
16
Marco Lerma
17
Kyle Gilbert
$13
18
Lexi Cassman
19
Tim Hill
$45
20
Garrett Sulzer
21
Kaylee Am-Khong
22
Timothy Kessler
23
Marc Villalobos
$15
24
Sam Espiritu
25
Louis Luna
$15
26
Clare Saavedra
27
Lindsay Greim
28
Ryan Howieson
29
Zach Greim
$15
30
Joshua Abigania
31
Avery Domaguin
32
Jacob McGough
33
Cameron Criss
34
Daryus Alo
35
Alberto Bernal
36
Mark Sauve
37
Devyn Patalina
38
Secilia Kalvelage
39
Dominic Olivares
40
Dante Rohe
41
Ryan Langenhorst
$5
42
Nolan Am-Khong
43
Zack Velosa
44
Tyler Hedges
45
Lawrence Buhain
46
Ranelle Ulanday
47
Caleb Rothstein
48
April McDonnell
49
Brendan Lindsey
50
Kyle Wilson
51
Dustin Yauney
52
Silas Phillips
53
Elias Luna
54
Jacee Correa
55
Jopfel Gafate
56
Joey Queller
57
Aiden Hornback
58
Austin Sugarman
Scratch
Handicap
1
Torres 300
Rodda 280
2
Grondin 269
Kipler 277
3
Banaag 264
Kipler 271
4
Sweigart 262
Kipler 270
5
Banaag 246
Kipler 265
High Female
1
Kipler +44
2
Buhain -49
3
Am-Khong -57
4
Carpenter -66
5
Wilcox -123
Scratch
Handicap
1
Reed
Yzaguirre
2
Banaag
Kipler
3
Sweigart-Banaag
Kipler
4
Sweigart
Kipler
5
Sweigart
Kipler
6
Sweigart
Kipler
7
Sweigart
Kipler
8
Sweigart
Kipler
Total Awarded This Event: $1,841