RIVERSIDE LANES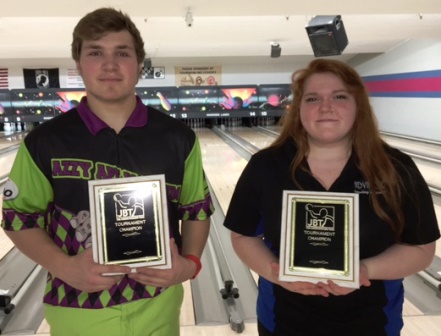 champs Bean Haugh & Alana Brown
Brennan Haugh and Alana Brown captured JBT titles in exciting Pac NW Conference action at Mount Vernon's Riverside Lanes.
Jeff Jonker opened up the scratch division stepladder finals with a 176-159 grindout win over Jake Mullen. Jonker then squeaked past Johnny Leggett 203-189. Haugh, a Main Event regular bowler visiting from Minnesota, then stopped Jonker to reach the title match.
Top seed Brian Monnette is in the middle of a fantastic season, but didn't have an answer for Haugh this time, as the man nicknamed 'Bean' won the title match for his first JBT victory.
For one of the only times in JBT history (maybe even the only time), the handicap division stepladder featured an all-female cast, beginning with Hannah Saunders' 238-182 win over Sara Harris. Brown then took over, beating Saunders 233-209, and following with a 238-213 win over Madison Bash to reach the title match.
Newcomer Hannah Lennox had been brilliant in gaining the top seed, but Alana remained on a roll, defeating Lennox to earn her first career JBT title.
Saunders' excellent day continued in the day's girls event, but top seed Candice Goldfinch, the only female to average over 200 on the day, put on a great performance to defeat her and earn the day's Women's Series title.
Thanks to JBT alumni Mike O'Brien and the team at Riverside for another great job hosting our events. Want in on all the fun? Just check out our schedule and come on down, that's all you have to do!
Riverside Lanes- final results and scholarship winners
2/13/2016
Scratch Division
rank
bowler
prize
1
Brennan Haugh
$290
2
Brian Monnette
$135
3
Jeff Jonker
$75
4
Johnny Leggett
$60
5
Jake Mullen
$30
6
Josh Alvarez
7
Josh Mullen
8
Jerry Jennings
9
Luke Jordan
10
AJ Schock
11
Briley Haugh
$90
12
AJ Brockett
13
Andy Herrmann
14
John Batts V
15
Ryan Nikolas
16
Ryan DeFazio
17
Kyle Adams
18
Kelsey Abrahamsen
$15
19
Simon Dyck
20
Tyler Demonest
21
Kolby Crowell
$5
22
Hayden Childs
23
Justin Song
24
Armando Moser-Hernandez
25
Tyler Hogstrom
26
Collin Young
27
Jessica Demorest
Handicap Division
1
Alana Brown
$200
2
Hannah Lennox
$125
3
Madison Bash
$100
4
Hannah Saunders
$105
5
Sara Harris
$50
6
Derek Haight
$85
7
Candice Goldfinch
$30
8
Andria Valdez-Hicks
9
Brendan Hopkins
10
Bailey Peters
$30
11
Tyler DeNune
12
William Day
13
Molly Warshaw
14
Olivia Kolppa
15
Michael Baunsgard
16
Evan Smith
$30
17
Michael Strothman
18
Maddie Durr
$30
19
Jamie Mason
20
Holden Childs
21
Alejandro Moser-Hernandez
22
Brenden Lennox
23
Daniel Dickinson
24
Jacob Lennox
25
Daniel Johnson
26
Michael Creel
27
Liam Hardman
28
Zane Hays
29
Payton Edwards
30
Hannah Russell
31
Chandler Record
32
Kyle Hays
33
Celeste Johnson
34
Hannah Abney
35
Mathew Lennox
36
Tyler Bishop
37
Reagan Lorey
High Games
Scratch
Handicap
1
Leggett 279
T DeNune 280
2
Jake Mullen 277
Goldfinch 276
3
Monnette 258
Saunders 270
4
Leggett 257
Hopkins 269
5
Jeff Jonker 256
Haight 269
High Female
1
Goldfinch +55*
2
Saunders -42
3
Harris -44
3
Schock -44
5
Peters -83
Round Leaders
Scratch
Handicap
1
Schock
Valdez-Hicks
2
Brennan Haugh
Goldfinch
3
Brennan Haugh
H Lennox
4
Brennan Haugh
H Lennox
5
Brennan Haugh
H Lennox
6
Monnette
H Lennox
7
Monnette
H Lennox
8
Monnette
H Lennox
TOTAL AWARDED THIS EVENT: $1,485