SAM'S TOWN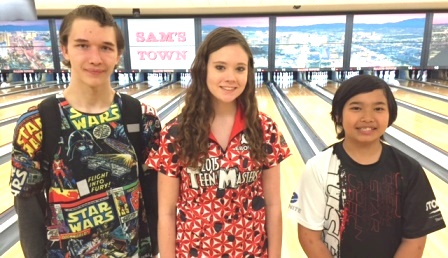 champs Nick Pollak, Morgan Peacha, & Nolan Am-Khong
Nick Pollak earned a nervewracking third title, while two others claimed their first, in exciting JBT Mojave Conference action at Sam's Town Bowling Center in Las Vegas.
In the scratch division, bowlers competed in two game matches after qualifying, where matches tied 1-1 went into a one-shot rolloff. Pollak's matches started smoothly with wins over Joe Gerencser and top seed Russ Oviatt, but the semifinal against Nick Devlin was a battle, which Pollak finally won 10-9 in the second rolloff. On the other side of the bracket, #2 seed Cortez Schenck earned a first round bye, then swept #7 Paul Colyer and #3 Harley Sweigart to move on to the title match.
Nick won a high scoring first game 247-226, but Schenck rebounded for the game two win to force the one-ball rolloff for the title. Cortez went first and got 9, and Pollak followed with a strike for the win, the third title of his JBT career- evidently, the force was with him.
Rachel Csanyi began a run up the handicap division stepladder finals with a 209-199 win over Kyle Gilbert. Rachel then defeated newcomer Morgan Peacha 237-193, and followed with a 256-183 win over Kaylee Am-Khong to advance to the title match.
The top seed was Kaylee's brother Nolan Am-Khong, who like his sister had a breakout day to gain the #1 spot. Csanyi slowed down a bit in the title game, and Nolan took advantage for a 223-182 win, and the first title of his JBT career.
Morgan and Kaylee were also the two finalists in the day's girls' event, and in their title match Khong came through with a 174-164 win for her first Women's Series title.
Thanks as always to the team at Sam's Town for a great job hosting our event. Want in on all the fun for all ages and averages? Just check out our schedule and come on down!
Sam's Town- final results and scholarship winners
11/8/2015
Scratch Division
rank
bowler
prize
1
Nick Pollak
$228
2
Cortez Schenck
$100
3
Harley Sweigart
$110
4
Nick Devlin
$143
5
Russ Oviatt
$30
6
Cerell Cardines
7
Paul Colyer
8
Eric Hatchett
9
Teagan Smale
$58
10
Joe Gerencser
11
Jake Hilton
12
Jamison Peyton
13
Zack Long
14
Kyle Reed
$44
15
Dallas Keong
$14
16
Cristian Roque
17
Matt Green
18
Matt Zweig
19
Kirk Chui
20
Sergio Torres
21
KJ Martinez
22
Jerod Walker
23
Andrew Guba
24
Michael Rose
25
Tyler Boe
$5
26
Garrett Thompson
27
David Galvan
Handicap Division
1
Nolan Am-Khong
$200
2
Rachel Csanyi
$130
3
Kaylee Am-Khong
$75
4
Morgan Peacha
$50
5
Kyle Gilbert
$55
6
Josh Weber
$30
7
Tyler Hedges
$72
8
Mathew Adragna
9
Dante Rohe
10
Elijah Melchor
11
Kyle Wilson
12
Daryus Alo
13
Crystalene Pineda
14
Chris Tucker
15
Jopfel Gafate
$5
16
Lexi Cassman
17
Dee Handley
18
Mason Snow
19
Katie Kipler
20
Dominic Olivares
21
Sam Espiritu
22
Devyn Patalina
23
Brendan Lindsey
24
Justin Freeman
25
April McDonnell
26
Amanda Atkin
27
Kyle Rendon
28
Silas Philips
29
Samantha Conti
30
Katie Cox
31
Shota Fujimoto
32
Phillip Sauve
33
Matt Baker
High Games
Scratch
Handicap
1
Schenck 266
K Khong 293
2
Hatchett 264
Adragna 284
3
Colyer 259
N Khong 282
4
Hilton 258
Peacha 277
5
Oviatt 257
Tucker 275
Cardines 257
High Female
1
K Khong -22
2
Peacha -24*
3
Csanyi -67
4
Pineda -110
5
Atkin -162
Round Leaders
Scratch
Handicap
1
Schenck
K Khong
2
Schenck
K Khong
3
Schenck
Adragna
4
Schenck
Peacha
5
Oviatt
Peacha
6
K Khong
7
N Khong
8
N Khong
Total Awarded This Event: $1,349