SILVA LANES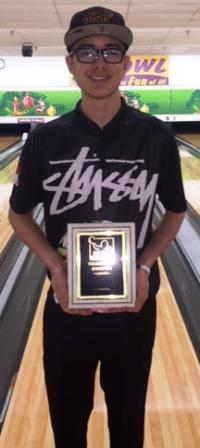 champs Cortez Schenck & Tatyon Payne
Cortez Schenck inched closer to history, while Tatyon Payne earned JBT victory for the first time, in exciting NM-TX Conference action at Silva Lanes in Albuquerque.
Schenck was the dominant bowler in the scratch division all evening long, building a big lead in the 'rising tide' format, which is a good format to have a large margin in. All he needed in the final game was to not lose to Zach Wojciechowski by more than 38 pins. Although Zach came up with a big 234, there was no-mo' mojo for Wojo, as Cortez' 224 was plenty to lock up the total pinfall race and the title the 62nd of his amazing JBT career.
In the handicap division, Tatyon Payne also clawed his was to a big lead. The 'tide' rose fast in round five, with five of the seven bowlers eliminated that game. When the tide rolled out, only Payne and Jake Helmick were left treading water. Helmick needed a miraculous 120 pin win to catch Tatyon in the final game, and Payne left no chance of that happening. His +533 total with bonuses was enough to claim the first title of his JBT career.
Thanks as always to the team at Silva for a great job hosting us, and especially for letting us bowl on a busy Saturday night. Want in on all the fun for all ages and averages? Just check out our schedule and come on down!
Silva Lanes- final results and scholarship winners
12/13/2015
Scratch Division
rank
bowler
prize
1
Cortez Schenck
$282
2
Zach Wojciechowski
$150
3
Brad Harvey
$55
4
Zach Harvey
$30
5
Heather Penatzer
$20
6
Ben Stedman
7
Carson Opela
8
Isziah Zuni
9
Vanessa Romero
10
Blayne Hurst
11
Jonah Seawright
12
Josh Demick
13
Chris Ortega
14
Noah Martinez
15
John Ellis
16
Christian Apolonio
17
Armando Ortega
18
Bree Vargas
Handicap Division
1
Tatyon Payne
$200
2
Jake Hemick
$100
3
Thomas Whitley
$60
4
Kevin Kuper
$50
5
Jacob Marquis
$63
6
Josie Herson
$30
7
Christina Ward
$35
8
Dale Case
9
Montana Cdebaca
$14
10
Justin Hackney
$57
11
Ben Hindes
12
Bernadette Davis
13
Aileen Linares
14
Lindsey Sanchez
15
Corey Haught
16
Taylor Herson
17
Trevor Hicks
18
Jacob Lucero
19
Nathaniel Duran
20
Stephen Dunn
$8
21
Donius Jeffries II
22
Alyssa Williams
$30
23
Brandon Platero
24
Mateo Gonzalez
25
Kelly McNeil
26
Isaac Duran
27
Angela Romero
28
James Fine
29
Kory Hetmer
30
Gerilynn Delegarito
31
Ryan Byer
$15
32
Katie McNeil
33
Toby Cdebaca
34
Andrea Griego
35
Daniel Hall
$10
36
Matteo Bergonzi
Women's Series
1
Penatzer -8*
2
V Romero -57
3
Linares -97
4
M Cdebaca -120
5
Vargas -151
High Games
Scratch
Handicap
1
Schenck 273
Payne 288
2
Zuni 257
Payne 277
3
Penatzer 254
Fine 269
4
Schenck 247
Payne 266
5
Wojo 235
Helmick 262
Round Leaders
Scratch
Handicap
1
Zuni
Fine
2
Schenck
Payne
3
Schenck
Payne
4
Schenck
Payne
5
Schenck
Payne
TOTAL AWARDED THIS EVENT: $1,204