SPARE TIME LANES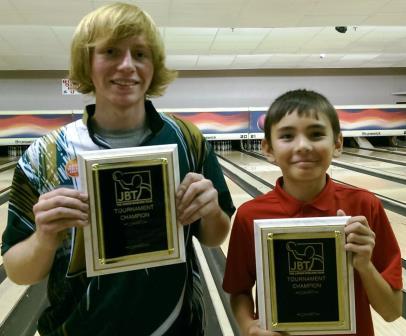 champs Jeff Jonker & Thomas Middleton
Jeff Jonker and Thomas Middleton claimed JBT titles in exciting Pacific Northwest Conference action at Spare Time Lanes in Kennewick.
Hayden Childs made his first scratch division finals a success with a 222-179 win over Jake Mullen to open up the stepladder finals. Ryan Nikolas then beat Childs 225-186. The semifinal was a battle of 1-2 in the point standings, and Brian Monnette came out on top, beating Nikolas 223-186 to reach the title match.
Top seed Jeff Jonker was impressive all day long, and he squeaked by Monnette 214-205 to win the title, the second of his JBT career.
Natasha Richardson won round one of the handicap division stepladder finals 223-203 over Perrin Easley-Clark. RIchardson then stopped newcomer Ryno Roberts 225-205, and then rolled on in a 223-197 semifinal win over Hannah Abney to reach her first career title match.
Thomas Middleton was competing in his first JBT event ever, and handled the atmosphere very well in gaining the top seed. He bowled a confident game in the finals as well, defeating Richardson 235-213 for his first career JBT title.
Top seed Elise Yates defeated AJ Schock 181-168 to earn the day's Women's Series title.
Thanks to Alan Cook and the crew at Spare Time for a great job hosting us. Want in on the fun? Just check out our schedule and come on down, that's all there is to it!
Spare Time Lanes- final results and scholarship winners
11/7/2015
Scratch Division
rank
bowler
prize
1
Jeff Jonker
$200
2
Brian Monnette
$120
3
Ryan Nikolas
$60
4
Hayden Childs
$40
5
Jake Mullen
$45
6
Elise Yates
$45
7
Luke Jordan
8
AJ Schock
$30
9
Gabe Bogner
10
Clint Norlen
$30
11
Kris Tomer
12
Tyler Hogstrom
13
Kelsey Abrahamsen
14
Andy Herrmann
$20
15
Kolby Crowell
16
Aidghan Ziegler
17
Brian DeLuisa-Anderson
18
Jacob Herriges
$45
19
Justin Song
20
Tommie McNeal
21
Ryan DeFazio
22
Jerry Jennings
23
Noah Torres
24
Johnny Leggett
25
Silas LeBlanc
26
Collin Young
Handicap Division
1
Thomas Middleton
$270
2
Natasha Richardson
$125
3
Hannah Abney
$120
4
Ryno Roberts
$75
5
Perrin Easley-Clark
$50
6
Celeste Johnson
$40
7
William Day
$30
8
Olivia Kolppa
$20
9
Sara Harris
$45
10
Gabrielle Potter
$15
11
James Middleton
12
Bailey Peters
$65
13
Jordan Jonker
14
Reagan Lorey
15
Lohrghan Ziegler
16
Ashley Bishop
17
Maddi Durr
18
Ray Ann Davis
19
Michelle Jensen
20
Candice Goldfinch
21
Shannon Bliquez
22
Austin Barber
23
Colin Hoover
24
Payton Edwards
25
Molly Warshaw
26
Tyler Bishop
27
Logan Hoover
28
Holden Childs
$30
29
Brendan Hopkins
30
Zane Hays
31
Ethen Maxwell
$10
32
Jaylah Young
33
Jordan Muir
34
Madison Bash
35
Michael Baunsgard
36
Tyler Headley
37
Brittany Bland
38
Danyelle Moore
39
Tyler Ficek
40
Kyle Hays
41
Evan Smith
$5
42
Bryce Meisner
43
Elijah Chin
44
Justice Dillman
45
Marcus Smith
High Games
Scratch
Handicap
1
Jonker 264
Peters 278
2
Jordan 257
Kolppa 273
3
Childs 256
Lorey 273
4
Norlen 247
Z Hays 256
5
Crowell 245
S Harris 253
Day 253
C Johnson 253
High Female
1
Yates +41*
2
Schock -25
3
Lorey -62
4
Abrahamsen -63
5
Goldfinch -87
Round Leaders
Scratch
Handicap
1
Childs
L Ziegler
2
Childs
Abney
3
Tomer
Kolppa
4
Jonker
Kolppa
5
Jonker
Abney
6
Jonker
Abney
7
Jonker
Middleton
8
Jonker
Middleton
TOTAL AWARDED THIS EVENT: $1,455