STARLIGHT LANES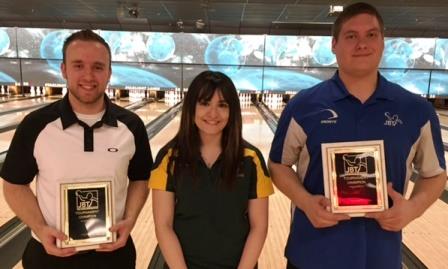 champs Nick Devlin, Vanessa Romero, & Nathaniel Duran
Two New Mexicans defended their home state's turf, while an Oregon superstar took home the scratch crown, in exciting NM-TX Conference JBT action at Starlight Lanes.
Joey Balistreri began the scratch division stepladder finals with a 236-200 win over Josh Demick. Devlin then took over, defeating his ASU teammate 222-164, and following with a 247-178 win over a snakebit Angel Ortega to reach the title game.
Blayne Hurst had the best day of his scratch division career in gaining the top seed, but had his hands full with Devlin, one of the best strike stringers on Tour. By the time Hurst had to burn his one remaining mulligan mid-game, it was already too late, as Nick struck from the fourth through the tenth in an exciting 256-244 win, good for the 12th title of his JBT career.
Kory Hetmer left no doubt as to the winner of the first handicap stepladder match would be, as he blasted 278 scratch for a 306-179 win over Matteo Bergonzi. Mariano Garcia then slowed down Kory 212-204. Elizabeth Romero, fresh off her first win the day before, then gained a chance to sweep the weekend with a 245-200 win over Garcia to advance to the title match.
Top seed Nathaniel Duran had a terrible first game in qualifying, but quickly righted the ship in game two and never looked back, roaring to the top seed. He was just as effective in the title game, beating Romero 266-210, good for the third title of his JBT career.
The battle of Las Cruces continued in the day's girls title match, and this time Vanessa Romero came out on top against Adel Wahner 221-206 for the day's Women's Series title.
Thanks as always to the crew at Starlight for hosting us. Want in on all the fun for all ages and averages? Just come on down to the next JBT event, it's as simple as that!
Starlight Lanes- final results and scholarship winners
2/22/2016
Scratch Division
rank
bowler
prize
1
Nick Devlin
$200
2
Blayne Hurst
$225
3
Angel Ortega
$60
4
Joey Balistreri
$40
5
Josh Demick
$30
6
Jonah Seawright
7
William Yoder
$28
8
Jake Helmick
9
Cortez Schenck
$15
10
Vanessa Romero
11
Zach Wojciechowski
$15
12
Brad Harvey
$15
13
Josh Herschman
14
Zach Harvey
15
Christopher Sanders
16
Nathan Tran
17
Corey Haught
18
Carson Opela
19
Ross Scroggins
20
Ahkeen Williams
21
Adel Wahner
22
Ben Stedman
23
Matthew Tran
24
Christian Apolonio
25
Trevor Hicks
26
Noah Martinez
27
Ryan Byer
28
Jacob Lucero
Handicap Division
1
Nathaniel Duran
$200
2
3lizab3th Rom3ro
$100
3
Mariano Garcia
$75
4
Kory Hetmer
$50
5
Matteo Bergonzi
$147
6
Donius Jeffries
$63
7
Rob McClelon
$20
8
Kallista Fritts
9
Dale Case
10
Thomas Whitley
11
Montana Cdebaca
$28
12
Taylor Herson
13
Nathan Nguyen
14
Jerry Moyle
15
Sierra Jones
16
Mateo Gonzalez
17
Isaac Duran
18
Ben Hindes
19
Lindsey Sanchez
20
Yarelis Alvarez
21
James Fine
22
Bernadette Davis
23
Gerilynn Delegarito
24
Morgan Ellis
25
Andrea Griego
26
Natalia Tchiloyans
27
Josie Herson
28
Kevin Kuper
29
Christina Ward
30
Jay Heffer
31
Aileen Linares
32
Toby Cdebaca
33
Justin Hackney
34
Katie McNeil
35
Jacob Marquis
36
Daniel Hall
37
Alyssa Williams
$13
38
Dylan Newport
39
Jeremiah McClelon
40
Kelly McNeil
Women's Series
1
V Romero +175*
2
Wahner -3
3
E Romero -4
4
M Ellis -66
5
Tchiloyans -86
5
M Cdebaca -86
High Games
Scratch
Handicap
1
A Ortega 300
Hetmer 306
2
Devlin 290
R McClelon 296
3
Devlin 279
E Romero 276
4
Demick 278
Nguyen 276
5
Yoder 268
Whitley 267
Garcia 267
Round Leaders
Scratch
Handicap
1
Yoder
Whitley
2
Hurst
Whitley
3
Hurst
Whitley
4
Hurst
Bergonzi
5
Hurst
Case
6
Ortega
E Romero
7
Devlin
Bergonzi
8
Hurst
N Duran
TOTAL AWARDED THIS EVENT: $1,304