STARLITE LANES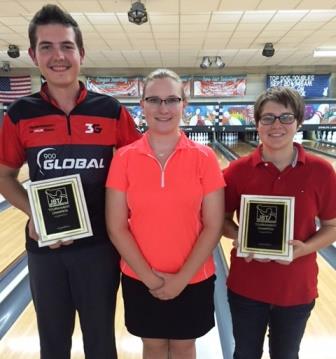 champs Russ Oviatt & Amelia LaFace with girls' champ Rachael Berg
Russ Oviatt and Amelia LaFace captured JBT titles in exciting Arizona Conference action at Flagstaff's Starlite Lanes.
Nick Devlin was trying to win back-to-back titles to start the season, and began a run up the scratch stepladder with a 248-238 win over Matt Zweig. Another ASU teammate, Harley Sweigart, was then able to stop Devlin's run with a big 274-166 win. The Sun Devil turnstile then continued with Russ Oviatt beating Sweigart 221-201 to advance to the title match.
Paul Colyer just made the switch to scratch the day before, and showed he belonged in a big way by leading all those ASU bowlers and grabbing the top seed. However, Russ was determined to catch his buddy Nick in titles, since Devlin won the day before at Cliff Castle. In the end, Oviatt did just that, closing out Colyer 212-183, becoming just the 38th bowler in JBT history to reach the 10-title landmark.
10 year-old Tyler Hedges kept up the great bowling he did last season as a 9 year-old, winning the first match of the handicap division stepladder 210-168 over Abby Franklin, also a JBT All-Star last season. The next match against AZ all-star Jarred Starr-Moncayo came down to the last frame, with Tyler escaping 202-201. Two-time champ Rashaad Jordan then stopped Hedges' run 203-190 to reach the title game.
Flagstaff bowler Amelia LaFace defended her hometown turf, emerging from an extremely tight cluster of bowlers as the top seed. She rolled a great game in the finals and Jordan was unable to keep up the pace, and the final result was a 228-172 win for Amelia, earning the first title of her JBT career.
The day's Women's Series title match was a rematch of the day before, but this time Rachael Berg who came out the winner, beating Bree Vargas 205-167 for her first girls' title of the season.
Big thanks to the fantastic team at Starlite for a top-notch job hosting our Tour- the center looks amazing, come check it out if you're in the area! Want in on all this fun? Just check out our schedule and come on down, that's all there is to it!
Starlite Lanes- final results and scholarship winners
9/6/2015
Scratch Division
rank
bowler
prize
1
Russ Oviatt
$200
2
Paul Colyer
$100
3
Harley Sweigart
$60
4
Nick Devlin
$40
5
Matt Zweig
$30
6
Cortez Schenck
7
Keith Fung
8
KJ Martinez
9
Ricardo Mendoza
10
Jake Hilton
11
Josh Demick
12
Bree Vargas
13
Zach Rapp
14
Kyle Ponzo
15
Max Polhill
16
Josh Fearing
$5
17
Steven Acuff
Handicap Division
1
Amelia LaFace
$225
2
Rashaad Jordan
$125
3
Tyler Hedges
$105
4
Jarred Starr-Moncayo
$50
5
Abby Franklin
$125
6
Mathew Adragna
$30
7
Rachael Berg
$60
8
Michael Spagnola
$15
9
Clifford Robbins
10
Elijah Melchor
11
Cristian Roque
$45
12
Jerod Walker
$75
13
Amanda Atkin
14
Taylor Knight
15
Justin Lawrence
16
Kyle Gilbert
$10
17
Sebastian Polhill
18
Jesse Becker
19
Chad Alexander
20
Bex Boyko
21
Ryan Zent
22
Phillip Sauve
$15
23
Katelyn Spagnola
$15
24
William Robbins
$5
25
Matt Baker
26
Sarah Halligan
27
Kyle Lawrence
28
Jacob Soulliere
29
Kristofer Smyth
30
Destiny Johnson
31
Connor Lawrence
32
Dante Rohe
High Games
Scratch
Handicap
1
Sweigart 274
Melchor 290
2
Sweigart 266
Berg 285
3
Zweig 258
Walker 269
4
Devlin 248
J Lawrence 259
5
Oviatt 248
Starr-Moncayo 256
High Female
1
Berg +2*
2
Vargas -67
3
Franklin -78
4
Atkin -109
5
LaFace -150
Round Leaders
Scratch
Handicap
1
Sweigart
Walker
2
Sweigart
Berg
3
Sweigart
Berg - Walker
4
Colyer
Walker
5
Colyer
Roque
6
Colyer
LaFace-Moncayo
7
Oviatt
Moncayo
8
Colyer
LaFace
Total Awarded This Event: $1,335