STRIKE ZONE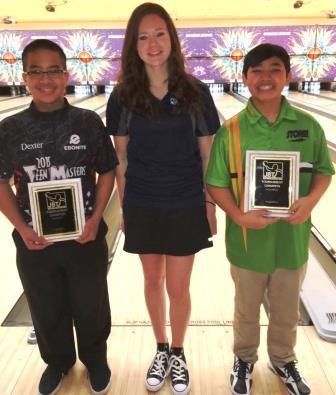 champs Cerell Cardines, Morgan Peacha, & Nolan Am-Khong
Cerell Cardines and Nolan Am-Khong captured JBT titles in exciting Mojave Conference action at Strike Zone.
Only four bowlers made the scratch division survivor portion, leading to quick but competitive action. Zack Long was eliminated in round one, and Cortez Schenck was ousted in round two, leaving Cerell Cardines, and Sergio Torres, who previously fired a perfect 300, left alive for the title. In a well bowled title match, Cerell beat Sergio 239-230 for the fourth title of his JBT career.
Twelve handicap semifinalists were carved down to three, and in that match, Sam Conti (258) and Nolan Am-Khong (218) survived, while Devyn Patalina (207) settled for third. In the resulting title match, Nolan outscored Sam 233-204, for the second title of his JBT career.
Morgan Peacha avenged her loss to Rachael Berg the day before with a 233-214 win to capture the day's Women's Series title.
Thanks as always to the crew at Strike Zone for hosting our Tour. Want in on the guaranteed prizes and fun for all ages? Be sure to check out our schedule and come on down!
Strike Zone- final results and scholarship winners
1/17/2016
Scratch Division
rank
bowler
prize
1
Cerell Cardines
$200
2
Sergio Torres
$100
3
Cortez Schenck
$50
4
Zack Long
$30
5
Nick Pollak
$20
6
Andrew Guba
7
Eric Hatchett
8
Cristian Roque
9
Paul Colyer
10
David Galvan
Handicap Division
1
Nolan Am-Khong
$200
2
Sam Conti
$125
3
Devyn Patalina
$50
4
Evrin Peacha
$30
5
Matt Baker
$20
6
Morgan Peacha
$20
7
Sam Espiritu
$105
8
Dylan Amico
9
Tyler Fujimoto
10
Caleb Andrews
$15
11
Krystal Amico
$10
12
Brendan Lindsey
13
Kyle Wilson
14
Christopher Faro
15
Kaylee Am-Khong
16
Justin Freeman
17
Dnte Rohe
18
Rachael Berg
19
Katie Kipler
20
Kyle Gilbert
21
Tyler Hedges
22
April McDonnell
$15
23
Jopfel Gafate
$10
24
Destiny Johnson
25
Daryus Alo
26
Shota Fujimoto
High Games
Scratch
Handicap
1
Torres 300
Espiritu 280
2
Long 289
E Peacha 273
3
Torres 279
Espiritu 271
4
Schenck 276
Conti 266
5
Cardines 266
Conti 259
High Female
1
Berg -81
2
M Peacha -91*
3
Conti -94
4
Am-Khong -114
5
Johnson -201
Round Leaders
Scratch
Handicap
1
Schenck
Espiritu
2
Schenck
E Peacha
3
Schenck
E Peacha
4
Torres
Espiritu
5
Torres
Espiritu
Total Awarded This Event: $1,000