TOURNAMENT OF ALL-TIME CHAMPIONS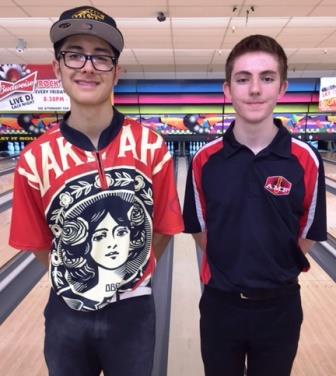 champs Cortez Schenck & Lucas Rabb
Cortez Schenck put another exclamation point on his stellar season, while Lucas Rabb might be looking for the next holiday on the calendar, winning titles at the Tournament of All-Time Champions, held at Let It Roll Bowl in Phoenix.
Schenck was as hot as the outdoor temperature (pushing 120 degrees) in the first two scratch division stepladder matches, beating Keith Fung 277-211, and Nick Devlin 267-181. It all looked to change against him facing top seed Lanndyn Carnate though. However, after a sixth frame 2-10 split, Schenck struck out from there, including the tenth frame double he needed for a 237-227 win. The weekend sweep of major tournaments was good for the 78th title of his JBT career.
Zach Greim defeated Secilia Kalvelage in an all-Californian first round of the handicap finals 260-226. Rabb then stopped Greim 221-208 to reach the title match.
Lucas won his first career JBT title this Mother's Day at McRay, and here on Father's Day, he won title #2 with a 234-188 win over ten year-old top seeded Tyler Hedges. Note to Lucas: Grandparents' Day is coming up in September!
Thanks to the crew at Let It Roll for hosting us. Want to win the T of C next year? Get out to JBT events all season long and become a champ- any age and any average can do it!
Tournament of Champions- final results and scholarship winners
6/19/2016
Scratch Division
rank
bowler
prize
1
Cortez Schenck
$371
2
Lanndyn Carnate
$150
3
Nick Devlin
$132
4
Keith Fung
$50
5
Joe Grondin
$40
6
Correen Lieber
$30
7
Cameron Smith
8
Joey Balistreri
9
Sergio Torres
10
Harley Sweigart
$13
11
Kyle Duster
12
Paul Colyer
13
Eric Hatchett
14
Marina Stever
15
KJ Martinez
16
Russ Oviatt
17
Riley Dempsey
18
Raymond Johnson
19
Matt Zweig
20
Adel Wahner
21
Stacey Dault
22
Kristen Lee
23
Zach Rapp
24
Ryan Gose
25
Josh Demick
26
Joey Burke
27
Cierra Chamot
28
Brendan Lindsey
29
Nick Lee
30
Shelby Dempsey
31
Rachael Berg
32
Brian Coleman
33
Cristian Roque
34
Daniel Cotton
35
Mathew Adragna
Handicap Division
1
Lucas Rabb
$300
2
Tyler Hedges
$150
3
Zach Greim
$75
4
Secilia Kalvelage
$50
5
Kyle Rendon
$70
6
Avery Domaguin
$65
7
Ryan Perry
8
Leah Zweig
9
Abby Franklin
10
Casey Nagamine
11
Destiny Johnson
12
Corbin Hirsch
13
Elijah Melchor
14
Rashaad Jordan
$30
15
Ashley Lamb
16
Jacob Soulliere
$15
17
Devyn Patalina
18
Kaylee Am-Khong
19
Nolan Am-Khong
20
Kyle Gilbert
$13
21
Samm Cosby
22
Amelia Mosley
23
William Robbins
24
Lindsay Greim
25
Jopfel Gafate
26
Phillip Sauve
27
Stacey Lamb
28
Allie May
29
Caleb Rothstein
30
Dante Rohe
31
Jordan Nassberg
32
CJ Todeschi
33
Ryan Zent
Tournament of Non-Champions- final results and scholarship winners
6/19/2016
Scratch Division
rank
bowler
prize
1
Zack Long
$200
2
Ricardo Mendoza
$100
3
Josh Mabry
$50
4
Austin Muldoon
$30
5
Josh Fearing
Handicap Division
1
Josh Grissom
$200
2
Kendall Bollea
$100
3
Sarah Halligan
$108
4
Clifford Robbins
$30
5
Samantha Potter
6
Christopher Berryman
$73
7
Mark Sauve
8
Michael Chamot
9
Joshua Molloy
10
Zachary Nesius
11
Tim Hill
12
Seth Krich
13
Lexi Cassman
14
Morgan Rapp
15
Victoria Potter
Total Awarded This Event: $2,455