TOURNAMENT OF NON-CHAMPS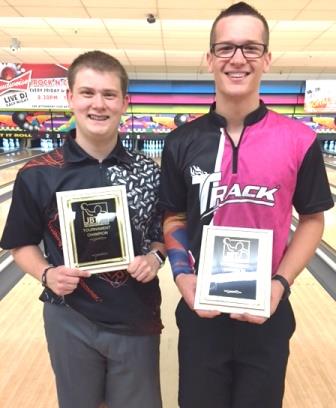 Non-champs no more! Zack Long & Joshua Grissom
Zack Long and Josh Grissom can erase "non-champs" from their resume, winning their first JBT titles at the JBT Tournament of Non-Champions held simultaneously with the T of C at Let It Roll.
Joshua Mabry began the scratch finals with a 156-153 escape from Austin Muldoon. Long then defeated Mabry 209-166. Against top seed Ricardo Mendoza in the title match, Zack recovered from a first frame open with the next seven strikes, cruising to a 235-203 win and the long awaited first title.
Nine year-old Kendall Bollea was impressive in the handicap finals, beating Clifford Robbins 212-191, and Sarah Halligan 223-188 to reach the title match. Top seed Josh Grissom didn't let himself get fazed by Bollea's handicap, throwing a terrific game in a 263-212 win, earning the much coveted first career title.
Thanks as always to Let It Roll for hosting us, and congrats agian to our non-champs no more!
Tournament of Non-Champions- final results and scholarship winners
6/19/2016
Scratch Division
rank
bowler
prize
1
Zack Long
$200
2
Ricardo Mendoza
$100
3
Josh Mabry
$50
4
Austin Muldoon
$30
5
Josh Fearing
Handicap Division
1
Josh Grissom
$200
2
Kendall Bollea
$100
3
Sarah Halligan
$108
4
Clifford Robbins
$30
5
Samantha Potter
6
Christopher Berryman
$73
7
Mark Sauve
8
Michael Chamot
9
Joshua Molloy
10
Zachary Nesius
11
Tim Hill
12
Seth Krich
13
Lexi Cassman
14
Morgan Rapp
15
Victoria Potter
Total Awarded This Event: $2,455