2016 JBT TOURING PLAYERS CHAMPIONSHIP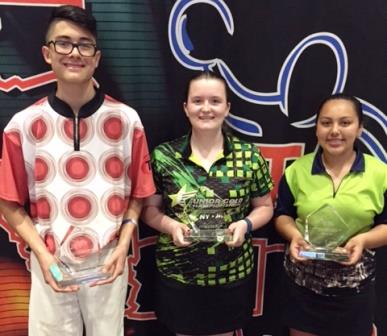 champs Cortez Schenck, Adel Wahner, and Evan Smith
The two dominant bowlers of the season put exclamation points on their 2015-16 campaigns, while a rookie broke through for her first win in a big way, at the 2016 JBT Touring Players Championship, hosted by Strike Zone in Henderson, NV.
Bowlers competed in 10 qualifying games on two challenging lane patterns, five semifinal games on a third pattern, and eight quarterfinal matches on a fourth to get to the stepladder finals, a true test of versatility and endurance both mental and physical. In the opening match of a star-studded scratch division finals, Pac NW Conference Bowler of the Year Ryan Nikolas ended two-time defending champion Dallas Leong's bid for a three-peat, defeating him 238-214. Wesley Low, runner-up at the TPC last year, then wowed the crowd with a huge 298 game to eliminate Nikolas, who had a fine 224 effort.
That set up a dream match between once and future Wichita State stars Low and top seed Cortez Schenck. Cortez blistered the tricky semifinal pattern to leap from the 8th spot to the top, and did not let up in the title match, while Low faltered a bit on the left hand lane. The end result was a 246-212 win for Schenck, the $2,000 top prize, and the extension of his records for most titles in a season (25) and career (an incredible 79).
NM-TX Bowler of the Year Donius Jeffries II began the handicap division finals with a 234-222 victory of So Cal all-star team member Jeff Rodda. Pac NW Rookie of the Year Evan Smith then beat Jeffries 218-181 to advance to her first ever singles title match.
Leah Zweig grabbed the top seed away from Smith late in the semifinal block, but both girls were unable to get dialed in on the championship pair under major title match pressure. However, it was Evan who filled the frames the best, resulting in a 207-184 win, her first career JBT title, and the $2,000 top scholarship prize. Her win marks not only the second TPC win in a row by a Pac NW girl, but the second in a row by a bowler with West Seattle Bowl as their home house, with Zoe Mahn having won the event last year!
The Girls TPC stepladder featured three of the JBT's best female talents. In an all-Pac NW semifinal, Kelsey Abrahamsen squeaked past AJ Schock 166-162 to advance to the title match against top seed NM wunderkind Adel Wahner. Adel has had an unprecedented season, and took it one step further with a 189-157 title match win, good for the $400 top scholarship prize, and 14th girls win of her incredible season.
A fun-filled evening at the annual Celebration Dinner was again a highlight of the JBT year, as our incredible title sponsor Ebonite gave out some of the newest Ebonite balls to highlight hundreds of dollars of door prizes, and a great time was had by all.
Thanks to Strike Zone and Sunset Station for a great hosting job, all of our sponsors and volunteers for making TPC possible, and everyone who attended. 77 of the 157 bowlers who entered shared in the $18,731 in scholarships awarded- WOW!
Make sure to start planning your road to the 2017 TPC- don't miss any JBT events when the new season starts in late August!
Touring Players Championship- final results
7/10/2016
Scratch Division
rank
bowler
PRIZE ($)
TPC
brackets
top dawg
powerb
deca
2nd ch
elite
girls
sweeper
1
Schenck, Cortez
$2,308
2000
58
250
2
Low, Wesley
1324
1000
324
3
Nikolas, Ryan
603
500
13
50
40
4
Leong, Dallas
990
400
180
100
60
250
5
Devlin, Nick
813
300
43
200
270
6
Duster, Kyle
220
200
20
7
Tuholski, Chris
210
175
15
20
8
Sweigart, Harley
520
150
15
355
9
Acuff, Derek
155
125
30
10
Cardines, Cerell
130
100
30
11
Grondin, Joe
100
100
12
Rock, TJ
115
100
15
13
Herrmann, Andy
55
15
40
14
Hatchett, Eric
15
McNeal, Tommie
16
Colyer, Paul
17
Koff, Donovan
18
Ortega, Angel
10
10
19
Wojciechowski, Zach
15
15
20
Guba, Andrew
21
Leggett, Johnny
22
Torres, Sergio
20
20
23
Gerencser, Joe
50
30
20
24
Fung, Keith
25
Boe, Tyler
125
10
115
26
Wahner, Adel
438
28
10
400
27
Reed, Kyle
175
175
28
Crowell, Kolby
29
Opela, Carson
75
75
30
Martinez, Noah
31
Wanders, Brandon
80
80
32
Schock, AJ
100
100
33
Harvey, Brad
34
Polhill, Max
35
Hogstrom, Tyler
36
Roque, Cristian
37
Schanen, Anthony
38
Vargas, Bree
39
Shishima, Kylie
40
Peyton, Jamison
41
Jennings, Jerry
100
100
42
Demick, Josh
43
Walker, Jerod
40
40
44
Balistreri, Joey
45
Long, Zack
80
80
46
Andrews, Kyle
47
Abrahamsen, Kelsey
400
200
200
48
Andrews, Kennison
49
Ortega, Chris
20
20
50
Harvey, Zach
30
30
51
Childs, Hayden
50
50
52
Romero, Vanessa
53
DeFazio, Ryan
54
Apolonio, Christian
55
Acuff, Steven
100
100
56
Berry, Taylor
57
Seawright, Jonah
Handicap Division
rank
bowler
PRIZE ($)
TPC
brackets
top dawg
powerb
deca
2nd ch
elite
girls
sweepers
1
Smith, Evan
$2,155
2000
135
20
2
Zweig, Leah
1070
1000
70
3
Jeffries, Donius
500
500
4
Rodda, Jeff
420
400
20
5
Hall, Daniel
703
300
58
100
5
30
210
6
Johnson, Destiny
260
200
60
7
Rothstein, Caleb
175
175
8
Galland, Ryan
150
150
9
Robbins, William
125
125
10
Conti, Samantha
190
100
90
11
Hackney, Justin
195
100
5
90
12
Edwards, Payton
110
100
10
13
Wilcox, Ashley
14
Pimentel, Ryland
15
Sasaki, Zian
16
Greim, Zach
120
80
40
17
Kalvelage, Secilia
20
18
Bland, Brittany
60
60
19
Phillips, Silas
70
70
20
Sauve, Mark
60
30
30
21
Cdebaca, Toby
15
15
22
Hill, Tim
270
270
23
Hopkins, Brendan
180
180
24
Alo, Daryus
25
Gilbert, Kyle
15
15
26
Zent, Ryan
45
45
27
Herson, Josie
13
13
28
Herson, Taylor
29
Polhill, Sebastian
100
10
90
30
Villalobos, Marc
31
Sauve, Phillip
120
20
100
32
Domaguin, Avery
75
15
10
10
40
33
Yauney, Dustin
34
Hedges, Tyler
58
58
35
Davis, Bernadette
36
Todeschi, CJ
37
Freeman, Justin
38
Khong, Nolan Am
39
Haight, Derek
80
30
50
40
Durr, Maddi
60
60
41
Kolppa, Olivia
60
60
42
Adragna, Mathew
43
Evans, Marguerite
44
Robbins, Clifford
45
Franklin, Abby
46
Espiritu, Sam
68
68
47
McGough, James
15
15
48
Atkin, Amanda
49
Berg, Rachael
50
Khong, Kaylee Am
10
10
51
Hays, Zane
80
15
5
60
52
Hays, Kyle
53
Rohe, Dante
5
5
54
Melchor, Elijah
90
90
55
Jonker, Jordan
56
Phillps, Eric
57
Reese, Dawson
90
30
10
50
58
Lawrence, Justin
215
15
200
59
Lawrence. Kyle
60
Gafate, Jopfel
20
20
61
McDonnell, April
50
50
62
Cdebaca, Montana
63
Abney, Hannah
64
Peters, Bailey
158
8
50
100
65
Bergonzi, Matteo
100
100
66
Olivares, Dominic
0
67
Boyko, Bex
68
DeNune, Tyler
100
40
60
69
Garcia, Mariano
125
125
70
Bash, Madison
71
Perry, Ryan
72
Amico, Dylan
73
Nguyen, Nathan
300
300
74
Rendon, Kyle
75
Lindsey, Brendan
250
250
76
Hetmer, Kory
77
Gonzalez, Mateo
78
Bishop, Tyler
150
60
20
70
79
Childs, Holden
80
Csanyi, Rachel
.
$18,731
.
Girls TPC
1
Wahner, Adel
2
Abrahamsen, Kelsey
3
Schock, AJ
4
Vargas, Bree
5
Shsihima, Kylie
6
Romero, Vanessa
7
Atkin, Amanda
8
Am-Khong, Kaylee
9
Berg, Rachael
10
Csanyi, Rachel
.
.
Second Chance Scratch
1
Abrahamsen, Kelsey
2
Acuff, Steven
3
Childs, Hayden
4
Harvey, Zach
5
Ortega, Chris
6
Long, Zack
7
Aolonio, Christian
8
DeFazio, Ryan
9
Andrews, Kyle
10
Andrews, Kennison
11
Walker, Jerod
12
Romero, Vanessa
13
Berry, Taylor
.
.
Second Chance Handicap
1
Lawrence, Justin
2
Peters, Bailey
3
McDonnell, April
4
Reese, Dawson
5
Bishop, Tyler
6
Bergonzi, Matteo
7
DeNune, Tyler
8
Bash, Madison
9
Amico, Dylan
10
Olivares, Dominic
11
Abney, Hannah
12
Cdebaca, Montana
13
Perry, Ryan
14
Jonker, Jordan
15
Phillips, Eric
16
Gonzalez, Mateo
17
Garcia, Mariano
18
Rendon, Kyle
19
Lawrence, Kyle
20
Hetmer, Kory
21
Boyko, Bex
22
Gafate, Jopfel
.
.
Deca Game Scratch
1
Leong, Dallas
234
($60)
2
Nikolas, Ryan
233
($40)
3
Duster, Kyle
228
($20)
4
Harvey, Zach
223
5
Gerencser, Joe
213
6
Wojciechowski, Zach
212
7
Schenck, Cortez
212
8
Devlin, Nick
202
9
Low, Wesley
202
10
Andrews, Kennison
199
11
Colyer, Paul
194
12
Tuholski, Chris
187
13
Reed, Kyle
184
14
Seawright, Jonah
177
15
Sweigart, Harley
177
16
Harvey, Brad
172
17
Herrmann, Andy
170
18
Boe, Tyler
169
19
Demick, Josh
157
20
Childs, Hayden
157
21
Abrahamsen, Kelsey
154
22
Hogstrom, Tyler
140
23
Andrews, Kyle
0
24
Long, Zack
0
.
.
Deca Game Handicap
1
Hays, Zane
254
($60)
2
Greim, Zach
239
($40)
3
Hall, Daniel
236
($30)
4
Sauve, Phillip
230
($20)
5
Jeffries, Donius
222
6
Hackney, Justin
214
7
Zweig, Leah
212
8
Hedges, Tyler
210
9
Sauve, Mark
208
10
Johnson, Destiny
206
11
Hopkins, Brendan
201
12
Conti, Samantha
201
13
Kolppa, Olivia
198
14
Hays, Kyle
198
15
Cdebaca, Montana
191
16
Edwards, Payton
191
17
Haight, Derek
186
18
Rendon, Kyle
185
19
Phillips, Eric
185
20
Cdebaca, Toby
180
21
Amico, Dylan
180
22
Adragna, Mathew
178
23
Gilbert, Kyle
177
24
Lawrence, Justin
177
25
Davis, Bernadette
175
26
Berg, Rachael
174
27
Gonzalez, Mateo
174
28
Zent, Ryan
161
29
Lawrence, Kyle
156
30
Villalobos, Marc
0
SCORES:
Scratch Semifinals:
2016 JBT TPC - scratch
rank
bowler
TOTAL
gm 16
gm 17
gm 18
gm 19
gm 20
gm 21
gm 22
gm 23
TOTAL
+/-
1
Schenck, Cortez
3305
277
240
240
254
255
277
278
277
5403
803
2
Low, Wesley
3359
273
190
287
226
236
251
235
220
5277
677
3
Leong, Dallas
3394
192
213
222
235
222
271
173
253
5175
575
4
Nikolas, Ryan
3313
243
235
194
214
286
201
169
195
5050
450
5
Devlin, Nick
3552
175
173
138
245
209
145
218
172
5027
427
6
Duster, Kyle
3402
238
180
267
177
179
174
197
208
5022
422
7
Tuholski, Chris
3313
162
249
260
190
196
232
146
186
4934
334
8
Sweigart, Harley
3213
206
192
267
232
235
165
242
144
4896
296
9
Acuff, Derek
3268
170
237
204
178
201
168
203
202
4831
231
10
Cardines, Cerrell
3314
165
229
144
187
158
186
147
264
4794
194
Scores above now include bonus pins (if any)
Handicap Semifinals: