UPTOWN ALLEY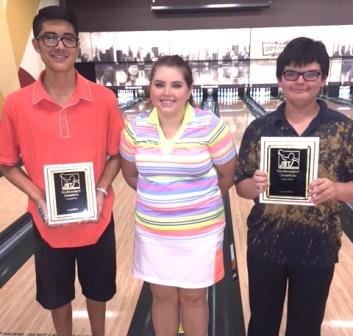 champs Cortez Schenck, Amanda Atkin, and Kyle Rendon
Cortez Schenck made it two in a row, while Kyle Rendon tasted victory for the first time, in exciting JBT Arizona Conference action at Surprise's Uptown Alley.
Bowlers competed in the exciting 'super survivor' format, where the low game and lowest overall totals are eliminated game by game until only one bowler stands. The scratch division was carved down to four eventually, and in that round there was no doubt as to who the finalists would be, as Schenck continued his dominant day-long bowling with a big 266 game, but that was only second-best as Russ Oviatt fired a perfect 300 game, only the second of the season Tour-wide, and the first one his mom ever got to see in person. That left Keith Fung in third, and Cierra Chamot with her high scratch finish ever, an excellent fourth place result.
In the title match poor Russ and his 300 became 'old news' in the span of just a few minutes, as Schenck quietly piled up the strikes, locking up the match once he had the front eight. It looked like Cortez would become the first bowler in JBT history to have two perfect games in a JBT title match- his first coming at Suncoast last season- but a stubborn 9-pin on the final ball relegated him to 'only' 299, capping off the dominant day in dominant fashion for his 56th career JBT title, second in a row, and now just seven behind all-time leader Kyle King.
Twenty handicap survivors were whittled down to five, and in that penultimate round Kyle Rendon and Phillip Sauve, the two high overall totals coming into the game, did enough to advance to the title game, while William Robbins, Amanda Atkin, and Dante Rohe were eliminated in third through fifth place respectively. Rendon has been close to victory before, but the Las Vegas bowler left no doubt this time, firing his high game of the tournament in a 280-205 win over Sauve to earn his first career JBT title.
Atkin and Chamot met in the day's Women's Series title match, and Atkin continued her excellent early-season results with a 196-180 win over Cierra for her second girls' title of the season.
Thanks as always to Jennifer and the crew at Uptown for a great job hosting us, and all our sponsors for helping make these events happen. Want in on all the fun? Just check out our schedule and come on down, that's all you have to do!
Uptown Alley- final results and scholarship winners
9/27/2015
Scratch Division
rank
bowler
prize
1
Cortez Schenck
$200
2
Russ Oviatt
$100
3
Keith Fung
$40
4
Cierra Chamot
$20
5
Derek Acuff
$20
6
Harley Sweigart
7
Zach Rapp
8
Cristian Roque
9
Kyle Duster
10
KJ Martinez
11
Austin Muldoon
12
Alexander Seng
13
Paul Colyer
14
Matt Zweig
15
Brandon Rouse
16
John Newton
17
Josh Demick
18
Jerry Moreno
19
Max Polhill
Handicap Division
1
Kyle Rendon
$280
2
Phillip Sauve
$185
3
William Robbins
$90
4
Amanda Atkin
$65
5
Dante Rohe
$55
6
Isaiah Lopez
$40
7
Dylan Amico
$30
8
Kristopher Smyth
$50
9
Elijah Melchor
$20
10
Sebastian Polhill
11
Michael Chamot
$15
12
Annie Hurley
13
Cody Graham
14
Justin Lawrence
15
Sarah Halligan
16
Bella Flowers
$15
17
Jordan Logsdon
$15
18
Baylee Snow
$75
19
Kyle Welty
$25
20
McKynna Bungard
21
Abby Franklin
$10
22
Aaron Coleman
23
CJ Todeschi
24
Ryan Perry
25
Kianna Bungard
26
Sabrina Myracle
27
Destiny Johnson
28
Michael Spagnola
29
Lucas Rabb
30
Kyle Lawrence
31
Krystal Amico
$15
32
Katelyn Spagnola
33
Jacob Soulierre
$25
34
Shawn Seng Jr
35
Christian Caron
36
Chad Alexander
37
Jarred Starr-Moncayo
38
Rashaad Jordan
39
Matt Baker
40
Amelia LaFace
41
Joshua Molloy
42
Caitlyn Graham
43
Rachael Berg
44
Clifford Robbins
45
Zachary Nesius
46
Jesse Becker
47
Kyle Gilbert
48
Mathew Adragna
Women's Series
1
Chamot +39
2
Atkin -35*
3
A Hurley -94
4
M Bungard -99
5
Franklin -99
High Games
Scratch
Handicap
1
Oviatt 300
Atkin 294
2
Schenck 299
W Robbins 286
3
Schenck 277
Rendon 280
4
Fung 267
Halligan 278
5
Schenck 266
Atkin 273
Round Leaders
Scratch
Handicap
1
Fung
Sauve
2
Fung
Sauve
3
Schenck
Melchor
4
Schenck
Sauve
5
Schenck
Melchor
TOTAL AWARDED THIS EVENT: $1,400