ACME BOWL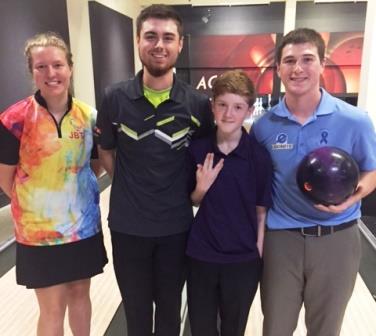 champs Ryan Nikolas & Jonathan Lorey with girls champ AJ Schock & U-17 champ Tommie McNeal
Ryan Nikolas put an exclamation on an excellent opening weekend, while Jonathan Lorey prospered in his second ever JBT event, in exciting Pacific Northwest Conference action at Acme Bowl.
Nikolas showed the same form that won him Bowler of the Year last season in blistering the lanes during qualifying to earn the #1 seed for matchplay. He then rolled past Aidghan Ziegler and Tommie McNeal to reach the title match. Fellow Oregonian Johnny Leggett defended his #2 seed with wins over previous day's champ Chris Tuholski and first time scratch finalist Michael Creel to set up the fairly rare 1 vs 2 title match.
Ryan remained just as unstoppable in the finale, defeating Leggett in the final game to earn the 11th title of his excellent JBT career.
Ten year-old Paul Rosales wowed the crowd with a 600 scratch series to open the day and easily grab the #1 seed for matchplay. Rosales got by #8 Tyler DeLorm, but then was upset by #4 Isaac Richardson in one semifinal. #2 seed Jonathan Lorey, the younger brother of all-star team member Reagan, beat Molly Warshaw and previous day's champ Hunter Bower in his side of the bracket, to advance against Isaac for the title.
In the battle of first time finalists, Richardson bowled very well, but Lorey came up with the high game of his life, a 212 scratch effort, to run away with the match and his first career JBT title.
AJ Schock completed an opening weekend sweep of the girls scratch events, defeating defending Bowler of the Year Kelsey Abrahamsen in the final game. In the U-17 match, Leggett had to settle for another runner-up finish, as McNeal defeated him in the final game for the day's U-17 title.
Big thanks as always to the team at Acme for another great job hosting our Tour. We're just getting started on a fantastic season- check out our schedule and don't miss a single event!
Acme Bowl- final results and scholarship winners
8/29/2016
Scratch Division
rank
bowler
prize
1
Ryan Nikolas
$395
2
Johnny Leggett
$130
3
Michael Creel
$75
4
Tommie McNeal
$60
5
Andy Herrmann
$65
6
Chris Tuholski
7
Aidghan Ziegler
8
Ryan DeFazio
9
AJ Schock
10
Jordan Jonker
11
Austin Vik-Rae
12
Jerry Jennings
13
Daniel Rutter
14
Daniel Hanson
15
Tyler Boe
16
Parker Portalski
17
Kelsey Abrahamsen
18
Makana Wong
19
Collin Young
20
Blake Copeland
21
Kyle Jonson
22
Hannah Saunders
23
Jake Mullen
$10
24
Tyler Hogstrom
25
Nico Hawkins
26
Austin Portalski
27
Joseph Herrera
28
Kris Tomer
29
Hayden Childs
30
Blake Portalski
Handicap Division
1
Jonathan Lorey
$200
2
Isaac Rishardson
$100
3
Paul Rosales
$120
4
Hunter Bower
$79
5
Tyler Denune
$30
6
Tyler Coates
$20
7
Tyler DeLorm
8
Molly Warshaw
$29
9
Brittany Bland
10
Andrew Martin
11
Tyler Bishop
12
Bradley Baltazar
13
Vincent Oberto
14
William Ellis
15
Brendan Hopkins
16
Sam Cox
17
Natasha Richardson
18
Caitlin Moore
19
Derek Haight
$15
20
Jacob Frazier
21
Sara Harris
22
Bailey Peters
$100
23
Reagan Lorey
24
Madison Bash
25
Payton Edwards
26
Wendy Jo LaTurner
27
Daniel Johnson
28
Aiden-Ikaika Wong
$15
29
Evan Smith
30
Kadie Dicken
31
Colt Jance
32
Lillian Ellis
33
Lohrghan Ziegler
34
Amber Sparks
High Games
Scratch
Handicap
1
Nikolas 289
Rosales 296
2
Nikolas 289
J Lorey 286
3
Vik-Rae 275
DeNune 269
4
McNeal 274
Coates 269
5
Leggett, Nikolas 267
Bower 263
Girls Scratch side event
1
Schock +47*
2
Abrahamsen -8
3
Saunders -41
4
Harris -105
5
Moore -112
U-17 scratch side event
1
Leggett +199
2
Mceal +113*
3
Ziegler +59
4
Jonker +47
5
Jennings +28
Round Leaders
Scratch
Handicap
1
Young
Edwards
2
Leggett
Rosales
3
Nikolas
Rosales
4
Nikolas
Rosales
5
Nikolas
Rosales
TOTAL AWARDED THIS EVENT: $1,383