CAL BOWL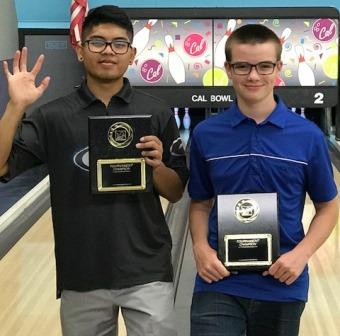 champs Anthony Cando & Joey Queller
Anthony Cando and Joey Queller wrapped up the 2016-17 So Cal Conference season with big wins in jam-packed action at Cal Bowl in Lakewood.
Joe Grondin, returning from Wichita, needed a top 10 finish to get into the following day's Invitational, and succeeded by making the top five, and then opening the scratch finals with a 234-188 win over Kyle Reed. Brandon Wanders then edged Grondin 192-182. Anthony Cando then turned the tables with a 205-172 win over Wanders to advance to the title match.
Top seed Kyle Gilbert was leading a scratch singles event for the first time, and the veteran Cando would give him no rook to acclimate to the situation. On the low scoring pattern, Cando came up with a sbig string to beat Gilbert 257-188 and earn the fifth title of his JBT career (as he attempted to indicate above).
Solomon Salama's sister Yael stole the show in the handicap division, making her first finals and then winning round one of the finals with a 217 game that beat Megan Carpenter and William Robbins. Kyle Perry then stepped in and fired 248, beating Salama (196) and Aislinn Lubag (188). A great semifinal saw Perry's 198 edge Jeff Rodda's 187 and Avery Domaguin's 177 to advance to the title match.
Top seed Joey Queller missed much of the season due to ROTC commitments, but he is a force when he bowls, as he showed by leading the large field. Perry has been oh-so-close to victory many times, and unfortunately for him he had to settle for the runner-up spot again, as Queller won the match 234-208 for his second career JBT title.
Solomon Salama kept up his dominance in the U17 events, beating Mojave U17 standout Cerell Cardsines for that win. Brittany Kolatzny, also dominant in the Girls Scratch side events, kept up her great final season with a win over Megan Carpenter in that final game.
Big thanks to the team at Cal for hosting our event, and MSC for another amazing contribution to the day's prize fund, pushing it over the $2,500 mark. The field is now set for the So Cal Invitational, featuring over $5,000 in scholarships and Bowler of the Year titles on the line!
Cal Bowl- final results and scholarship winners
6/24/2017
Scratch Division
rank
bowler
prize
1
Anthony Cando
$300
2
Kyle Gilbert
$304
3
Brandon Wanders
$100
4
Joe Grondin
$75
5
Kyle Reed
$78
6
Zack Long
7
Harley Sweigart
$15
8
Cerell Cardines
9
Nick Caner
10
Ryan Lee
11
Solomon Salama
12
Anthony Schanen
13
Kevin Banaag
14
Taylor Berry
15
Donovan Koff
16
Sergio Torres
17
Brittany Kolatzny
18
Costa Gastouniotis
19
Kennison Andrews
20
Kyle Andrews
$15
21
Kyle Wilson
22
Leoj Chin
$5
23
Ricky Pollom
24
Marquan Rivers
25
James Knapp
26
Tim Hill
$5
27
Matthew Carpenter
28
David Schneider
Handicap Division
1
Joey Queller
$300
2
Kyle Perry
$250
3
Jeff Rodda
$150
4
Avery Domaguin
$205
5
Aislinn Lubag
$100
6
Yael Salama
$100
7
William Robbins
$75
8
Megan Carpenter
$108
9
CJ Todeschi
$40
10
Trevyr Geronimo
$30
11
Dawson Reese
$20
12
Noah Hernandez
$20
13
Joshua Abigania
$14
14
Sterling Lopez
15
Jaclyn Azvedo
16
Tanner Ferguson
$30
17
Gael Egana
18
Ryan Perry
19
Secilia Kalvelage
$30
20
Phillip Sauve
$14
21
Timothy LeCount
22
Katie Kipler
23
Shane Howard
24
Silas Phillips
25
Austin Sugarman
26
Lawrence Buhain
27
Louis Luna
28
Ranelle Ulanday
29
Allison Azvedo
30
Clifford Baltazar
31
Megan Ruiz
32
Chris Borillo
33
Connor Steelmon-Hill
$15
34
Renee Gentry
35
Lathan Chin
36
Kaitlynn Martin
37
Jared Schiada
38
Chris Hill
39
Nolan Am-Khong
40
Lindsay Greim
41
Michaela Buhain
42
Yairi Lubag
$14
43
Sebastian Huffman
44
James McGough
45
Kaitlynn Yukihiro
46
Mark Sauve
47
Zach Greim
48
Cameron Criss
49
Clifford Robbins
50
Nick Condon
51
Justin Redfield
$15
52
Katelyn Abigania
53
Ryland Pimentel
54
Ben Dinenberg
55
Zian Sasaki
56
Brandon Criss
57
Krystopher Martin
58
Christian Borillo
59
Kaylee Am-Khong
60
Adrian Yamanoha
61
Peter Ruiz
62
Sandra Chacon
63
Brayden Caress
64
Emily Cheesman
65
Rieley Ulanday
66
Caleb Rothstein
High Games
Scratch
Handicap
1
Sweigart 280
A Lubag 260
2
Cando 269
S Lopez 258
3
Reed 266
Egana 258
4
Cando 257
Y Salama 253
5
Gilbert 256
Queller 252
High Female
1
Carpenter -70
2
Kolatzny -83*
3
Domaguin -153
4
Gentry -167
5
Kipler -183
Qualifying Leaders
Scratch
Handicap
1
Cando +108
Domaguin +57
2
Reed +93
Rodda +54
3
Cardines +92
K Perry +31
U-17
1
Cardines +92
2
Salama +19*
3
Rodda -26
4
Banaag -34
5
Berry -49
Round Leaders
Scratch
Handicap
1
Sweigart
McGough
2
Sweigart
Queller
3
Reed
Queller
4
Reed
Domaguin
5
Cando
Domaguin
6
Reed
Rodda
7
Cando
Domaguin
8
Gilbert
Queller
Total Awarded This Event: $2,527