CANYON LANES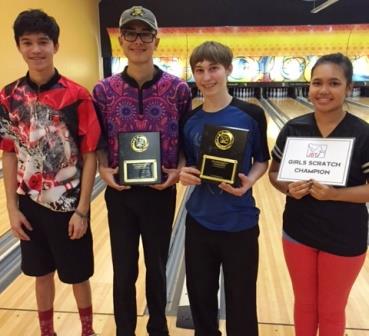 champs Cortez Schnck & Timothy Kessler, with U17 and Girls winners Richard Paul III & Kaylee Am-Khong
Cortez Schenck finally found the winners circle again, while Timothy Kessler found it for the first time, in exciting JBT Southern California Conference action at Morongo Casino's Canyon Lanes.
After five games on a very challenging pattern, Cortez Schenck emerged as the top seed for 'pick your poison' matchplay. He had no problems, getting past Matt Green and Anthony Schanen to reach the title game. Richard Paul III, the only other bowler to be plus in qualifying, got past round one, but fell to Austin Thompson in the semifinals.
Austin and Cortez have been around JBT a long time, and in this iteration of their rivalry, Schenck came up with a 188-155 win. It was Cortez' 85th career JBT title, but first since Best In The West since November.
JBT veteran William Robbins led the handicap division qualifying round, aiming for his third straight JBT title, having won back to back in Tucson last week. He came awfully close, falling to Nolan Am-Khong in the quarterfinals. Nolan then survived a semifinal thriller against James McGough 195-194 to advance to the final. His opponent would be Timothy Kessler, who got by Ryan Howieson in the other semifinal. The title match was close throughout, but a missed spare from Nolan in the ninth gave Kessler a chance to mark for the win. Timothy was up to the challenge, smashing a double to claim a 217-201win and his first career JBT title.
Kaylee Am-Khong came up with a 190-166 win over Megan Carpenter to earn the day's Girls Scratch title, while Richard Paul defeated Ryan Howieson for the U17 crown. Zack Long nailed a perfect 21 in our raffle game to earn a $100 scholarship bonus, and the day's large scholarship awards were due to another generous contribution from MSC, Inc- thanks again!!
Thanks to the team at Canyon for another great job hosting our Tour. Want in on all this fun and excitement for all ages and averages? Just check out our schedule and come on down!
Canyon Lanes- final results and scholarship winners
2/4/2017
Scratch Division
rank
bowler
prize
1
Cortez Schenck
$325
2
Austin Thompson
$200
3
Richard Paul III
$150
4
Anthony Schanen
$75
5
Solomon Salama
$50
6
Sergio Torres
$40
7
Kennison Andrews
$58
8
Matt Green
9
Donovan Koff
$15
10
Kyle Reed
11
Alex Bissett
12
Harley Sweigart
13
Louis Luna
14
Zack Long
$100
15
Julian Zavala
16
Kylie Shishima
17
Leah Glazer
18
Costa Gastouniotis
19
Dustin Yauney
20
Tim Hill
$15
21
Clint Strawmyer
22
Joshua Mabry
23
Ryan Lee
24
Kyle Andrews
$90
25
Trevor Thompson
$15
26
Ricky Pollom
27
Chris Tucker
28
Brittany Kolatzny
29
Matt Alford
30
Kirk Chui
31
Zach Rapp
32
Kevin Banaag
33
Kyle Gilbert
34
Brandon Wanders
35
Matthew Carpenter
Handicap Division
1
Timothy Kessler
$300
2
Nolan Am-Khong
$200
3
James McGough
$145
4
Ryan Howieson
$89
5
William Robbins
$50
6
Nick Condon
$40
7
Kaylee Am-Khong
8
Yael Salama
9
Cameron Criss
$15
10
Clifford Robbins
11
Jeff Rodda
12
Megan Carpenter
$15
13
Secilia Kalvelage
14
Renee Gentry
15
Brandon Lim
16
Leah Zweig
17
Caleb Rothstein
18
Ashley Wilcox
19
Alberto Bernal
20
Alyssa Tucker
21
Caden Duff
22
Avery Domaguin
$5
23
Ranelle Ulanday
$29
24
Jared Schiada
25
Dawson Reese
$35
26
Gael Egana
27
Sterling Lopez
28
Austin Sugarman
29
Elias Luna
30
Trevyr Geronimo
31
Gage Baker
32
Tyler Handa
33
Chris Hill
34
Rieley Ulanday
35
Elijah Melchor
36
Shane Howard
High Games
Scratch
Handicap
1
Ken Andrews 246
K Am-Khong 283
2
Koff 241
N Am-Khong 272
3
Schenck 241
McGough 260
4
Torres 235
Gentry 253
5
Schenck 233
W Robbins 251
Paul 233
High Female
1
K Am-Khong -92
2
Carpenter -134*
3
Shishima -136
4
Glazer -140
5
Gentry -159
Qualifying Leaders
Scratch
Handicap
1
Schenck +59
W Robbins +40
2
Paul +12
McGough +25
3
Salama -64
Condon +25
U-17
1
Paul +12*
2
Howieson -47
3
McGough -50
4
Salama -64
5
N Am-Khong -81
Round Leaders
Scratch
Handicap
1
Reed
N Am-Khong
2
Reed
N Am-Khong
3
Reed
W Robbins
4
Schenck
McGough
5
Schenck
McGough
Total Awarded This Event: $1,992