DESERT OPEN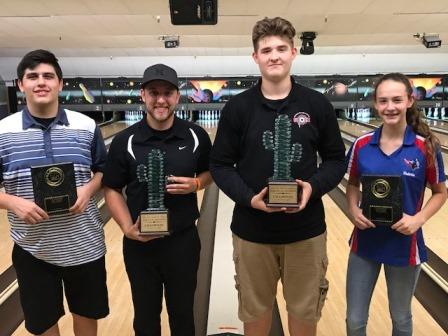 champs Nick Devlin & James Wilson with runners-up Sergio Torres & Victoria Potter
Nick Devlin and James Wilson earned the coveted glass cacti as champs of the JBT Desert Open Marathon, hosted by Glenfair Lanes.
Chase Nadeau qualified first after 15 qualifying games on the very challenging wolf, badger, and bear patterns, and elected to bowl the matchplay portion on badger. The bigger problem for him was his thumb, which was completely torn up by the end of qualifying. He bravely got through matches against Trevor Thompson and Russ Oviatt, before bowing out to Sergio Torres in the semifinals. On the other side of the bracket, Devlin got by Kevin Banaag and Kyle Gilbert, before doing what nobody else in the country could do in July- stopping back-to-back Gold champ Solomon Salama in the semifinals, to advance to one last title match in his JBT career.
The title match was well bowled by both but turned on a ninth frame open from Torres, allowing Devlin to climb back into the match. Finishing with five of the last seven strikes, Nick forced Sergio to double for the win. Torres' first shot left a 4-pin, and with that Nick got the storybook finish to his JBT career, earning his 23rd title of his career with the comeback victory.
Phillip Sauve performed very well in yet another major, grabbing the top seed for matchplay. Abby Franklin was able to upset him in five grueling games in the quarterfinals though, before she in turn was stopped by Wilson in the semifinal match. The other side of the bracket was highlighted by an incredible comeback from Veronica Potter, who found herself down 0-2 in her very first match, then peeled off the next seven wins, blitzing newcomer Josh Williams, Darren Fletcher, and Justin Worthington on the way to the title match.
The finale featured two (very understandably) tired bowlers, but in the end Wilson had enough steam left for the victory, the second of his JBT career.
Huge thanks to Glenfair for a great job hosting this exciting event. Want in on all this fun? Just check out our upcoming schedule and come on down!
Desert Open- final results and scholarship winners
8/13/2017
Scratch Division
rank
bowler
prize
1
Nick Devlin
$639
2
Sergio Torres
$250
3
Chase Nadeau
$150
4
Solomon Salama
$194
5
Ricardo Mendoza
$150
6
Russ Oviatt
$100
7
Kyle Gilbert
$20
8
Matt Zweig
9
Cortez Schenck
$182
10
Kevin Banaag
11
Kyle Duster
12
Keith Fung
13
Joe Grondin
14
Rachael Berg
$128
15
Harley Sweigart
$81
16
Trevor Thompson
17
Chris Ortega
18
Kaylee Am-Khong
19
Shelby Dempsey
20
Taylor Berry
21
Trevyr Geronimo
22
Daryus Alo
23
Kye Reed
$24
24
John Newton
25
Nolan Am-Khong
26
Tim Hill
$5
27
Ricky Pollom
28
Christian Apolinio
29
Clifford Baltazar
30
Cristian Roque
31
Anthony Sassano
Handicap Division
1
James Wilson
$579
2
Victoria Potter
$250
3
Justin Worthington
$150
4
Abby Franklin
$203
5
Phillip Sauve
$214
6
Darren Fletcher
$100
7
Mark Sauve
$28
8
Rieley Ulanday
$15
9
Kyle Lawrence
$29
10
Christian Caron
11
William Robbins
$5
12
Yael Salama
13
Kendall Bollea
$129
14
CJ Todeschi
15
Josh Williams
$5
16
Silas Phillips
17
Dawson Reese
18
Brooke Collins
19
Ryan Zent
20
Kyle Perry
$5
21
Bernadette Davis
22
Reagan Russ
23
Kevin VanGordon
24
Lexi Cassman
25
Ranelle Ulanday
$14
26
Josh Brown
27
Clifford Robbins
28
Destiny Johnson
29
Alyssa Tucker
30
Corbin Reid-Hirsch
31
Ryland Pimentel
$7
32
Ryan Perry
33
Kaitlyn Schroyer
34
Matt Ross
35
Zachary Nesius
TOTAL AWARDED THIS EVENT: $3,555
The 2017 JBT Desert Open Marathon
<![if !vml]>
<![endif]> <![if !vml]>
<![endif]> <![if !vml]>
<![endif]>

2014 champs Cortez Schenck & Destiny Johnson; 2015 champs Dallas Leong & Jesse Becker; 2011 champs Riley Dempsey & Ryan Zent
to be held
Saturday & Sunday August 12-13, 2017
at
Glenfair Lanes 6110 N. 59th Ave, Glendale AZ, (623) 937-9225
All bowlers roll 15 games each on 3 different lane conditions!
Top 16 advance to single elimination matchplay!**
Per block and overall prizes- bonuses for the champs can translate into THOUSANDS:
FORMAT: (TWO divisions, scratch and handicap)
Friday August 11:
- 4 PM-10 PM: tournament patterns available for practice (call for specific times & mention Desert Open for discounted rate)
Saturday August 12:
- 10 AM: 5 games, pattern 1
- 2 PM: 5 games, pattern 2
Sunday August 13:
- 9 AM: 5 games, pattern 3
the top 16 fifteen-game totals advance to matchplay**
- 1 PM: round of 16, best 3-of-5 matchplay, highest scratch seed chooses pattern!
- 3:30 PM: round of 8, best 3-of-5 matchplay (starting times approx. following round completion)
- 5 PM: rounds of 4 & 2, single game matches
**23+ entries cuts to 16; 16-22 entries cuts to 12; less than 16 entries cuts to 8
ENTRY FEE: $100 (includes all scholarships except brackets, available on-site.) $500 first place guaranteed (plus below)!
PRIZE FUNDS: (based 36 entries- 1:6 earn awards)
Every 5-game block: final standings: CHAMP ALSO RECEIVES:
1st- $50 1st- $500 - exemption in day 2 of 2018 TPC
2nd- $250 - the famous glass cactus trophy!
3rd-4th- $150 - 5 brackets AND 25 raffle tix
5th-6th $100 at EVERY 17-18 JBT event!
- High overall female (if no other prize won): $100