SO CAL DOUBLES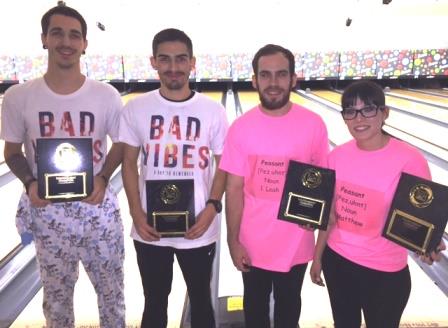 champs Derek Acuff & Kyle Duster, and Matt Zweig & Leah Zweig
A veteran team and a sibling team claimed titles at the JBT So Cal Doubles Classic, hosted by Bowlium Lanes in Montclair.
The father-son team of Brian and Kyle Reed began the scratch division Baker format stepladder finals with a 211-202 win over Anthony Schanen and Ryan Lee. Cortez Schenck and alumni Matt Jones, a 9-time JBT champ, then stopped the Reeds 228-215. Jacob Camacho and James Hawkins then turned the tables on Schenck and Jones in a 234-188 win to move on to the title match.
Kyle Duster and the recently aged-out Derek Acuff, champs in this event in 2013, were again solid, climbing to the lead in matchplay after a slower start. Both teams were excellent in the finale, and in the end it was Camacho left with a chance to double in the tenth for the win. Jacob couldn't get the hits, and Kyle and Derek claimed the title with the 246-213 result. It's Duster's 16th career JBT title, while Acuff continues his drive towards 30 as an adult, earning his 28th JBT win.
The youngster team of Gage Baker and Lindsay Greim opened the handicap finals with a 179-135 win over Marguerite Evans and Samm Cosby. Phillip Sauve and Kaitlynn Martin then stopped Gage and Lindsay 170-158. Scores remained low in the semifinals, with Phillip and Kaitlynn surviving against Ranelle Ulanday and Buddy Lucas 174-161 to move on to the title match.
Top seeds Matthew and Leah Zweig bowled great all day, but the title match came down to the last ball, with the red-hot Sauve, winner at Best In The West the previous week, to strike for the win. This time Phillip couldn't get the hit, and the once-and-future ASU pair claimed the title with a 180-174 final score.
Big thanks to Al and the team at Bowlium for a great job hosting our events. Want in on the fun? Just check out our schedule and come on down!
So Cal Doubles- final results and scholarship winners
11/26/2016
Scratch Division
rank
bowler

prize

bowler
prize
total
1
Kyle Duster
$500
Derek Acuff
$500
2
Jacob Camacho
$250
James Hawkins
$250
3
Cortez Schenck
$150
Matt Jones
$150
4
Kyle Reed
$155
Brian Reed
$155
5
Ryan Lee
$50
Anthony Schanen
$50
$100
6
Nick Devlin
$29
Harley Sweigart
$75
$104
7
Nick Pollak
Brandon Wanders
8
Zack Long
Andre Eubanks
9
Jerod Walker
Cristian Roque
10
Brittany Kolatzny
Keith Winn
11
Joe Grondin
Solomon Salama
12
Oscar Chan
Anthony Cando
13
Kyle Gilbert
$10
Ed Hanson
$10
14
Trevor Thompson
$42
Ricky Pollom
$42
15
Marco FLores
Richard Paul III
16
Eric Phillips
Chris Dritz
17
Matt Alford
David McKay
18
Tim Hill
Gil Geer
19
Matt Green
Nick Ochse
20
Shelby Dempsey
Amanda Atkin
Handicap Division
1
Leah Zweig
$200
Matt Zweig
$200
$400
2
Phillip Sauve
$132
Kaitlynn Martin
$139
$271
3
Ranelle Ulanday
$229
Buddy Lucas
$229
4
Lindsay Greim
$75
Gage Baker
$75
$150
5
Marguerite Evans
$125
Samm Cosby
$125
6
Israel Ramirez
$50
Jose Luis Morales
$50
$100
7
Katie Kipler
$50
Garrett Sulzer
$50
$100
8
Aislinn Yubag
$15
Sandra Chacon
$30
$45
9
Nolan Am-Khong
$30
Kaylee Am-Khong
$30
10
James McGough
Jeff Rodda
11
Renee Gentry
Ashley Wilcox
12
Ronnie Lockwood
John Handa
13
Costa Gastouniotis
Secilia Kalvelage
$29
$29
14
Harley Sweigart
Brittany Bland
15
Dawson Reese
Keith Bunker
16
Ryan Howieson
$67
Doug Howieson
$67
17
Elijah Lomotan
Ezikiel Lomotan
18
Miranda Griffin
Barbara Griffin
19
Sterling Lopez
Andy Clark
20
Samantha Potter
Mahaleah Potter
21
Matthew Carpenter
Megan Carpenter
22
Zack Velosa
Dillon O'Neil
23
Joshua Brinker
Benjamin Byers
24
Augie Labradi
Marquan Rivers
25
Tyler Hedges
Dustin Yauney
26
Kirk Chui
Nick Condon
27
Avery Domaguin
$10
Kara Aden
$10
28
Yairi Lubag
$28
Patrick Sablan
29
Jace Barnes
Nicholas Langford
30
Tyler Handa
Nathan Griffin
31
Autumn Barnes
James Estey
32
Erik Hagen
Levi Grant
33
Chris Hill
David Hill
34
Mark Sauve
Genevieve LaLonde
35
Timothy Kessler
Louis Luna
36
Zian Sasaki
Ryland Pimentel
37
Michaela Buhain
Lawrence Buhain
38
Jake Hansen
Shane Strickland
39
Rieley Ulanday
Allan Alcasid
40
Michael Sasaki
Zach Greim
41
Caleb Rothstein
David Domaguin
42
Christian DiTucci
Tony Sye
High Games
Scratch
Handicap
1
Salama 299
P Sauve 282
2
Duster 279
Kipler 281
3
Camacho 267
Morales 280
4
Lee 256
Lockwood 271
5
Gilbert 255
Howieson 266
Round Leaders
Scratch
Handicap
1
Camacho-Hawkins
Zweig-Zweig
2
Camacho-Hawkins
Zweig-Zweig
3
Devlin-Dempsey
Am Khong-Am Khong
4
Lee-Schanen
Am Khong-Am Khong
5
Acuff-Duster
Am Khong-Am Khong
6
Acuff-Duster
Zweig-Zweig
7
Acuff-Duster
Zweig-Zweig
TOTAL AWARDED THIS EVENT: $2,886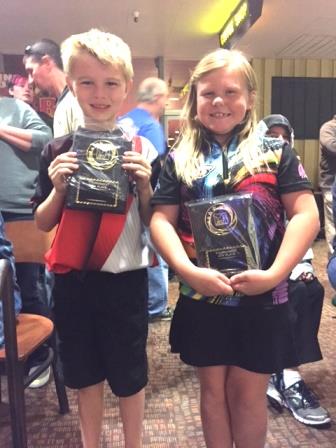 Any age, any average!