AMF FIREBIRD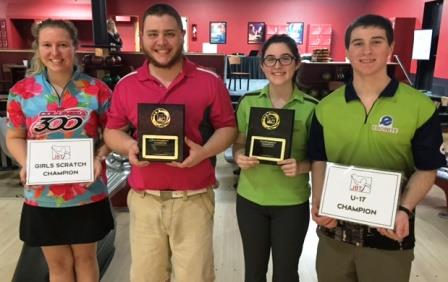 champs Ryan DeFazio & Reagan Lorey with Girls and U17 winners AJ Schock & Tommie McNeal
Ryan DeFazio and Reagan Lorey doubled their title total in JBT Pacific Northwest Conference action at Fireside Lanes in Salem.
Tommie McNeal took advantage of a low game by previous leader Richard Paul III to gain the #1 seed after qualifying. His luck ran out in matchplay though, as local bowler Carlos Serrano beat him in the round of eight. Also in that round was the match of the day, where Aidghan Ziegler fired a 299 game- but lost the two-game total pinfall match 502-497 to Jeff Jonker. Jonker kept rolling with a semifinal win over Kyle Jonson, but Serrano was stopped by Ryan DeFazio, who moved on to play Jonker for the title.
The two one-time champs put on an entertaining title match, with DeFazio leading by ten, but both bowlers on triples, entering the tenth. Jonker left a 4-10 split in the final frame, handing the match to DeFazio, which was a good thing for Ryan as his 8-10 in the tenth became inconsequential. The 224-212 final score was DeFazio's second career JBT title, having won the non-champs event in 2015.
Jacob Frazier continued his excellent weekend by roaring to the #1 seed after qualifying. He beat Wendy Jo LaTurner in round one, and Cosmo Castellano (who had upset #2 Bradley Baltazar in round one) in round two, but fell to Reagan Lorey in a surprisingly low scoring semifinal. Meanwhile Derek Haight, who had a slew of sixth place finishes last season, finally broke the top-5 ice with wins over Madison Bash, Shannon Bliquez, and Vincent Oberto to advance and play Lorey for the title.
Lorey watch little brother Jonathan win a title this season at Acme, and decided it was time for her to win again. The 209-197 final over Haight was good for the second title of her JBT career.
McNeal got a chance to sweep the U17 events on the weekend, but had to get by Baltazar, who earlier fired the event's only 300 game (even though he hid from the camera of doom to do so). Tommie emerged with a 222-190 win over his friend to indeed sweep the weekend. AJ Schock came up with a win over close rival Kelsey Abrahamsen 229-209 for the day's girls scratch title.
Thanks as always to Erik and the team at Firebird for their usual great hosting job. Want in on all the fun for all ages and averages? Just check out our schedule and come on down!
Firebird Lanes- final results and scholarship winners
1/29/2017
Scratch Division
rank
bowler
prize
1
Ryan DeFazio
$250
2
Jeff Jonker
$125
3
Kyle Jonson
$75
4
Carlos Serrano
$50
5
Tommie McNeal
$75
6
Richard Paul III
7
Aidghan Ziegler
8
Brian DeLuisa-Anderson
9
Andy Herrmann
$19
10
Johnny Leggett
$50
11
Jake Mullen
$30
12
Kelsey Abrahamsen
13
AJ Schock
14
Kris Tomer
15
Ryan Nikolas
16
Isaac Richardson
17
Tyger Miller
18
Collin Young
19
Jordan Jonker
20
Cameron Cox
21
MacKenzie Brumbaugh
22
Donovan Grubaugh
23
Josh Leinassar
Handicap Division
1
Reagan Lorey
$200
2
Derek Haight
$130
3
Jacob Frazier
$158
4
Vincent Oberto
$75
5
Payton Edwards
$45
6
Austin Camarillo
$30
7
Shannon Bliquez
$20
8
Cosmo Castellano
9
Bradley Baltazar
10
Isaac Mailkoff
11
Andrew Martin
12
Tyler Coates
13
Hannah Abney
$15
14
Madison Bash
$15
15
Sara Harris
16
Wendy Jo LaTurner
17
Tyler DeLorm
18
Colt Jance
$15
19
Alexa Lanning
20
Alejandro Moser-Hernandez
$15
21
Olivia Kolppa
22
Lohrghan Ziegler
23
Evan Smith
24
Layton Thurlow
25
Matthew Salinas
26
Brandon Nodland
27
Blake Copeland
28
Silas LeBlanc
29
Konnor Sjullie
30
Seth Chilcutt
31
Bailey Peters
32
Bryce Meisner
33
Brittany Bland
34
Amber Sparks
35
Kristen Blank
36
Joseph Brooks
37
Jonathan Lorey
38
LaiLani Wallin
39
Alan Serrano
High Games
Scratch
Handicap
1
Ziegler 299
Baltazar 318
2
Jeff Jonker 279
A Camarillo 313
3
Paul 277
Haight 303
4
Jeff Jonker 268
P Edwards 302
5
McNeal 267
Mailkoff 299
Girls scratch side event
1
Abrahamsen +18
2
Schock +17*
3
Abney -7
4
R Lorey -19
5
S Harris -26
U-17 scratch side event
1
McNeal +181*
2
Baltazar +111
3
Paul +95
4
Leggett +89
5
A Ziegler +85
Round Leaders
Scratch
Handicap
1
Paul
Coates
2
Paul
A Camarillo
3
Paul
Frazier
4
Paul
Frazier
5
McNeal
Frazier
TOTAL AWARDED THIS EVENT: $1,342