GLENFAIR LANES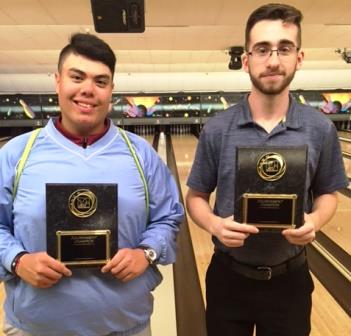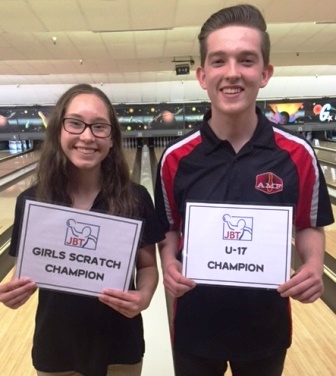 champs Keith Fung & Matt Ross; Girls and U17 winners Stefanny Toala & Mathew Adragna
Keith Fung again put on his Sunday best, while Matt Ross made a long trip a winning one, in exciting JBT Arizona Conference action at Glenfair Lanes in Glendale.
Matthew Zweig opened up the scratch division stepladder finals with a 177-155 win over Kyle Duster in the latest edition of their rivalry. Harley Sweigart then beat Zweig 179-148. Scores finally picked up in the semifinals, with Nick Devlin stopping Harley 230-215 after Sweigart spared the 3-7-9 in the tenth to give himself a chance.
Top seed Keith Fung led six of the eight rounds of the event, coincidentally doing his best bowling of the weekend again on a Sunday, continuing his recent trend. The title game on a brutal pattern was well bowled, and Fung struck out in the tenth for 203. That gave him the 'endless tenth' bonus, but Devlin had a chance to strike out for 204, creating numerous possibilities for ties or endless-tenth-ties. It became moot though when Devlin couldn't get the second hit in the tenth, giving Keith the win and 6th career JBT title.
Connor Lawrence, trying to duplicate brother Justin's win the day before, began the handicap finals with a 208-181 win over Mark Sauve. Connor then beat Abby Franklin, who was hobbled by a busted thumb 190-178, but Lawrence's thumb was no better, and he couldn't keep up with Matt Ross in the semifinals, as Matt advanced to the title game.
Top seed Katy Mace had her best career JBT event to date, leading since game four. Katy bowled well in her first title match, but New Mexico's Ross, a runner-up last month in his home state, had the experience to come through in this match, winning his first career JBT title.
Stefanny Toala was the top seed in both of the day's side events. She won the Girls Scratch event with a 187-163 win over Abby Franklin, and then took part in maybe the most entertaining match of the day, against Mathew Adragna in the U-17 finale. Toala left a 7-count on her fill ball to tie at 168, and then she and Mathew tied on the rolloff shot at 9. The match was finally decided on the next shot, as Adragna won 10-8 to finally earn the day's U17 win.
Big thanks as always to the great team at Glenfair for their usual great job hosting us. Want in on all the fun? Just check out our schedule and come on down!
Glenfair Lanes- final results and scholarship winners
2/19/2017
Scratch Division
rank
bowler
prize
1
Keith Fung
$250
2
Nick Devlin
$214
3
Harley Sweigart
$75
4
Matt Zweig
$50
5
Kyle Duster
$30
6
Russ Oviatt
7
Zack Long
8
Stefanny Toala
9
Mathew Adragna
10
John Newton
11
Lucas Rabb
12
Matt Green
13
Zach Rapp
14
Chris Ortega
15
Austin Muldoon
16
Christian Apolonio
17
Kyle Reed
18
Justin Song
19
Joseph Bryan
20
Tim Hill
$5
21
Dante Rohe
22
Kevin Lu
23
Josh Fearing
24
Josh Mabry
25
Rashaad Jordan
26
Nathan Nguyen
27
Gianni Coste
28
Max Polhill
Handicap Division
1
Matt Ross
$200
2
Katy Mace
$125
3
Connor Lawrence
$115
4
Abby Franklin
$75
5
Mark Sauve
$94
6
Katie Hurley
$40
7
Kyle Perry
$30
8
William Robbins
$20
9
Jeremiah McClelon
10
Justin Lawrence
11
Leah Zweig
$14
12
Clifford Robbins
13
Tyler Hedges
$30
14
Jadeyn Mabry
15
Sebastian Polhill
16
Avery Domaguin
$14
17
Deo Benard
18
Destiny Johnson
$45
19
Josh Brown
20
Keith Ylvisaker
21
Phillip Sauve
22
Raymond Gaiser
23
Ryan Perry
24
Tyler Nelson
25
CJ Todeschi
26
Corbin Hirsch
27
Cody Graham
28
Chris Hill
$15
29
Kristy Mace
$10
30
Amelia Mosley
31
Josh Grissom
32
Andrew Thomas
33
Gavin Holter
34
Landon Theobald
35
Caitlynn Graham
36
Rob McClelon
37
James Wilson
38
Elijah Melchor
39
Kendall Bollea
40
Justin Worthington
41
Alex Seng
42
Ryan Zent
43
Shawn Seng Jr
44
Christian Caron
45
Kevin Van Gordon
46
Kyle Lawrence
Qualifying Leaders
Scratch
Handicap
1
Fung +155
Mace +17
2
Devlin +109
K Perry -20
3
Sweigart -2
M Sauve -27
High Games
Scratch
Handicap
1
Fung 278
Ross 250
2
Duster 278
K Perry 249
3
Fung 259
J McClelon 244
4
Devlin 246
J Lawrence 240
5
Sweigart 245
K Hurley 240
J Song 245
Girls Scratch side event
1
Toala -139*
2
Franklin -205
3
Johnson -214
4
Zweig -222
5
K Hurley -247
U-17 scratch side event
1
Adragna -84*
2
Toala -139
3
Lu -196
4
Franklin -205
5
Johnson -214
Round Leaders
Scratch
Handicap
1
Fung
J Lawrence
2
Fung
M Ross
3
Devlin
M Sauve
4
Devlin
Mace
5
Fung
Mace
6
Fung
Mace
7
Fung
Mace
8
Fung
Mace
TOTAL AWARDED THIS EVENT: $1,470