ilGOLD COAST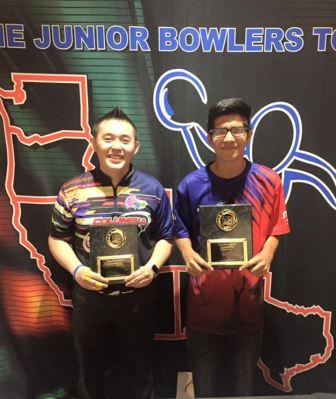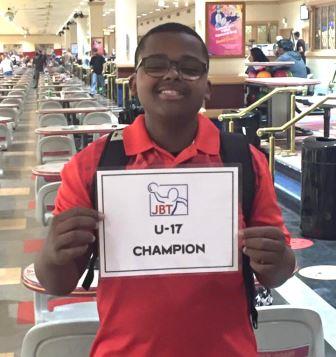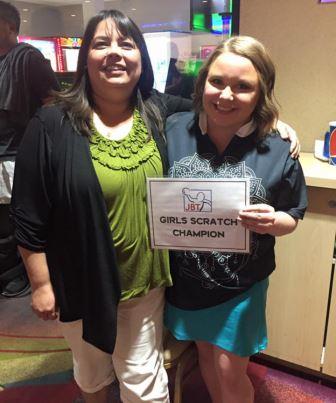 champs Dallas Leong & Ruben Mendoza; U17 winner TJ Rock; Girls Scratch winner Margeurite Evans
Dallas Leong and Ruben Mendoza wrapped up the 2016-17 Mojave Conference regular season with big wins in exciting action at Las Vegas' Gold Coast Lanes.
In a battle of Team USA members and near-future WSU teammates, Cortez Schenck beat Wesley Low 233-227. Ryan Lee then stopped Schenck 247-156. Harley Sweigart then turned the tables on Lee 233-162 to advance to the title match.
Leong has only had time for guest appearances this season but has made the most of them, and it was no different here as he defeated Sweigart 256-210 for the 16th title of his JBT career.
Abby Franklin began the 8-bowler handicap finals with a 254 game that edged Avery Domaguin (251) and beat Dylan Dormuth (214). Tyler Hedges then fired 225 in round two to stop Frankln (201) and Kyle Perry (211). In a thrilling semifinals, Jason Aguon posted 180, and could only watch as Kyle Wilson's spare gave him 203 to Hedges' 202, advancing Wilson to the title match.
Ruben Mendoza grabbed the top seed in an excellent performance, and continued to be strong in the title game. He defeated Wilson 206-164 for the first title of his JBT career.
Marguerite Evans won the Girls Scratch side event with a 178-171 win over Samantha Conti, while TJ Rock earned the U17 win with a 218-169 defeat of Skyler McGowan.
Thanks as always to Gold Coast for hosting us. The field is now set for the Mojave Invitational, featuring $1,000 top porzes and over $5,000 in scholarships to be awarded!
Gold Coast- final results and scholarship winners
5/13/2017
Scratch Division
rank
bowler
prize
1
Dallas Leong
$329
2
Harley Sweigart
$346
3
Ryan Lee
$150
4
Cortez Schenck
$100
5
Wesley Low
$75
6
TJ Rock
7
Sergio Torres
8
Kennison Andrews
$15
9
Skyler McGowan
10
Kyle Andrews
$30
11
Cerell Cardines
12
Josh Demick
13
Dominic Olivares
14
Andrew Guba
15
Dante Rohe
16
Louis Luna
17
Kyle Gilbert
$20
18
John Newton
19
Costa Gastouniotis
20
Joe Grondin
21
Christopher Rouse
22
Zack Long
23
Kyle Reed
$5
24
Rachel Berg
25
Brandon Rouse
26
Daryus Alo
27
Tim Hill
Handicap Division
1
Ruben Mendoza
$400
2
Kyle Wilson
$250
3
Tyler Hedges
$200
3
Jason Aguon
$150
5
Kyle Perry
$125
6
Abby Franklin
$115
7
Avery Domaguin
$103
8
Dylan Dormuth
$50
9
Deo Benard
$70
10
Rieley Ulanday
$45
11
Amanda Hanson
$79
12
Silas Phillips
13
Josue DeAlba
14
Afton Lords
$15
15
Marguerite Evans
16
Ben Dinenberg
17
Darren Fletcher
18
Haylee Carlos
$14
19
Brett McEachern
20
Elijah Melchor
21
Kendall Bollea
$44
22
Amelia Costin
23
Marisol Ramirez-Buckles
24
Destiny Johnson
25
Samantha Conti
26
Trevyr Geronimo
27
Hillari Hampton
$30
28
Sebastian Huffman
29
Alyssa Tucker
30
Kyle Rendon
31
Zachary Gonzalez
32
Clifford Baltazar
33
William Robbins
34
Alexiz Bustamante
$29
35
Justin Dormuth
$15
36
Zack Velosa
37
Dillon O'Neil
38
Ryland Gregorich
39
Alex Seng
40
Cameron Criss
41
April McDonnell
$14
42
Ranelle Ulanday
$15
43
Emily Dormuth
44
Toby Ferguson
45
David Jepsen
46
Kaylee Am-Khong
47
Gage Baker
48
Caleb Rothstein
49
Timothy Kessler
50
Leanna Orlando
51
Phillip Sauve
52
Connor Steelmon-Hill
$5
53
Chris Hill
54
Devyn Patalina
55
Ryan Perry
56
Noel Gregorich
57
Clifford Robbins
58
Brandon Criss
59
Zach Greim
60
Jopfel Gafate
61
Matthew Huckabay
62
Katie Kipler
High Games
Scratch
Handicap
1
Sweigart 280
R Mendoza 295
2
Sweigart 279
K Wilson 285
3
Lee 278
K Perry 283
4
Sweigart 269
Gafate 262
5
Lee 268
Conti 259
Leong 268
High Female
1
Conti -100
2
Evans -131*
3
Johnson -134
4
Franklin -135
5
K Nam-Khong -135
Qualifying Leaders
Scratch
Handicap
1
Sweigart +168
Aguon +139
2
Lee +24
Hedges +122
3
Schenck +91
S Phillips +63
U-17
1
Rock +28*
2
McGowan +23
3
Cardines +3
4
Hedges -38
5
Guba -46
Round Leaders
Scratch
Handicap
1
Cardines
Conti
2
Demick
Benard
3
Sweigart
Hedges
4
Sweigart
Hedges
5
Sweigart
Aguon
6
Lee/Sweigart
Aguon
7
Leong
Aguon
8
Leong
R Mendoza
Total Awarded This Event: $2,838