GOLDEN PIN LANES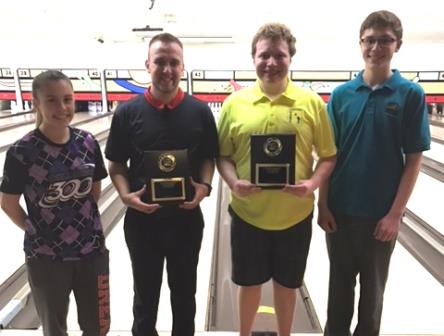 champs Nick Devlin & William Robbins with Girls and U17 winners Abby Franklin & Matthew Garrett
Nick Devlin and William Robbins picked up JBT titles in exciting Arizona Conference action at Tucson's historic Golden Pin Lanes.
Justin Lawrence began the handicap division stepladder finals with a 236-205 win over Keith Ylvisaker. Lawrence then turned it up with a 244-186 win over Corbin Hirsch. Robbins then stepped in and stopped Lawrence in an exciting 230-221 semifinal match.
Top seed Freddy Ramirez traveled from California with his friends for the event, and made the most of it by leading for most of the day. However, William, who narrowly lost the week before in Las Vegas, was not going to let it happen again. He came up with a big game in a 252-210 win, good for the second title of his JBT career.
Harley Sweigart began a run up the scratch division stepladder with a 186-154 win over Austin Muldoon. He won the next match by the narrowest of margins, 199-198 over Cortez Schenck. Nick Devlin stopped him in a 231-190 semifinal win to advance to the title match.
Top seed Kyle Duster had taken the lead from Devlin, who had shot 299 in game five, in game seven. Neither bowler could find a good look in the title game, and in the end Devlin escaped with a 181-177 win, good for the 18th title of his impressive JBT career.
Matthew Garrett won his first U17 event with a 197-147 win over Mathew Adragna. Abby Franklin stopped top seed Stefanny Toala 189-186 for the day's Girls Scratch crown.
Thanks as always to Golden Pin for hosting our Tour. Want in on the fun and excitement for all ages and averages that JBT offers? Check out our schedule and come on down!
Golden Pin Lanes- final results and scholarship winners
1/28/2017
Scratch Division
rank
bowler
prize
1
Nick Devlin
$250
2
Kyle Duster
$125
3
Harley Sweigart
$75
4
Cortez Schenck
$50
5
Austin Muldoon
$30
6
Keith Fung
7
Matthew Garrett
8
Mathew Adragna
9
Jacob Merki
10
Rashaad Jordan
11
Josh Fearing
12
Chris Mayes
13
Stefanny Toala
14
Cristian Roque
15
Max Polhill
16
Hunter Mayes
17
Marco Buckles-Ramirez
Handicap Division
1
William Robbins
$200
2
Freddy Ramirez
$100
3
Justin Lawrence
$65
4
Corbin Hirsch
$30
5
Keith Ylvisaker
$20
6
Ryan Zent
7
Alex Seng
8
Simon Ortega
9
Xavier Limon
$23
10
Sebastian Polhill
11
Justin Phillips Jr
12
Andrew Thomas
13
Jaedyn Mabry
$26
14
Phillip Sauve
15
Abby Franklin
16
Shawn Seng
17
Silas Phillips
18
Mark Sauve
$26
19
Josh Grissom
20
Kyle Lawrence
$15
21
Kendall Bollea
$100
22
Cody Graham
23
Clifford Robbins
24
Christopher Berryman
Round Leaders
Scratch
Handicap
1
Schenck
S Polhill
2
Sweigart
F Ramirez
3
Sweigart
F Ramirez
4
Sweigart
F Ramirez
5
Devlin
F Ramirez
6
Devlin
F Ramirez
7
Duster
F Ramirez
8
Duster
F Ramirez
High Games
Scratch
Handicap
1
Devlin 299
Ramirez 279
2
Duster 277
W Robbins 252
3
Schenck 257
Ylvisaker 245
4
Sweigart 255
C Hirsch 249
5
Duster 244
Ortega 233
U-17
Girls Scratch
1
Garrett -79*
Toala -174
2
Adragna -90
Franklin -251*
3
A Seng -144
J Mabry -454
4
C Mayes -159
Bollea -473
5
Toala -174
Total Awarded This Event: $1,135