GOLDEN PIN LANES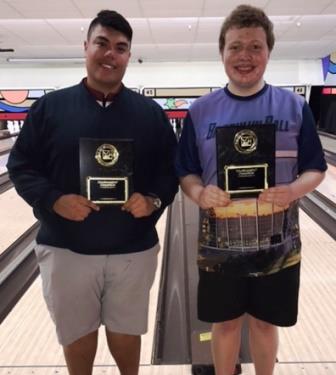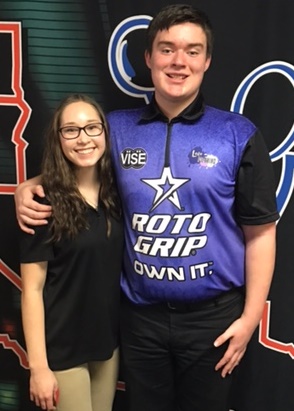 champs Keith Fung & William Robbins; U17 and Girls winners Cristian Roque & Stefanny Toala
Keith Fung doubled his season title total, while William Robbins doubled his weekend total, in exciting JBT Arizona Conference action at Tucson's Golden Pin Lanes.
Silas Phillips began the handicap division stepladder finals with the closest of victories, a 210-209 win over Clifford Robbins. Freddy Ramirez then turned the tables on Phillips with a 192-189 squeaker. Robbins, the champ yesterday, advanced to a chance to sweep the weekend with a 218-182 win over Ramirez.
Top seed Ryan Zent always asks for more oil, and got his wish with the Badger pattern, then put up big numbers to lead the event. However, Robbins is on an incredible, roll, starting with a second place at Strike Zone, and then the previous day's win. He stayed white hot here, beating Ryan 206-172 for the title, the first handicap division sweep in quite a while, and his third overall JBT title.
Kyle Duster began the scratch division stepladder with a 213-171 win over Josh Fearing. He then got by Tucsonan Rashaad Jordan 247-170. The next match was a mulligan-filled thriller, with Bryan Van Sickle beating Kyle 279-278. That left Van Sickle exhausted of mulligans against top seed Keith Fung, who had been brilliant all day. Keith was able to cruise to a 199-162 win over Van Sickle, good for the 5th title of his JBT career.
Stefanny Toala got past Abby Franklin 221-176 for a girls scratch win, and also made the U17 title match, but Cristian Roque beat her 203-163, for that title.
Thanks as always to Golden Pin for hosting our events. Want in on all the fun for all ages? Just check out our schedule and come on down!
Golden Pin Lanes- final results and scholarship winners
1/29/2017
Scratch Division
rank
bowler
prize
1
Keith Fung
$250
2
Bryan Van Sickle
$135
3
Kyle Duster
$75
4
Rashaad Jordan
$50
5
Josh Fearing
$30
6
Stefanny Toala
7
Harley Sweigart
8
Jakob Merki
9
Max Polhill
10
Austin Muldoon
11
Cristian Roque
12
Alex Seng
13
Matthew Garrett
14
Matt Adragna
15
Shawn Seng Jr
Handicap Division
1
William Robbins
$205
2
Ryan Zent
$140
3
Freddy Ramirez
$50
4
Silas Phillips
$30
5
Clifford Robbins
$20
6
Sebastian Polhill
7
Kyle Perry
8
Joshua Grissom
$22
9
Mark Sauve
10
Jadeyn Mabry
$22
11
Abby Franklin
12
Phillip Sauve
$11
13
Andrew Thomas
14
Keith Ylvisaker
15
Justin Phillips Jr
16
Corbin Hirsch
17
Kendall Bollea
$27
18
Simon Ortega
19
Christopher Berryman
$5
20
Ryan Perry
Round Leaders
Scratch
Handicap
1
Fung
Ramirez
2
Fung
K Perry
3
Fung
K Perry
4
Fung
K Perry
5
Fung
Zent
6
Fung
W Robbins
7
Fung
W Robbins
8
Fung
Zent
High Games
Scratch
Handicap
1
Van Sickle 279
W Robbins 283
2
Duster 278
Zent 254
3
Van Sickle 264
Ramirez 249
4
R Jordan 254
W Robbins 247
5
Fung, Van Sickle 247
Zent, K Perry 238
U-17
Girls Scratch
1
C Roque -110*
Toala -74*
2
Toala -74
Franklin -220
3
A Seng -123
Bollea -461
4
Garrett -131
5
Adragna -139
Total Awarded This Event: $1,172