HOLIDAY BOWL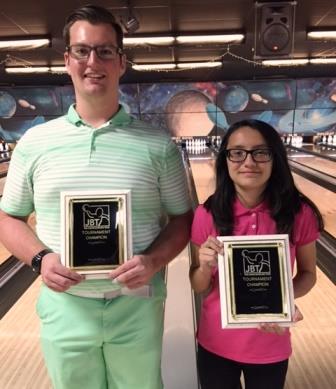 champs Harley Sweigart & Angela Romero
Harley Sweigart put on a clinic in scratch, while Angela Romero tasted victory for the first time, in a great season opener for the 2016-17 JBT New Mexico-Texas JBT Conference season at Albuquerque's Holiday Bowl.
Scores were fairly low all day, but that wasn't the case in the opening match of the scratch division stepladder finals, as Daniel Hall beat Blayne Hurst 265-246 in a strike-fest. Brad Harvey then stopped Hurst 192-180, and followed with a 181-167 win over Nathaniel Duran to advance to the title match.
Top seed Harley Sweigart dominated the event, leading qualifying and consolidating that lead in the semifinals. However, anything can happen in a one-game title match, and Harvey was looking for revenge for a title match loss to Sweigart at Isleta last season. Both bowlers did well in the finale, but a ninth frame open from Harvey gave Harley the room he needed. The 222-200 final score was good for the 14th title of Sweigart's excellent JBT career.
Yarelis Alvarez opened the handicap division of the stepladder finals with a 216-189 win over first time finalist Brandon Platero. Angela Romero then defeated Alvarez 237-204. Angela kept rolling with a 208-199 win over Gerilynn Delegarito to move on to the title game.
Top seed Mark Sauve picked up right where he left off last season, leading the kickoff event after a summer that included a YNMO win and TPC finals. He and Romero engaged in an excellent title match, with Romero winning in the end 224-215 for the first title of her JBT career.
Hall's excellent day included a 181-149 win over Tylor MacPhee for the U-17 title, while Vanessa Romero defeated Delegarito, who also finished 3rd in U-17, 196-141 for the girls scratch win. Silas Phillips took home the Ebonite bowling ball of his choice in the day's raffle.
Thanks as always to the crew at Holiday for another great job hosting our event. Want in on all the fun for all ages and averages? Just check out our schedule and come on down!
Holiday Bowl- final results and scholarship winners
9/10/2016
Scratch Division
rank
bowler
prize
1
Harley Sweigart
$367
2
Brad Harvey
$125
3
Nathaniel Duran
$75
4
Daniel Hall
$40
5
Blayne Hurst
$30
6
Vanessa Romero
$20
7
Zach Wojciechowski
8
Joey Balistreri
9
Jonah Seawright
10
John Ellis
11
Rashaad Jordan
12
Noah Martinez
13
Carson Opela
14
Matteo Bergonzi
15
Benjamin Groves
16
Matthew Lenz
17
Christian Apolonio
18
James Lentsch
19
Zach Harvey
20
Josh Demick
21
Chris Ortega
22
Jake Helmick
23
Kellen Lavery
24
Isziah Zuni
25
Mariano Garcia
26
Cole Poswiatowski
27
John Newton
28
Mateo Gonzalez
29
Aileen Linares
30
Stephen Poswiatowski
31
Will Davis
32
Mikie Cates
33
Nathan Nguyen
34
Natalia Tchiloyans
Handicap Division
1
Angela Romero
$215
2
Mark Sauve
$129
3
Gerilynn Delegarito
$125
4
Yarelis Alvarez
$30
5
Brandon Platero
$20
6
Montana Cdebaca
7
Silas Phillips
$5
8
Donius Jeffries
$15
9
Tylor MacPhee
$14
10
Kolton Carpenter
$5
11
Deo Benard
$15
12
Bernadette Davis
13
Dale Case
$15
14
Taylor Herson
15
Christina Ward
16
Phillip Sauve
17
Alyssa Williams
18
Audrey Campbell
$15
19
Justin Hackney
20
Reece Davis
21
Jay Heffer
22
Katie McNeil
23
Josie Herson
24
Harlee Wilson
$5
25
Kelly McNeil
26
Mariyah File
27
Brandyn MacPhee
28
Kallista Fritts
29
Jacob Marquis
Qualifying Leaders
Scratch
Handicap
1
Sweigart +183
Delegarito +69
2
Hurst +35
M Sauve +52
3
V Romero +21
Platero +14
High Games
Scratch
Handicap
1
Sweigart 268
Benard 249
2
N Duran 266
Delegarito 249
3
Hall 265
Phillips 246
4
Hall 259
Carpenter 241
5
Sweigart 258
Williams, Romero, M Sauve 239
Girls Scratch side event
1
V Romero +25*
2
Delegariro -101
3
Linares -174
4
Cdebaca -182
5
Alvarez, Davis -186
U-17 scratch side event
1
T MacPhee -93
2
Hall -95*
3
Delegarito -101
4
Groves -107
5
Helmick -142
Round Leaders
Scratch
Handicap
1
Seawright
M Sauve
2
Sweigart
M Sauve
3
Sweigart
M Sauve
4
Sweigart
Delegarito
5
Sweigart
Delegarito
6
Sweigart
M Sauve
7
Sweigart
M Sauve
8
Sweigart
M Sauve
TOTAL AWARDED THIS EVENT: $1,265
Qualifying scores:
| | | | | | | | | |
| --- | --- | --- | --- | --- | --- | --- | --- | --- |
| RANK | BOWLER | gm 1 | gm 2 | gm 3 | gm 4 | gm 5 | TOTAL | + / - |
| 1 | Sweigart, Harley | 200 | 268 | 225 | 258 | 232 | 1183 | 183 |
| 2 | Hurst, Blayne | 161 | 198 | 188 | 246 | 242 | 1035 | 35 |
| 3 | Romero, Vanessa | 161 | 237 | 209 | 232 | 182 | 1021 | 21 |
| 4 | Harvey, Brad | 191 | 205 | 193 | 228 | 193 | 1010 | 10 |
| 5 | Seawright, Jonah | 242 | 162 | 147 | 202 | 232 | 985 | -15 |
| 6 | Duran, Nathaniel | 214 | 195 | 162 | 173 | 231 | 975 | -25 |
| 7 | Wojo, Zach | 139 | 212 | 177 | 178 | 235 | 941 | -59 |
| 8 | Jordan, Rashaad | 174 | 146 | 247 | 165 | 196 | 928 | -72 |
| 9 | Ellis, John | 158 | 215 | 171 | 155 | 224 | 923 | -77 |
| 10 | Balistreri, Joey | 194 | 176 | 168 | 192 | 182 | 912 | -88 |
| 11 | Opela, Carson | 171 | 182 | 208 | 180 | 171 | 912 | -88 |
| 12 | Hall, Daniel | 201 | 169 | 196 | 204 | 135 | 905 | -95 |
| 13 | Bergonzi, Matteo | 167 | 219 | 174 | 175 | 164 | 899 | -101 |
| 14 | Martinez, Noah | 168 | 141 | 231 | 198 | 160 | 898 | -102 |
| 15 | Groves, Benjamin | 198 | 145 | 168 | 204 | 178 | 893 | -107 |
| 16 | Lenz, Matthew | 163 | 157 | 146 | 171 | 253 | 890 | -110 |
| 17 | Apolonio, Christian | 161 | 164 | 176 | 157 | 226 | 884 | -116 |
| 18 | Lentch, James | 149 | 217 | 160 | 173 | 180 | 879 | -121 |
| 19 | Harvey, Zach | 182 | 161 | 128 | 233 | 171 | 875 | -125 |
| 20 | Demick, Josh | 215 | 168 | 126 | 176 | 186 | 871 | -129 |
| 21 | Ortega, Chris | 159 | 168 | 169 | 178 | 192 | 866 | -134 |
| 22 | Helmick, Jake | 169 | 139 | 178 | 171 | 201 | 858 | -142 |
| 23 | Lavery, Kellen | 160 | 142 | 201 | 192 | 162 | 857 | -143 |
| 24 | Zuni, Isziah | 168 | 205 | 134 | 164 | 182 | 853 | -147 |
| 25 | Garcia, Mariano | 204 | 124 | 168 | 160 | 185 | 841 | -159 |
| 26 | Poswiatowski, Cole | 159 | 163 | 220 | 138 | 160 | 840 | -160 |
| 27 | Newton, John | 153 | 191 | 145 | 143 | 197 | 829 | -171 |
| 28 | Gonzalez, Mateo | 149 | 124 | 232 | 157 | 165 | 827 | -173 |
| 29 | Linares, Aileen | 156 | 152 | 156 | 213 | 149 | 826 | -174 |
| 30 | Poswiatowski, Stephen | 167 | 146 | 199 | 116 | 174 | 802 | -198 |
| 31 | Davis, Will | 149 | 147 | 180 | 180 | 133 | 789 | -211 |
| 32 | Cates, Michael | 142 | 166 | 167 | 155 | 154 | 784 | -216 |
| 33 | Nguyen, Nathan | 113 | 186 | 154 | 144 | 183 | 780 | -220 |
| 34 | Tchiloyans, Natalia | 157 | 123 | 181 | 120 | 146 | 727 | -273 |
| | | | | | | | | |
| --- | --- | --- | --- | --- | --- | --- | --- | --- |
| RANK | BOWLER | gm 1 | gm 2 | gm 3 | gm 4 | gm 5 | TOTAL | + / - |
| 1 | Delegraito, Gerilynn | 175 | 235 | 232 | 249 | 178 | 1069 | 69 |
| 2 | Sauve, Mark | 239 | 225 | 200 | 207 | 181 | 1052 | 52 |
| 3 | Platero, Brandon | 188 | 221 | 188 | 209 | 208 | 1014 | 14 |
| 4 | Alvarez, Yarelis | 196 | 184 | 180 | 223 | 226 | 1009 | 9 |
| 5 | Romero, Angela | 166 | 198 | 220 | 225 | 193 | 1002 | 2 |
| 6 | Cdebaca, Montana | 187 | 208 | 209 | 181 | 198 | 983 | -17 |
| 7 | Phillips, Silas | 186 | 246 | 195 | 198 | 153 | 978 | -22 |
| 8 | Benard, Deo | 172 | 164 | 212 | 249 | 177 | 974 | -26 |
| 9 | Davis, Bernadette | 214 | 161 | 199 | 218 | 177 | 969 | -31 |
| 10 | MacPhee, Tylor | 205 | 174 | 173 | 234 | 181 | 967 | -33 |
| 11 | Jeffries, Donius | 173 | 202 | 214 | 186 | 191 | 966 | -34 |
| 12 | Carpenter, Kolton | 177 | 241 | 176 | 186 | 177 | 957 | -43 |
| 13 | Case, Dale | 164 | 176 | 213 | 209 | 180 | 942 | -58 |
| 14 | Herson, Taylor | 170 | 198 | 220 | 166 | 187 | 941 | -59 |
| 15 | Ward, Christina | 205 | 198 | 168 | 216 | 137 | 924 | -76 |
| 16 | Sauve, Phillip | 198 | 201 | 176 | 175 | 161 | 911 | -89 |
| 17 | Williams, Alyssa | 213 | 140 | 239 | 151 | 164 | 907 | -93 |
| 18 | Campbell, Audrey | 184 | 212 | 158 | 202 | 149 | 905 | -95 |
| 19 | Hackney, Justin | 175 | 192 | 169 | 173 | 189 | 898 | -102 |
| 20 | Davis, Reece | 145 | 208 | 185 | 172 | 187 | 897 | -103 |
| 21 | Heffer, Jay | 201 | 157 | 146 | 177 | 210 | 891 | -109 |
| 22 | McNeil, Katie | 181 | 166 | 172 | 163 | 202 | 884 | -116 |
| 23 | Herson, Josie | 194 | 168 | 161 | 181 | 175 | 879 | -121 |
| 24 | Wilson, Harlee | 179 | 171 | 166 | 187 | 173 | 876 | -124 |
| 25 | McNeil, Kelly | 174 | 175 | 176 | 166 | 181 | 872 | -128 |
| 26 | File, Mariyah | 196 | 168 | 167 | 162 | 175 | 868 | -132 |
| 27 | MacPhee, Brandyn | 178 | 146 | 158 | 155 | 222 | 859 | -141 |
| 28 | Fritts, Kallista | 196 | 155 | 141 | 183 | 183 | 858 | -142 |
| 29 | Marquis, Jacob | 158 | 155 | 144 | 195 | 159 | 811 | -189 |