ARIZONA INVITATIONAL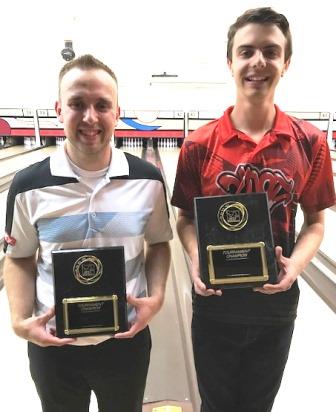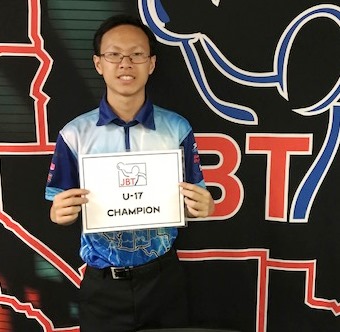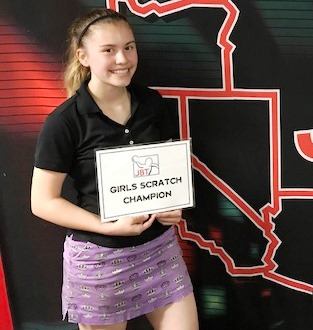 champs Nick Devlin & Darren Fletcher; U17 winner Kevin Lu; Girls winner Abby Franklin
Nick Devlin and Darren Fletcher captured JBT major titles at the 21st JBT Arizona Invitational Tournament, hosted by Golden Pin Lanes in Tucson.
Sixteen finalists in each division competed in grueling triple-elimination matchplay, led by Nick Devlin who gained the top seed on the brutal two-pattern qualifying, and roared through matchplay with only one loss through round seven. In that round, he gave Dallas Leong his second loss, while Bryan Van Sickle elminated Cortez Schenck, and Harley Sweigart eliminated Kyle Reed. In the next round, Devlin ousted Sweigart and Leong ousted Van Sickle, setting up a title match where Dallas would have to beat Nick twice for the title.
The first game was low scoring, and Leong, always a factor at JBT majors, was forced to finish on the tougher pattern. When he couldn't mark, Devlin needed a double to win it all on the easier lane. He stepped up and crushed the strikes for the title, the 22nd of his outstanding JBT career.
Six bowlers remained standing after seven rounds in the scratch division, highlighted by Fletcher with only one loss. In that round, Victoria Potter eliminated Matt Ross, and Phillip Sauve eliminated Alex Seng. In the next round, Fletcher eliminated Potter, and Sauve stopped #16 seed Clifford Robbins' great run, setting up a title match where Sauve would have to beat Fletcher twice to win it all.
Sauve, like Leong, seems to save his best JBT bowling for majors, but could not find a look at all on the final pair. Fletcher took full advantage, defeating Sauve for a landmark first JBT title and the $1,000 scholarship payday as the newest Invite champ!
Two handicap division bowlers reached the U17 Invite title match, with Kevin Lu beating Mathew Garrett for the title. Veteran Abby Franklin defeated newcomer Catelyn Croutch for the Girls Scratch Invite title.
Thanks as always to Dale Schnell and the crew at Golden Pin for hosting us. The top 20 point scorers now advance to teh 2017 JBT Touring Players Championships, the most prestigious event on the JBT calendar!
AZ Invitational- preliminary results and scholarship winners
6/3/2017
Scratch Division
rank
bowler
prize
1
Nick Devlin
$1,015
2
Dallas Leong
$574
3
Bryan Van Sickle
$250
4
Harley Sweigart
$150
5
Kyle Reed
$100
6
Josh Demick
$55
7
Russ Oviatt
8
Cristian Roque
9
Lucas Rabb
10
Brandon Rouse
$5
11
Kyle Duster
$50
12
Sergio Torres
13
Jacob Merki
14
Austin Muldoon
15
Cortez Schenck
$64
16
Keith Fung
$50
17
Zach Rapp
18
Rashaad Jordan
19
Josh Fearing
20
Joshua Mabry
21
Chris Ortega
22
Carson Opela
23
Catelyn Croutch
$100
24
Max Polhill
25
Christopher Mayes
26
John Newton
27
Mathew Adragna
28
Stefanny Toala
29
Hunter Mayes
30
Dante Rohe
31
Christian Apolonio
Handicap Division
1
Darren Fletcher
$1,000
2
Phillip Sauve
$500
3
Victoria Potter
$250
4
Clifford Robbins
$150
5
Matt Ross
$100
6
Alex Seng
$75
7
Kevin Lu
$279
8
Katie Hurley
9
Andrew Thomas
$50
10
Kyle Perry
11
Ryan Perry
$50
12
Abby Franklin
$242
13
Justin Worthington
$5
14
Caleb Rothstein
15
James Wilson
16
William Robbins
$50
17
Avery Domaguin
18
Kyle Lawrence
$15
19
Katy Mace
20
Justin Lawrence
21
Alyssa Tucker
22
Tyler Hedges
23
CJ Todeschi
24
Corbin Reid-Hirsch
25
Jadeyn Mabry
26
Elijah Melchor
27
Silas Philips
28
Mark Sauve
29
Kendall Bollea
30
Gavin Holter
31
Destiny Johnson
$28
32
Christian Caron
33
Bex Boyko
$15
34
Keith Ylvisaker
35
Josh Brown
$15
36
Jacob Soulierre
37
Ryan Zent
38
Sebastian Polhill
39
Shawn Seng
Qualifying Leaders
Scratch
Handicap
1
Devlin +142
Lu +148
2
Rabb +95
K Perry +89
3
Van Sickle +86
V Potter +87
High Games
Scratch
Handicap
1
Van Sickle 267
K Perry 269
2
Rabb 265
V Potter 269
3
Van Sickle 259
Franjklin 264
4
Van Sickle 258
Lu 254
5
Leong 258
Lu 253
Rothstein 253
Wilson 253
Girls Scratch Invitational
1
Franklin -68*
2
Croutch -99
3
A Tucker -100
4
S Dempsey -113
5
Toala -142
U-17 scratch side event
1
Lu -2*
2
M Garrett -17 ($100)
3
Toala -42
4
Roque -51
5
Todeschi -97
Round Leaders
Scratch
Handicap
1
Van Sickle
W Robbins/ Worthington
2
Rabb
W Robbins
3
Devlin
Franklin
4
Devlin
Franklin
5
Devlin
Lu
TOTAL AWARDED THIS EVENT: $5,389