SO CAL INVITATIONAL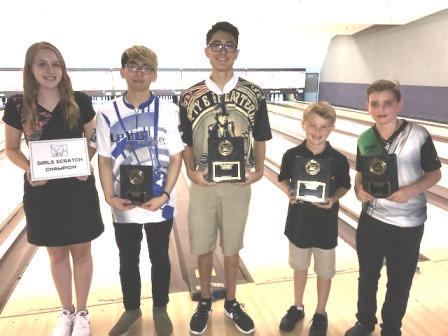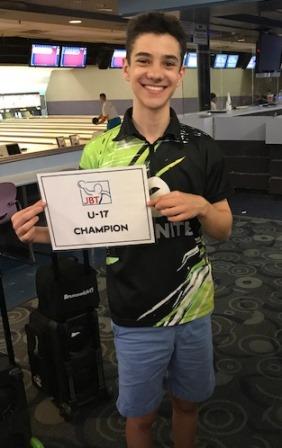 champs Cortez Schenck & Gage Baker with Megan Carpenter, Ryan Lee, Ben Dinenberg, and Solomon Salama
Cortez Schenck wrapped up a Bowler of the Year season in So Cal, while Gage Baker pulled off an incredible two-peat, in exciting action at the JBT Southern California Conference Invitational tournament, hosted by Cal Bowl in Lakewood.
After five qualifying games, eleven finalists joined five exempt bowlers for a sixteen-bowler, triple-elimination matchplay filled with dramatic finishes. By round seven, Schenck was the only bowler left with just one loss, as a result of a win over upstart Costa Gastouniotis. In the same round, Harley Sweigart eliminated Kyle Duster, and Ryan Lee eliminated Cerell Cardines. In round eight, Lee stayed alive by beating Schenck, and Gastouniotis eliminated Sweigart, giving Lee a bye to the finals. Cortez ousted Costa in the semifinal rematch, and in the resulting one game title match, a missed 6-10 from Ryan late-game spelled the difference, as Schenck cruised from there for the win and the title. It's the 91st of his JBT career, and the triple-points win gives him an almost prohibitive all-conference points lead heading into the TPC.
Cameron Criss was brilliant in the handicap division qualifying, cruising to the top seed, and survived into round seven of matchplay, falling to Allison Azvedo. The fifth place finish was enough to vault him into Bowler of the Year for So Cal however. Cameron's brother Brandon was eliminated in that round also, by Erik Hagen, while Gage Baker became the last one-loss bowler with a win over Ben Dinenberg. Baker then ousted Hagen in round eight while Dinenberg eliminated Azvedo, leaving Ben needing to beat Gage twice for the title.
These two talented youngsters could be around JBT title matches for a long time, but for the moment it was eight year-old Gage with the experience edge over 13 year-old Ben. Both put on nervous performances in the first match, and in the end Gage put together the late frame marks that included a tenth frame spare to edge Dinenberg for the championship. It's the second Invitational win in a little over a month for Gage, an amazing accomplishment at any age, let alone a single-digit age!
Megan Carpenter avenged a title match loss the day before with a a win over Brittany Kolatzny to capture the Girls Scratch Invitational. Solomon Salama capped off a completely dominant So Cal U17 season with a win over Megan's brother Matthew Carpenter for the U17 Invite title.
Thanks as always to the team at Cal for hosting us, as well as MSC for yet another fantastic scholarship contribution. The field is now set for the 2017 TPC, where 204 bowlers are eligible to compete for over $20,000 in scholarships in our most prestigious event of the season!
So Cal Invitational- final results and scholarship winners
6/25/2017
Scratch Division
rank
bowler
prize
1
Cortez Schenck
$1,146
2
Ryan Lee
$500
3
Costa Gastouniotis
$300
4
Harley Sweigart
$244
5
Kyle Duster
$150
6
Cerell Cardines
$100
7
Solomon Salama
$250
8
Kyle Andrews
9
Anthony Schanen
10
Marco Lerma
11
Anthony Cando
$50
12
Jore Grondin

($100)

13
Matt Carpenter
$130
14
Jacob Camacho
15
Donovan Koff
16
Brandon Wanders
17
Taylor Berry
18
Ricky Pollom
19
Kyle Reed
$10
20
Brittany Kolatzny
$100
21
Kyle Gilbert
$5
22
Nick Caner
23
Zack Long
24
Kennison Andrews
25
Tim Hill
26
Ryan Howieson
27
Kevin Banaag
28
David Schneider
29
Sergio Torres

($100)

30
Kylie Shishima
31
Matt Alford
Handicap Division
1
Gage Baker
$1,000
2
Ben Dinenberg
$500
3
Erik Hagen
$300
4
Allison Azvedo
$250
5
Cameron Criss
$288
6
Brandon Criss
$210
7
Zach Greim
$125
8
Phillip Sauve
$120
9
Aislinn Lubag
$135
10
Jeff Rodda
$50
11
Avery Domaguin
$92
12
Austin Sugarman
13
Joey Queller
14
James McGough
$50
15
Sterling Lopez
16
Nolan Am-Khong
$50
17
Megan Carpenter
$200
18
Justin Phillips Jr
19
William Robbins
20
Silas Phillips
21
Clifford Baltazar
22
Secilia Kalvelage
23
Ashley Wilcox
24
CJ Todeschi
25
Katie Kipler
26
Rieley Ulanday

($100)

27
Braeden Phillips
28
Michaela Buhain
29
Connor Steelmon-Hill
30
Tanner Ferguson
31
Zian Sasaki
32
Elias Luna
33
Patrick Sablan
34
Lindsay Greim
35
Dante Villa
36
Kyle Wilson
37
Ranelle Ulanday
38
Caleb Rothstein
39
Simon Ortega
40
Kaylee Am-Khong
41
Jared Schiada
42
Dillon O'Neil
43
Louis Luna
44
Yael Salama
45
Trevyr Geronimo
46
Jennifer Peterson
47
Chris Hill
48
Shane Howard
49
Kaytelyn Abigania
$15
50
Joshua Abgania
51
Renee Gentry
52
Ryland Pimentel
53
Dawson Reese
54
Timothy Kessler
55
Nicholas Taylor
56
Kyle Perry
57
Maikayla Villa
58
Peter Ruiz
High Games
Scratch
Handicap
1
Sweigart 280
A Lubag 260
2
Cando 269
S Lopez 258
3
Reed 266
Egana 258
4
Cando 257
Y Salama 253
5
Gilbert 256
Queller 252
High Female
1
Carpenter -70
2
Kolatzny -83*
3
Domaguin -153
4
Gentry -167
5
Kipler -183
Qualifying Leaders
Scratch
Handicap
1
Cando +108
Domaguin +57
2
Reed +93
Rodda +54
3
Cardines +92
K Perry +31
U-17
1
Cardines +92
2
Salama +19*
3
Rodda -26
4
Banaag -34
5
Berry -49
Round Leaders
Scratch
Handicap
1
Sweigart
McGough
2
Sweigart
Queller
3
Reed
Queller
4
Reed
Domaguin
5
Cando
Domaguin
6
Reed
Rodda
7
Cando
Domaguin
8
Gilbert
Queller
Total Awarded This Event: $6,070