MOJAVE INVITATIONAL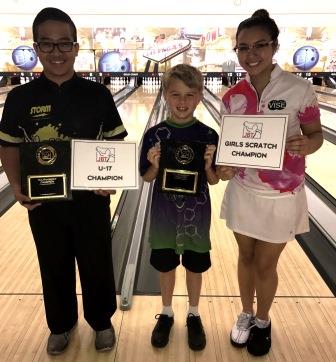 champs Cerell Cardines & Gage Baker, Girls champ Leah Glazer
Youth was served at the JBT Mojave Invitational, as Cerell Cardines, Gage Baker, and Leah Glazer captured titled in the prestigious event, hosted by Gold Coast Lanes.
Cardines dominated in the U-17 side events all year, but was a factor every week in the main scratch division as well, as evidenced by his runner-up performance in the points race. After winning the Invitational in 2015 as a 15-year old, Cortez Schenck took the title in 2016. In the 2017 grudge match, he capped off his excellent Mojave season with the win over Cortez, and $1,000 top scholarship prize.
Main Event champ Leah Glazer continued to put on her best performances in our biggest events, making the main cut and finishing 15th, then beating Alyssa Tucker for the Girls Scratch win. Cardines swept his divisions with a U-17 title game win over top seed Kyle Wilson.
Those were great stories, but the talk of the event was 8 year-old Gage Baker, son of PBA legend Mark, who put on a heck of a show in the handicap division. After beating red-hot Avery Domaguin, he took on Alyssa Tucker for the title, and was able to defeat her for the title and $1,000 scholarship payday, becoming the second youngest bowler behind Ashley Lamb to win a JBT Invitational.
Big thanks to the crew at Gold Coast for hosting our event, which awarded over $5,000 to bowlers of all ages and averages. Want in on all this? Just check out our schedule and come on down!
Mojave Invitational- final results and scholarship winners
5/14/2017
Scratch Division
rank
bowler
prize
1
Cerell Cardines
$1,205
2
Cortez Schenck
$500
3
Kyle Duster
$250
4
Sergio Torres
$150
5
Joe Gerencser
$100
6
Dallas Leong
7
Russ Oviatt
8
Nick Devlin
$50
9
Kyle Andrews
10
Welsey Low
11
Ryan Lee
12
Kyle Reed
13
Harley Sweigart
$50
14
TJ Rock
$50
15
Leah Glazer
$200
16
Kyle Gilbert
17
Kennison Andrews
18
Keith Fung
19
Dante Rohe
20
Donovan Koff
21
Josh Demick
22
Dominic Olivares
23
Zack Long
24
Andrew Guba
25
John Newton
26
Brandon Rouse
27
Skyler McGowan
$5
28
Tim Hill
$10
Handicap Division
1
Gage Baker
$1,000
2
Alyssa Tucker
$600
3
Avery Domaguin
$250
3
David Jepsen
$200
5
Zach Greim
$180
6
Rieley Ulanday
$140
7
William Robbins
$100
8
Trevyr Geronimo
$75
9
Darren Fletcher
10
Secilia Kalvelage
$14
11
Tyler Hedges
12
Kyle Wilson
$150
13
Kyle Rendon
14
Abby Franklin
$15
15
Brandon Duffy
16
Devyn Patalina
$50
17
Dillon O'Neil
18
Kyle Perry
19
Ranelle Ulanday
$30
20
Elijah Melchor
21
Amanda Hanson
$29
22
Phillip Sauve
23
Nolan Am-Khong
24
April McDonnell
$50
25
Brandon Criss
26
Shawn Seng
27
Brett McEachern
28
Cameron Criss
29
Clifford Balatazar
30
Jason Aguon
31
Samantha Conti
32
Chris Hill
33
Dylan Dormuth
34
David Mendoza
35
Clifford Robbins
36
Jopfel Gafate
37
Deo Benard
38
Kaylee Am-Khong
39
Zack Velosa
40
Leanna Orlando
41
Noel Gregorich
42
Matthew Huckabay
43
Silas Phillips
44
Justin Dormuth
45
Ryan Perry
46
Destiny Johnson
47
Jairo DeAlba
48
Ruben Mendoza
High Games
Scratch
Handicap
1
Schenck 279
Rendon 288
2
Lee 269
Wilson 276
3
Cardines 259
Geronimo 269
4
Low 258
Rieley Ulanday 267
5
Oviatt 258
Jepsen 263
Torres 258
High Female
1
Glazer +32*
2
Tucker -72
3
McDonnell -84
4
K Am-Khong -123
5
Ulanday -133
Qualifying Leaders
Scratch
Handicap
1
Oviatt +85
Z Greim +126
2
Cardines +71
K Wilson +121
3
Kyle Andrews +60
K Rendon +114
U-17
1
Wilson +80
2
Cardines +71*
3
Rock +29
4
Rendon +14
5
Gastouniotis -73
Round Leaders
Scratch
Handicap
1
Oviatt
K Perry
2
Oviatt
Geronimo
3
Oviatt
Rendon
4
Glazer
Rendon
5
Oviatt
Z Greim
Total Awarded This Event: $5,453