NM-TX INVITATIONAL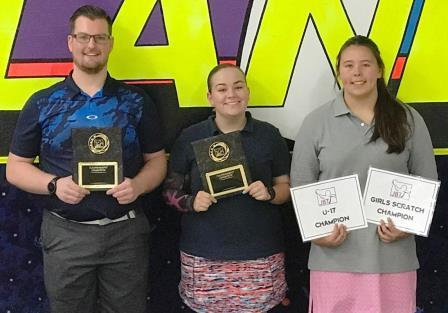 champs Harley Sweigart, Taylor Herson, and U17 & Girls winner Lauren Jaramillo
Harley Sweigart and Taylor Herson emerged victorious at the 2017 NM-TX Conference JBT Invitational, hosted by Silva Lanes in Albuquerque.
Sixteen finalists in each division competed in the grueling triple-elimination matchplay finals. The scratch division finals hinged on round seven, where Harley Sweigart and Cortez Schenck, in a great battle for the all-conference points lead, played each other, with Sweigart dealing Schenck his second loss. Harley lost to William Yoder in the next round, while Stefan Wood eliminated Schenck, giving Yoder a bye while Sweigart eliminated Wood in what amounted to a semifinal, setting up a one game title match. In the finale, early opens plagued both bowlers but Sweigart stayed in control to defeat Yoder and earn the title, the 24th of his excellent JBT career, and another $1,000 payday.
Avery Domaguin continued her stunning romp through the Tour the last few months by leading handicap qualifying here, finally going out in round seven in fifth place. Down to four bowlers left, Gerilynn Delegarito ousted Montana Cdebaca, while Taylor Herson, still with only one loss, eliminated Deo Benard, setting up a title match where 'Sugar' would have to beat Herson twice to take the title. Taylor wanted none of that, firing 200 scratch in the first match to claim the victory, her second, and $1,000 top scholarship prize.
Lauren Jaramillo was Queen of the Side Events on the day, winning the Girls Scratch Invite with a victory over Montana Cdebaca, and finishing the sweep with a U17 win over Daniel Hall for a $400 payday.
Huge thanks to Silva for their usual great hosting job. The top 20 points scorers now advance to the 2017 Touring Players Championship, the most prestigious event on the JBT calendar!
NM-TX Invitational- final results and scholarship winners
5/21/2017
Scratch Division
rank
bowler
prize
1
Harley Sweigart
$1,000
2
William Yoder
$530
3
Stefan Wood
$250
4
Cortez Schenck
$179
5
Angel Ortega
$160
6
Nick Devlin
$14
7
Zach Wojciechowski
$50
8
Carson Opela
$50
9
Blayne Hurst
$28
10
Noah Martinez
11
Kyle Duster
12
Brad Harvey
$50
13
Bradley Edwards
14
Daniel Hall
$170
15
Christian Apolonio
16
Zach Harvey
$50
17
Chris Ortega
18
Mateo Gonzalez
19
Joey Balistreri
20
Will Davis
21
Matteo Bergonzi
22
Josh Demick
23
Nathaniel Duran
24
Aileen Linares
25
John Ellis
26
Nathan Nguyen
27
Jonah Seawright
Handicap Division
1
Taylor Herson
$1,000
2
Gerilynn Delegarito
$515
3
Montana Cdebaca
$365
4
Deo Benard
$200
5
Avery Domaguin
$223
6
Kara Thompson
$130
7
Josie Herson
$50
8
Jay Heffer
9
James Huebner
10
Lauren Jaramillo
$415
11
Alek Rakov
12
Angela Romero
$30
13
Morgan Ellis
14
Toby Cdebaca
$55
15
Jacob Marquis
$50
16
Donius Jeffries II
$50
17
Alex Thompson
18
Lara Wood
$5
19
Christina Ward
20
Allyssa Williams
21
Shaneice Williams
22
Kallista Fritts
23
Bernadette Davis
24
Audrey Campbell
$15
25
Desiree Knott
$15
26
Dale Case
27
Kyle Perry
28
Colin RIchardson
29
Reagan Russ
30
Sammy Vallejos Jr
31
John Green
32
Brandon Platero
33
Alyssa Williams
$15
34
Lindsay Sanchez
35
Cassie Robinson
36
Land Matthies
37
Yarelis Alvarez
38
Kambree Rogers
39
Matt Ross
40
Trevor Dodson
41
Mariano Garcia
Qualifying Leaders
Scratch
Handicap
1
A Ortega +74
Domaguin +65
2
Hurst +42
K Thompson -5
3
Yoder +14
J Herson -12
High Games
Scratch
Handicap
1
B Harvey 265
Benard 272
2
Wojciechowski 256
Benard 263
3
Devlin 253
L Jaramillo 237
4
A Ortega 242
Domaguin 237
5
Devlin 239
Heffer 236
Girls Scratch side event
1
L Jaramilo -90*
2
M Cdebaca -150
3
Linares -172
4
B Davis -202
5
Delegarito -202
U-17 scratch side event
1
L Jaramillo -90
2
Hall -103
3
W Davis -122
4
M Cdebaca -150
5
Linares -172
Round Leaders
Scratch
Handicap
1
Hurst
M Ellis
2
Wojciechowski
T Herson
3
Hurst
T Herson
4
A Ortega
Domaguin
5
A Ortega
Domaguin
TOTAL AWARDED THIS EVENT: $5,664