PACIFIC NORTHWEST INVITATIONAL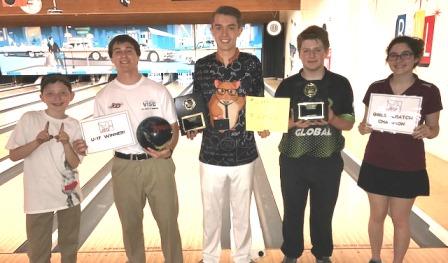 champs Jake Mullen & Tyler Coates with Colt Jance & U17 and Girls winners Tommie McNeal and Reagan Lorey
Jake Mullen and Tyler Coates put on impressive performances to capture titles in the 2017 Pac NW Invitational tournament, hosting by Longview's Triangle Bowl.
Sixteen finalists in each division advanced to nerve-wracking triple elimination matchplay, creating do-or-die moments throughout the center for four breathtaking hours. By round eight only five scratch bowlers remained standing, with #3 seed Andy Herrmann enjoying a bye, while Tyler Boe eliminated AJ Schock, and Tyler Hogstrom finally handed Jake Mullen his first loss. In the next round Herrmann beat Mullen, and Boe beat Hogstorm, which eliminated nobody but essentially created semifinal matches with everyone now at two losses. In those matches, Mullen eliminated Boe, and Hogstrom eliminated Herrmann (who solidified Bowler of the Year with the third place finish), setting up the one game title match.
Both veterans performed extremely well on the very demanding pattern in the title match. However, when Jake crushed a tenth frame strike, years of emotion poured out as he finally captured the elusive first scratch win, which he had come painfully close to earning, including the day before.
Coates started the day needing a good performance to earn Bowler of the Year, and did way more than that, blasting to the top seed after qualifying. He got to his second loss by round six, but would never see the third, as he roared past previous day's champ Hilary Zuniga in round seven, giving Tyler DeLorm his first loss in round eight, and ousting Aidghan Ziegler in round nine, to set up a rematch against DeLorm, but needing to beat him twice to take the title away.
DeLorm had been brilliant all day, but faltered late in the first game, which Coates took advantage of to win and force a final decider. Whether it was the loss or the extremely long day, DeLorm appeared to be out of gas in the finale, and meanwhile Coates was getting stronger, and he cruised in the finale to the win, his second career JBT title, and the $1,000 top scholarship prize.
Coates wasn't quite done yet, as he then got to be a special guest star in the Tommie McNeal show, otherwise known as the U17 title game. Having had to wait a while for the match, Tommie was, well, Tommie in an entertaining win over Coates for the title. Regan Lorey finished off her impressive season with a win over Kelsey Abrahamsen for the Girls Scratch Invite title.
Big thanks as always to the team at Triangle for another great hosting job. The top 20 points scorers now advance to the 2017 Touring Players Championship, the most prestigious event on the JBT calendar!
Pac NW Invitational- final results and scholarship winners
6/11/2017
Scratch Division
rank
bowler
prize
1
Jake Mullen
$1,030
2
Tyler Hogstrom
$500
3
Andy Herrmann
$265
4
Tyler Boe
$125
5
AJ Schock
$100
6
Cortez Schenck
$108
7
Tommie McNeal
$250
8
Brandon Jensen
9
Nick Devlin
$59
10
Ryan DeFazio
$30
11
Brian DeLuisa-Anderson
12
Jerry Jennings
13
Ryan Nikolas
$50
14
Kyle Jonson
15
Kelsey Abrahamsen
$165
16
Michael Creel
17
Makana Wong
18
Aidghan Ziegler
19
Collin Young
20
Daniel Hanson
21
Kris Tomer
22
Isaac Richardson
Handicap Division
1
Tyler Coates
$1,100
2
Tyer DeLorm
$500
3
Lohrghan Ziegler
$250
4
Brendan Hopkins
$155
5
Vincent Oberto
$100
6
Hilary Zuniga
$90
7
Gabriel Potter
$14
8
Evan Smith
9
Reagan Lorey
$250
10
Brooke Collins
11
Seth Chilcutt
12
Colt Jance
$49
13
Tyler Denune
14
Jacob Frazier
$50
15
Michael Strothman
16
Bradley Baltazar
$55
17
Lailani Wallin
18
Jonathan Lorey
19
Bryan Zeutenhorst
20
Ruth Magana
21
Cosmo Castellano
22
Wendy Jo La Turner
23
Madison Bash
24
Amber Sparks
25
Amndrew Martin
26
Payton Edwards
27
Shannon Bliquez
28
Paul Rosales
29
Kerissa Andersen
30
Hunter Bower
$5
31
Hannah Abney
32
Derek Haight
33
Bailey Peters
34
Olivia Kolppa
35
Joe Brooks
Qualifying Leaders
Scratch
Handicap
1
Schenck +45
Coates +89
2
McNeal +41
Jance +54
3
Herrmann +3
Potter +49
High Games
Scratch
Handicap
1
McNeal 268
Strothman 291
2
Mullen 267
Potter 275
3
Schenck 264
Chilcutt 267
4
Schenck 259
Potter 266
5
Schenck 248
Zuniga 258
Boe 248
Girls scratch side event
1
Lorey -78*
2
Abrahamsen -78
3
Collins -116
4
Schock -166
5
Abney -268
U-17 scratch side event
1
McNeal +41
2
Coates -1
3
Jennings -64
4
Mullen -80
5
DeLuisa-Anderson -119
Round Leaders
Scratch
Handicap
1
Schenck
Castellano
2
Schenck
Coates
3
Schenck
Coates
4
Schenck
Denune
5
Schenck
Coates
TOTAL AWARDED THIS EVENT: $5,300