ISLETA FUN CONNECTION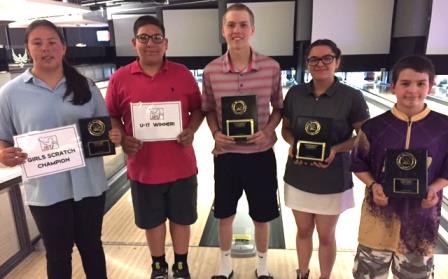 champs Zach Wojciechowski & Kallista Fritts with Girls Scratch winner Lauren Jaramillo, U17 winner Toby Cdebaca, and handicap runner-up John Green
Zach Wojciechowski and Kallista Fritts were the super-est survivors, winning JBT titles in exciting JBT NM-TX Conference action at Isleta Fun Connection.
In the super-survivor format, the low game and the lowest totals are eliminated game by game. This can be advantageous to tournament leaders, but one bad game can eliminate anyone, as Angel Ortega bowed out in the semifinals, leaving 'Wojo' and Cortez Schenck to battle for the title. Zach is quietly putting together an excellent year, and it continued with a 232-183 win over Tez to earn the 5th title of his JBT career.
Kallista Fritts was the runaway leader in handicap total pinfall, but still had to win one last game against John Green to finish off the title. She did so with a 241-210 win over John, good for her second career JBT win.
Toby Cdebaca captured the U17 event with a 214-178 win over Daniel Hall. Lauren Jaramillo earned a weekend sweep of the Girls Scratch events with a win over Vanessa Romero. Over $400 in bonuses were awarded at the annual Easter Egg Hunt, an event not to be missed! Come on down to the next JBT event to get in on all this fun!
Isleta Fun Connection- final results and scholarship winners
4/16/2017
Scratch Division
rank
bowler
prize
1
Zach Wojciechowski
$367
2
Cortez Schenck
$125
3
Angel Ortega
$75
4
Nick Devlin
$40
5
Kellen Lavery
$30
6
Brad Harvey
$20
7
Zach Harvey
8
Blayne Hurst
9
Daniel Hall
10
Chris Ortega
11
Dante Rohe
12
John Ellis
13
Jonah Seawright
14
Joey Balistreri
15
Angelo Espinoza
16
Vanessa Romero
17
Carson Opela
18
Will Davis
19
Nathan Nguyen
20
Matteo Bergonzi
21
Josh Demick
22
Mariano Garcia
23
Noah Martinez
24
Harley Sweigart
25
Christian Apolonio
26
Aileen Linares
Handicap Division
1
Kallista Fritts
$215
2
John Green
$129
3
Deo Benard
$125
4
Lauren Jaramillo
$30
5
Lindsey Sanchez
$20
6
Toby Cdebaca
7
Bernadette Davis
$5
8
Yarelis Alvarez
$15
9
Mauricio Rede
$14
10
Alex Thompson
$5
11
Xzauver Rede
$15
12
Ben Altman
13
Montana Cdebaca
$15
14
Clifford Robbins
15
Luis Garcia
16
Audrey Campbell
17
Angela Romero
18
Bailey Dodson
$15
19
Jayden Martinez
20
William Robbins
21
Kara Thompson
22
Eric Gauna
23
Aliie May
24
Jay Heffer
$5
25
Taylor Herson
26
Jeremiah McClelon
27
Gerilynn Delegarito
28
Trevor Dodson
29
Josie Herson
30
Land Matthies
31
James Fine
32
Donius Jeffries
33
Jacob Marquis
34
Morgan Ellis
Qualifying Leaders
Scratch
Handicap
1
Schenck +153
Fritts +191
2
Wojciechowski +153
Altman +128
3
Z Harvey +133
T Cdebaca +120
High Games
Scratch
Handicap
1
B Harvey 279
Fritts 283
2
Devlin 278
Altman 281
3
Lavery 269
T Cdebaca 276
4
Z Harvey 268
Fritts 265
5
Devlin 268
Altman 259
Girls Scratch side event
1
L Jaramillo +15
2
V Romero -9
3
Fritts -14
4
B Davis -53
5
Alvarez -60
U-17 scratch side event
1
Hall +79
2
T Cdebaca +30
3
L Jaramillo +15
4
Fritts -14
5
Nguyen -35
W Davis -35
Round Leaders
Scratch
Handicap
1
B Harvey
Fritts
2
B Harvey
Fritts
3
Z Harvey
Altman
4
Z Harvey
Fritts
5
Wojo / Schenck
Fritts
TOTAL AWARDED THIS EVENT: $1,381