KEYSTONE LANES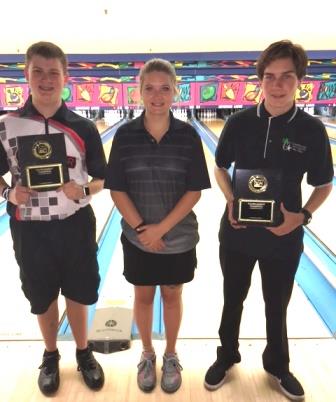 champs Zack Long & Sterling Lopez with girls scratch winner Brittany Kolatzny
Zack Long and Sterling Lopez captured JBT titles in exciting So Cal Conference action at Norwalk's Keystone Lanes.
After five games on a tricky short pattern, bowlers moved on to matchplay. The Andrews brothers dominated the field in qualifying, earning the 1 and 2 seeds and first round byes. Kyle won his first match, but Kennison fell to #12 Kevin Banaag. Kevin then completed the Andrews sweep with a win over Kyle to reach his first JBT title match.
Zack Long qualified third for matchplay, then got past Reigh Abaoag and Ryan Lee to reach the title game. Long, whose only previous win came at the Tournament of Non-Champions despite a Bowler of the Year season in 2014-15, was able to edge Banaag 196-190 here to capture the second title of his JBT career.
Secilia Kalvelage earned the top seed in the handicap division, and made it to the semifinals before falling to Tyler Handa. Sterling Lopez upset #2 seed Jeff Rodda in the other semifinal to set up a title match between two non-champs. In the final, Lopez came up with a huge game to stop Rodda 252-215 and earn the first title of his JBT career.
Rodda got his revenge in the U17 division, beating Julian Zavala 214-201 for the win. Brittany Kolatzny made it 2 for 2 on the new season with a 199-191 defeat of Kalvelage for the girls scratch win.
Big thanks as always to the team at Keystone for their usual fine hosting job. Want in on all this action for bowlers of all averages and ages? Just check out our schedule and come on down!
Keystone Lanes- final results and scholarship winners
9/25/2016
Scratch Division
rank
bowler
prize
1
Zack Long
$293
2
Kevin Banaag
$125
3
Kyle Andrews
$88
4
Ryan Lee
$50
5
Kennison Andrews
$71
6
Cortez Schenck
$28
7
Reigh Abaoag
8
Kyle Reed
9
Brittany Kolatzny
$26
10
Julian Zavala
11
Harley Sweigart
12
Brandon Wanders
13
Matthew Carpenter
14
Anthony Cando
15
Jacob Camacho
16
Tim Hill
17
Marquan Rivers
18
Kirk Chui
19
Matt Alford
20
Cristian Roque
21
Jerod Walker
22
Sergio Torres
23
Kyle Gilbert
24
Eric Phillips
25
Anthony Schanen
26
Clifford Baltazar
27
Taylor Berry
28
Trevyr Geronimo
29
Eric Schuksta
Handicap Division
1
Sterling Lopez
$200
2
Tyler Handa
$100
3
Secilia Kalvelage
$50
4
Rieley Ulanday
$40
5
Jeff Rodda
$30
6
Louis Luna
$35
7
Allison Azvedo
8
Ranelle Ulanday
9
James McGough
$15
10
Adrian Yamanoha
11
Ashley Wilcox
12
Jaclyn Azvedo
13
Austin Sugarman
14
Nolan Am-Khong
15
Timothy Kessler
16
Justin Redfield
17
Megan Carpenter
$13
18
Caleb Rothstein
$5
19
Dustin Yauney
20
Andrew Chan
21
Michaela Buhain
22
Renee Gentry
$43
23
Leah Zweig
24
Gael Egana
$5
25
Lawrence Buhain
26
Gage Baker
$18
27
Costa Gastouniotis
28
Israel Ramirez
29
Jose Luis Morales
30
Kaylee Am-Khong
31
Cameron Criss
$13
32
Dawson Reese
Qualifying Leaders
Scratch
Handicap
1
Kennison Andrews +122
Kalvelage +119
2
Kyle Andrews +106
Rodda +111
3
Long +46
McGough +89
High Games
Scratch
Handicap
1
Long 290
Handa 266
2
Lee 279
N Am-Khong 265
3
Kyle Andrews 268
Luna 263
4
Ken Andrews 268
Reiley Ulanday 262
5
Zavala 268
Yauney 260
Luna 260
J Azvedo 260
Girls Scratch side event
1
Kolatzny +18*
2
Kalvelage -81
3
Gentry -89
4
Carpenter -116
5
Buhain -117
U-17 scratch side event
1
Rodda -8*
2
Zavala -20
3
Carpenter -47
4
McGough -56
5
N Am-Khong -91
Round Leaders
Scratch
Handicap
1
Carpenter
Gentry
2
Kyle Andrews
Kalvelage
3
Kyle Andrews
McGough
4
Ken Andrews
Rodda
5
Ken Andrews
Kalvelage
TOTAL AWARDED THIS EVENT: $1,248