KINGPINS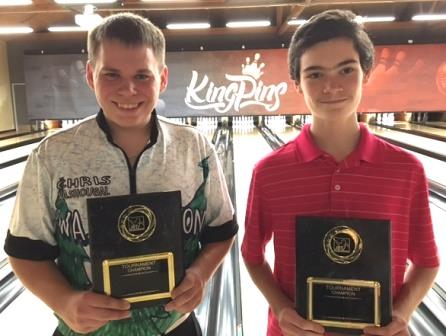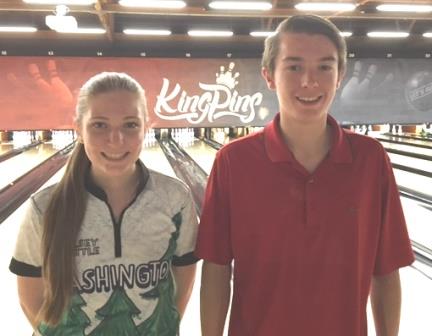 champs Chris Tuholski & Tyler DeLorm; girls winner Kelsey Abrahamsen & U17 winner Jake Mullen
Chris Tuholski remained on an early season roll, while TylerDeLorm rolled to his first JBT title, in exciting Pac NW Conference JBT action at the spectacular new Kingpins in Portland.
After five games, bowlers competed in pick your poison matchplay, where higher seeded players choose their opponents. Youngster Tyger Miller qualified first, and survived until the semifinals, where he picked veteran Andy Herrmann for his match, and Andy made him pay with a 233-130 win. You couldn't blame Tyger for the choice though, as the other two options were Tuholski and Ryan Nikolas, the two dominant bowlers in the conference currently. Stuck playing each other, Chris came away with the 213-188 win to reach the title match.
Both bowlers competed well in the title match, but in the end Chris beat Andy 235-206 for the fifth title of his JBT career, and second of the new season.
42 handicap bowlers were eventually carved down to four semifinalists, and in those matches, Elijah Chin beat first time finalist Jaxson Sirokman 226-206, and Tyler DeLorm edged Natasha Richardson 198-195, setting up the title game. It was the first title match for both, but neither player bowled like a rookie. In the end, Tyler's 240-215 win was good for the first title of his JBT career.
The day's new U-17 event was won by Jake Mullen, 172-149 over Miller, while veterans Kelsey Abrahamsen and AJ Schock needed overtime to decide the girls scratch event, with Kelsey winning 10-9 in the rolloff after a tie at 197.
Big thanks to the team at Kingpins for a great job hosting us- be sure to check out this amazing new facility! And be sure to check out lots more JBT events on our schedule- just come on down to bowl with us!
Kingpins- final results and scholarship winners
9/24/2016
Scratch Division
rank
bowler
prize
1
Chris Tuholski
$250
2
Andy Herrmann
$185
3
Tyger Miller
$75
4
Ryan Nikolas
$50
5
Jake Mullen
$35
6
Jerry Jennings
7
Isaac Richardson
8
Ryan DeFazio
9
AJ Schock
$15
10
Jordan Jonker
11
Donovan Grubaugh
12
Kris Tomer
13
Johnny Leggett
14
Kelsey Abrahamsen
15
Tyler Hogstrom
16
Tyler Bishop
17
Brian DeLuisa-Anderson
18
Parker Portalski
19
Daniel Rutter
20
Aidghan Ziegler
21
Shannon Bliquez
22
CollinYoung
23
Jeff Jonker
24
Tanner Darcy
25
Hayden Childs
26
Cameron Cox
27
Niko Hawkins
28
Makana Wong
Handicap Division
1
Tyler DeLorm
$200
2
Elijah Chin
$100
3
Jaxson Sirokman
$75
4
Natasha Richardson
$50
5
Tyler Coates
$40
6
Olivia Kolppa
$30
7
Ethan Maxwell
$20
8
Avery Bailey
9
Brandon Nodland
$5
10
Isaac Mailkoff
11
Vincent Oberto
$15
12
Jonathan Lorey
$60
13
Bradley Baltazar
14
Alex Perini
15
Matthew Pauly
16
Hannah Abney
$30
17
Derek Haight
$15
18
Amber Sparks
$15
19
Aiden Wong
20
Evan Smith
$15
21
Brendan Hopkins
22
Lohrghan Ziegler
23
Perrin Easley-Clark
24
Cosmo Castellano
25
Alejandro Moser-Hernandez
$15
26
Brooklyn Boudreau
27
Molly Warshaw
$15
28
Seth Chilcutt
29
Sara Harris
$15
30
Hunter Bower
$10
31
Reagan Lorey
32
Colt Jance
33
Caitlin Moore
34
Bailey Peters
15
35
Ashton Yamasaki
36
Kerrissa Anderson
37
Dodge Miller
38
Jacob Frazer
39
Alexa Lanning
40
Joseph Brooks
41
Maddi Durr
42
Madison Bash
Qualifying Leaders
Scratch
Handicap
1
T Miller +126
B Nodland +136
2
R Nikolas +86
T Coates +78
3
J Mullen +54
E Chin +71
High Games
Scratch
Handicap
1
T Miller 296
B Nodland 271
2
J Mullen 256
B Hopkins 264
3
Herrmann 253
C Moore 264
4
Tuholski 245
Coates 263
5
J Mullen 244
Coates 262
B Nodland 262
Girls scratch side event
1
Schock +7
2
Abrhamsen -61*
3
Bliquez -122
4
Kolppa -141
5
Abney -152
U-17 scratch side event
1
T Miller +126
2
Mullen +54*
3
Jennings +45
4
Coates -7
5
Jonker -24
Round Leaders
Scratch
Handicap
1
Jake Mullen
B Nodland
2
T Miller
B Baltazar
3
T Miller
T Coates
4
T Miller
B Nodland
5
T Miller
B Nodland
TOTAL AWARDED THIS EVENT: $1,350