KINGPINS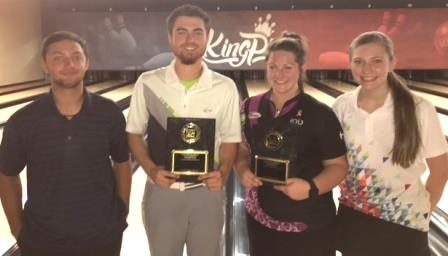 champs Ryan Nikolas & Alexa Lanning (center) with U17 winner Tyger Miller & girls winner Kelsey Abrahamsen
Two veterans added JBT titles to their collections in exciting Pacific Northwest Conference action at Portland's amazing new Kingpins.
Johnny Leggett began the 'sprint' scratch stepladder finals with a 233-213 win over Andy Herrmann, who is off to a fine start on the new season. Previous day's champ Chris Tuholski then defeated Leggett 244-128, and advanced to try and sweep the weekend against top seed Ryan Nikolas.
Ryan fired the weekend's only 300 game earlier in qualifying, and he and Tuholski have placed themselves well ahead of the pack thus far in the new season. This time, Nikolas left no doubt who would come out on top, as he blasted ten strikes in a 267-205 win over Tuholski, good for the 13th title of his JBT career.
Alyssa Bradley squeezed out a 191-188 win over Sara Harris to open the all-female handicap division stepladder. 2014 Main Event champ Alexa Lanning then beat Bradley 234-200 to advance to the title match.
Top seed Reagan Lorey might have been inspired by younger brother Jonathan's JBT win at Acme last month, as she stormed to the top seed here on the back of the two highest handicap games of the tournament. However, the veteran Lanning put a stop to Reagan's run with a 233-216 win in a well bowled match by both players. It's the second title of Lanning's JBT career.
Tyger Miller's solid weekend was capped off with a 218-181 win over Leggett for the day's U17 crown, while Kelsey Abrahamsen swept the girls scratch weekend with another win over AJ Schock, this time by a 194-173 count.
Big thanks to the team at the brand new Kingpins for hosting our Tour. Want in on all the fun for all averages and ages? Just check out our schedule and come on down, that's all there is to it!
Kingpins- final results and scholarship winners
9/25/2016
Scratch Division
rank
bowler
prize
1
Ryan Nikolas
$250
2
Chris Tuholski
$185
3
Johnny Leggett
$75
4
Andy Herrmann
5
Jake Mullen
6
Jeff Jonker
7
Tyger Miller
8
Ryan DeFazio
9
Brandon Myers
10
Daniel Rutter
11
Kris Tomer
12
AJ Schock
13
Kelsey Abrahamsen
14
Kyle Jonson
15
Parker Portalski
16
Hayden Childs
17
Hunter Bower
18
Donovan Grubaugh
19
Shannon Bliquez
20
Andrew Sherwood
21
Brooklyn Boudreau
22
Jordan Jonker
23
Brian DeLuisa-Anderson
24
Michelle Jensen
25
Jerry Jennings
26
Tanner Darcy
27
Cameron Cox
28
Collin Young
29
Isaac Richardson
30
Niko Hawkins
31
Aidghan Ziegler
32
Tyler Bishop
Handicap Division
1
Alexa Lanning
$200
2
Reagan Lorey
$100
3
Alyssa Bradley
$75
4
Sara Harris
5
Madison Bash
6
Bailey Peters
7
Joseph Brooks
8
Fayth Stewart
9
Brittany Bland
10
Kerrissa Anderson
11
Brandon Nodland
12
Olivia Kolppa
13
Derek Haight
14
Jonathan Lorey
15
Isaac Mailkoff
16
Colt Jance
17
Alejandro Moser-Hernandez
18
Lohrghan Ziegler
19
Ethan Maxwell
20
Jaxson Sirokman
21
Natasha Richardson
22
Molly Warshaw
23
Cosmo Castellano
24
Caitie Moore
25
Mathew Salinas
26
Dodge Miller
27
Maddi Durr
28
Alex Perini
29
Evan Smith
30
Brendan Hopkins
31
Payton Edwards
32
Bradley Baltazar
33
Hannah Abney
34
Tyler Coates
35
Vincent Oberto
36
Jacob Frazer
37
Seth Chilcutt
Qualifying Leaders
Scratch
Handicap
1
R Nikolas +182
Lanning +26
2
Leggett +127
A Bradley +14
3
Tuholski +101
Bland -3
High Games
Scratch
Handicap
1
R Nikolas 300
R Lorey 267
2
Mullen 279
R Lorey 246
3
R Nikolas 279
R Lorey 245
4
Tuholski 267
B Nodland 240
5
Leggett 254
Bash 239
Kolppa 239
Mailkoff 239
Girls scratch side event
1
Abrahamsen -41*
2
Schock -94
3
S Harris -121
4
R Lorey -125
5
Bliquez -151
U-17 scratch side event
1
Leggett +115
2
T Miller +20*
3
Mullen -46
4
P Portalski -105
5
Jonker -178
Round Leaders
Scratch
Handicap
1
Tuholski
Bash
2
Tuholski
Bash
3
Leggett
Bash
4
Nikolas
Lanning
5
Nikolas
Lanning
6
Nikolas
Lanning
7
Nikolas
R Lorey
TOTAL AWARDED THIS EVENT: $1,395