KEARNY MESA BOWL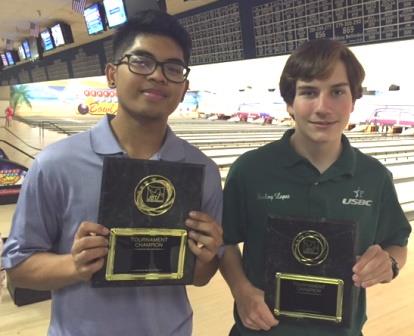 champs Anthony Cando & Sterling Lopez
Two bowlers doubled their career title total in exciting JBT So Cal Conference action at San Diego's Kearny Mesa Bowl.
Anthony Cando was brilliant in the scratch division stepladder finals, beginning with a 189-184 win over Cortez Schenck. He followed with a 238-159 win over Anthony Schanen, and then beat Nick Devlin 212-184 to reach the title game.
Brandon Wanders had captured the tournament lead from Devlin with a great semifinal set, but the tricky pattern, especially the left lane for Brandon, kept his score down in the final. Cando continued to stay out of trouble and keep the ball in play, and the resulting 216-195 win was good for the second title of his JBT career.
Secilia Kalvelage began round one of the handicap division stepladder with a 190 game that was enough to defeat Maikayla Villa (164) and Megan Carpenter (139). Patrick Sablan was then the one to fire a 190 in the next round, and it was also good enough for the win, besting Zian Sasaki (176) and Kalvelage (174). Sterling Lopez, a champ last month in Norwalk, then fired 249 to beat Sablan and Rylan Pimentel to advance to the title game.
Top seed Cameron Criss was the last bowler to check in, even missing the first frame, but still shot 214 that game, and never looked back en route to the #1 spot. Things didn't go as well in the title game though, and Lopez, perhaps boosted by the confidence of the previous win, was able to cruise to a 214-177 win, and his second consecutive JBT title.
In a battle of San Diego veterans, Renee Gentry beat Megan Carpenter 189-154 for the day's girls scratch win. The U17 win went to Julian Zavala, continuing a fine stretch of JBT performances with a 235-187 win over Trevor Thompson.
In addition to our great regular sponsors, a prize fund of double the usual was possible thanks to great additions from MSC, Inc. and Priority Girl Magazine, and the bowlers and parents of JBT greatly appreciate it! Thanks also to Kearny Mesa for a great job hosting us as usual. Want in on all this excitement? Just check out our schedule and come on down!
Kearny Mesa Bowl- final results and scholarship winners
10/22/2016
Scratch Division
rank
bowler
prize
1
Anthony Cando
$500
2
Brandon Wanders
$250
3
Nick Devlin
$210
4
Anthony Schanen
$100
5
Cortez Schenck
$136
6
Ryan Lee
$14
7
Julian Zavala
$100
8
Trevor Thompson
$50
9
Zack Long
$15
10
Harley Sweigart
11
Sergio Torres
$15
12
Carlos Perez
13
Cerell Cardines
14
Kennison Andrews
$30
15
Kyle Reed
$5
16
Eric Phillips
$50
17
John Newton
18
Jacob Camacho
19
Cristian Roque
20
Matt Carpenter
21
Matt Alford
22
Brittany Kolatzny
23
Tim Hill
24
Kyle Andrews
25
Daryus Alo
26
Ian Versaggi
27
Kylie Shishima
28
Dylan Dean
Handicap Division
1
Sterling Lopez
$415
2
Cameron Criss
$264
3
Ryland Pimentel
$175
4
Patrick Sablan
$150
5
Zian Sasaki
$120
6
Secilia Kalvelage
$145
7
Maikayla Villa
$80
8
Megan Carpenter
$124
9
Avery Domaguin
$40
10
Joshua Abigania
$30
11
Ashley Wilcox
12
Hunter Bennett
$45
13
Brandon Lim
14
Andrew Chan
15
Phillip Sauve
$44
16
Alberto Bernal
17
Renee Gentry
$105
18
James McGough
19
Yairi Lubag
$43
20
Gael Egana
21
Israel Ramirez
22
Caleb Rothstein
23
Maheleah Potter
$15
24
Erik Hagen
25
Hillari Hampton
26
Ryan Howieson
27
Michaela Buhain
28
Kody Kilber
29
Ricky Pollom
30
Jared Gutgesell
31
Aislinn Lubag
32
Zach Greim
33
Lawrence Buhain
34
Katelyn Abigania
$29
35
Lindsay Greim
36
Dillon O'Neil
37
Silas Phillips
38
Mark Sauve
39
Jennifer Peterson
40
Jeff Rodda
41
Junior Pacio
42
Zack Velosa
43
Dante Villa
$15
44
Garrett Sulzer
45
Victoria Potter
46
Dylan Ronk
47
Levi Grant
48
Chris Hill
49
Kara Templin
50
Rieley Ulanday
51
Ranelle Ulanday
52
Kaylee Am-Khong
53
Dawson Reese
54
Nolan Am-Khong
55
Nicolas Taylor
56
Marguerite Evans
Qualifying Leaders
Scratch
Handicap
1
Devlin +130
C Criss +88
2
Schenck +72
Sablan +83
3
Wanders +57
M Villa +64
High Games
Scratch
Handicap
1
Schanen 268
Wilcox 265
2
Schenck 268
Pimentel 261
3
Schanen 259
M Buhain 257
4
Cardines 256
Lopez 249
5
Torres 254
Carpenter 248
Girls Scratch side event
1
J Zavala -39*
2
T Thompson -55
3
Cardine s-65
4
Bennett -71
5
Phillips -80
U-17 scratch side event
1
Gentry -24
2
Carpenter -103*
3
Kalvelage -126
4
M Buhain -132
5
Kolatzny -150
Todeschi -98
Round Leaders
Scratch
Handicap
1
Devlin
Carpenter
2
Devlin
C Criss
3
Devlin
Bennett
4
Devlin
Sablan
5
Devlin
C Criss
6
Devlin
C Criss
7
Devlin
C Criss
8
Wanders
C Criss
TOTAL AWARDED THIS EVENT: $3,344
| | | | | | | | | |
| --- | --- | --- | --- | --- | --- | --- | --- | --- |
| | KEARNY MESA- handicap | | | | | | | |
| | 56 entries; 23 qualify | | | | | | | |
| | | | | | | | | |
| RANK | BOWLER | gm 1 | gm 2 | gm 3 | gm 4 | gm 5 | TOTAL | +/- |
| 1 | Criss, Cameron | 215 | 240 | 199 | 195 | 239 | 1088 | 88 |
| 2 | Sablan, Patrick | 223 | 197 | 238 | 215 | 210 | 1083 | 83 |
| 3 | Villa, Maikayla | 224 | 208 | 226 | 197 | 210 | 1065 | 65 |
| 4 | Ramirez, Israel | 189 | 212 | 219 | 222 | 222 | 1064 | 64 |
| 5 | Gentry, Renee | 226 | 183 | 206 | 227 | 219 | 1061 | 61 |
| 6 | Lubag, Yairi | 209 | 198 | 218 | 212 | 222 | 1059 | 59 |
| 7 | Kalvelage, Secilia | 155 | 228 | 213 | 224 | 229 | 1049 | 49 |
| 8 | Lopez, Sterling | 198 | 221 | 196 | 196 | 234 | 1045 | 45 |
| 9 | Bennett, Hunter | 195 | 223 | 242 | 204 | 175 | 1039 | 39 |
| 10 | Pimentel, Ryland | 196 | 241 | 194 | 195 | 213 | 1039 | 39 |
| 11 | Sasaki, Zian | 193 | 230 | 221 | 198 | 190 | 1032 | 32 |
| 12 | Carpenter, Megan | 238 | 197 | 202 | 196 | 189 | 1022 | 22 |
| 13 | Wilcox, Ashley | 179 | 175 | 265 | 204 | 190 | 1013 | 13 |
| 14 | Mcgough, James | 170 | 231 | 207 | 155 | 248 | 1011 | 11 |
| 15 | Sauve, Phillip | 191 | 222 | 225 | 211 | 162 | 1011 | 11 |
| 16 | Potter, Maheleah | 183 | 192 | 220 | 197 | 217 | 1009 | 9 |
| 17 | Egana, Gael | 198 | 212 | 233 | 189 | 173 | 1005 | 5 |
| 18 | Chan, Andrew | 190 | 196 | 180 | 196 | 240 | 1002 | 2 |
| 19 | Domaquin, Avery | 183 | 162 | 200 | 240 | 217 | 1002 | 2 |
| 20 | Rothstein, Caleb | 171 | 242 | 187 | 168 | 231 | 999 | -1 |
| 21 | Abigania, Joshua | 195 | 173 | 178 | 221 | 231 | 998 | -2 |
| 22 | Bernal, Alberto | 168 | 200 | 238 | 200 | 185 | 991 | -9 |
| 23 | Lim, Brandon | 187 | 205 | 208 | 203 | 188 | 991 | -9 |
| 24 | Hagen, Erik | 217 | 190 | 229 | 177 | 177 | 990 | -10 |
| 25 | Hampton, Hillari | 195 | 197 | 180 | 211 | 197 | 980 | -20 |
| 26 | Howieson, Ryan | 177 | 200 | 214 | 167 | 221 | 979 | -21 |
| 27 | Buhain, Michaela | 177 | 209 | 187 | 148 | 257 | 978 | -22 |
| 28 | Kilber, Kody | 214 | 173 | 189 | 207 | 189 | 972 | -28 |
| 29 | Pollom, Ricky | 188 | 157 | 203 | 190 | 234 | 972 | -28 |
| 30 | Gutgesell, Jared | 174 | 205 | 169 | 232 | 190 | 970 | -30 |
| 31 | Lubag, Aislinn | 185 | 213 | 176 | 201 | 190 | 965 | -35 |
| 32 | Greim, Zach | 174 | 207 | 208 | 178 | 196 | 963 | -37 |
| 33 | Buhain, Lawrence | 174 | 180 | 227 | 182 | 196 | 959 | -41 |
| 34 | Abigania, Katelyn | 162 | 185 | 195 | 200 | 215 | 957 | -43 |
| 35 | Greim, Lindsay | 171 | 183 | 198 | 212 | 188 | 952 | -48 |
| 36 | O'neill, Dillon | 208 | 159 | 189 | 218 | 176 | 950 | -50 |
| 37 | Phillips, Silas | 201 | 189 | 188 | 183 | 187 | 948 | -52 |
| 38 | Sauve, Mark | 185 | 151 | 223 | 194 | 191 | 944 | -56 |
| 39 | Peterson, Jennifer | 196 | 202 | 176 | 192 | 174 | 940 | -60 |
| 40 | Rodda, Jeff | 192 | 203 | 192 | 194 | 158 | 939 | -61 |
| 41 | Pacio, Junior | 181 | 174 | 227 | 177 | 168 | 927 | -73 |
| 42 | Velosa, Zack | 176 | 214 | 169 | 208 | 159 | 926 | -74 |
| 43 | Villa, Dante | 174 | 188 | 163 | 199 | 202 | 926 | -74 |
| 44 | Potter, Victoria | 165 | 176 | 193 | 182 | 209 | 925 | -75 |
| 45 | Sulzer, Garrett | 191 | 188 | 178 | 177 | 191 | 925 | -75 |
| 46 | Ronk, Dylan | 184 | 215 | 212 | 160 | 143 | 914 | -86 |
| 47 | Grant, Levi | 164 | 197 | 180 | 168 | 198 | 907 | -93 |
| 48 | Hill, Chris | 172 | 181 | 185 | 175 | 191 | 904 | -96 |
| 49 | Templin, Kara | 159 | 209 | 165 | 152 | 217 | 902 | -98 |
| 50 | Ulanday, Rieley | 182 | 153 | 185 | 176 | 188 | 884 | -116 |
| 51 | Ulanday, Ranelle | 192 | 210 | 166 | 167 | 144 | 879 | -121 |
| 52 | Am-Khong, Kaylee | 202 | 159 | 177 | 155 | 179 | 872 | -128 |
| 53 | Reese, Dawson | 148 | 185 | 143 | 221 | 159 | 856 | -144 |
| 54 | Am-Khong, Nolan | 145 | 161 | 211 | 178 | 160 | 855 | -145 |
| 55 | Taylor, Nicolas | 173 | 153 | 136 | 211 | 173 | 846 | -154 |
| 56 | Evans, Marguerite | 139 | 148 | 184 | 187 | 161 | 819 | -181 |
| | | | | | | | | |
| --- | --- | --- | --- | --- | --- | --- | --- | --- |
| | Kearny Mesa- scratch | | | | | | | |
| | 27 entries; 12 qualify | | | | | | | |
| | | | | | | | | |
| RANK | BOWLER | gm 1 | gm 2 | gm 3 | gm 4 | gm 5 | TOTAL | + / - |
| 1 | Devlin, Nick | 234 | 212 | 222 | 235 | 227 | 1130 | 130 |
| 2 | Schenck, Cortez | 211 | 152 | 236 | 268 | 205 | 1072 | 72 |
| 3 | Wanders, Brandon | 202 | 233 | 231 | 194 | 197 | 1057 | 57 |
| 4 | Long, Zack | 203 | 229 | 186 | 206 | 214 | 1038 | 38 |
| 5 | Lee, Ryan | 164 | 227 | 245 | 192 | 200 | 1028 | 28 |
| 6 | Perez, Carlos | 211 | 221 | 202 | 221 | 164 | 1019 | 19 |
| 7 | Schanen, Anthony | 195 | 195 | 189 | 162 | 259 | 1000 | 0 |
| 8 | Cando, Anthony | 185 | 226 | 171 | 198 | 216 | 996 | -4 |
| 9 | Sweigart, Harley | 211 | 191 | 199 | 188 | 203 | 992 | -8 |
| 10 | Zavala, Julian | 156 | 223 | 201 | 201 | 180 | 961 | -39 |
| 11 | Torres, Sergio | 190 | 175 | 254 | 163 | 177 | 959 | -41 |
| 12 | Thompson, Trevor | 188 | 202 | 145 | 211 | 196 | 942 | -58 |
| 13 | Andrews, Kennison | 145 | 212 | 181 | 174 | 223 | 935 | -65 |
| 14 | Cardines, Cerell | 167 | 145 | 210 | 157 | 256 | 935 | -65 |
| 15 | Phillips, Eric | 163 | 210 | 175 | 212 | 160 | 920 | -80 |
| 16 | Reed, Kyle | 187 | 202 | 202 | 157 | 172 | 920 | -80 |
| 17 | Newton, John | 193 | 158 | 200 | 179 | 186 | 916 | -84 |
| 18 | Camacho, Jacob | 177 | 204 | 192 | 184 | 154 | 911 | -89 |
| 19 | Roque, Cristian | 172 | 170 | 189 | 152 | 211 | 894 | -106 |
| 20 | Carpenter, Matthew | 172 | 192 | 124 | 180 | 220 | 888 | -112 |
| 21 | Allford, Matt | 182 | 184 | 164 | 190 | 150 | 870 | -130 |
| 22 | Kolatzny, Brittany | 147 | 158 | 176 | 207 | 162 | 850 | -150 |
| 23 | Hill, Tim | 141 | 183 | 168 | 181 | 169 | 842 | -158 |
| 24 | Andrews, Kyle | 131 | 174 | 205 | 148 | 181 | 839 | -161 |
| 25 | Alo, Daryus | 181 | 192 | 152 | 124 | 176 | 825 | -175 |
| 26 | Versaggi, Ian | 128 | 189 | 182 | 141 | 161 | 801 | -199 |
| 27 | Shishima, Kylie | 160 | 156 | 161 | 170 | 138 | 785 | -215 |
| 28 | Dean, Dylan | 108 | 166 | 159 | 139 | 130 | 702 | -298 |