AMF McRAY LANES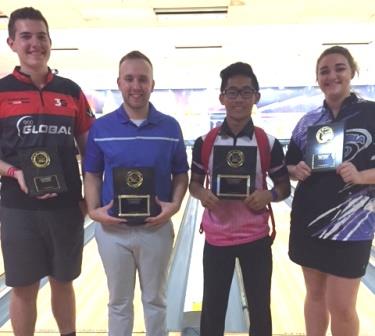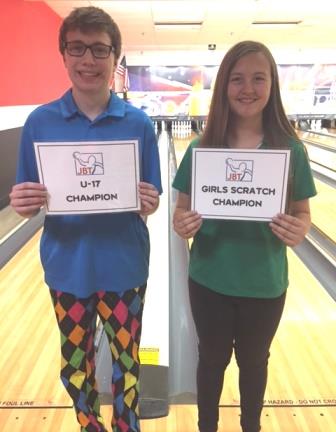 champs Nick Devlin & Alex Seng with runners-up Russ Oviatt & Katie Hurley; U17 and Girls winners Clifford Robbins & Catelyn Croutch
Nick Devlin achieved a rare milestone, while Alex Seng doubled his title total, in exciting JBT Arizona Conference action at AMF McRay Lanes.
Bowlers competed in the 'pick your poison' format, with head to head matchplay after qualifying, but the higher seeds are the ones who set up who plays who. In the scratch division, top seed Cortez Schenck did well early, but ASU bowler Russ Oviatt had the antidote in a 245-203 semifinal win. Nick Devlin was a wise choice to avoid, as he blasted Austin Muldoon in the other semi 267-201 to set up the title match.
Devlin, despite a tweaked neck that almost made him choose not to bowl, didn't let of the gas pedal in the final, stringing the strikes again in a 257-198 win, becoming just the 13th bowler in JBT history to reach 20 career JBT titles.
Sixteen handicap qualifiers were carved down to four, and in those semifinals, Katie Hurley eliminated top seed Marc Villalobos, while Alex Seng stopped Keith Ylvisaker 220-205 to advance to the title game. Hurley had been making great comebacks all day, but couldn't get a last one put together, as Send stayed in control for a 210-183 win, and his second title of both the season and his career.
Both side event winners were first-timers, as Clifford Robbins beat Cristian Roque for the U17 crown, and Catelyn Croutch captured the Girls Scratch event with a 186-171 win over Cierra Chamot.
Big thanks to everyone at McRay for hosting our Tour. Want in on all the fun for all ages and averages? Just check out our schedule and come on down, that's all there is to it!
AMF McRay- final results and scholarship winners
4/1/2017
Scratch Division
rank
bowler
prize
1
Nick Devlin
$250
2
Russ Oviatt
$125
3
Cortez Schenck
$131
4
Austin Muldoon
$50
5
Harley Sweigart
$30
6
Kyle Duster
7
Keith Fung
8
Kyle Reed
$14
9
Zach Rapp
10
Cierra Chamot
11
Lucas Rabb
12
Tim Hill
13
Cristian Roque
14
Brandon Rouse
15
Matthew Garrett
16
Chris Ortega
17
Rashaad Jordan
18
Catelyn Croutch
19
Nathan Nguyen
20
Michael Chamot
21
Stefanny Toala
22
Joshua Morin
23
John Newton
24
Matt Zweig
25
Mathew Adragna
26
Christian Apolonio
27
Max Polhill
28
Josh Demick
29
Joshua Mabry
30
Josh Fearing
Handicap Division
1
Alex Seng
$200
2
Katie Hurley
$100
3
Marc Villalobos
$117
4
Keith Ylvisaker
$50
5
Gavin Holter
$90
6
Corbin Hirsch
$30
7
Tyler Hedges
8
Kyle Perry
9
Clifford Robbins
10
Bella Flowers
11
CJ Todeschi
12
Phillip Sauve
13
Mark Sauve
$29
14
Matt Ross
15
Andrew Thomas
16
Brendan Bannister
17
Madi Holman
18
Justin Lawrence
$5
19
Shawn Seng Jr
20
Darren Fletcher
21
Baylee Snow
22
Chris Hill
23
Sebastian Polhill
24
Kendall Bollea
$28
25
AJ Imperial
26
Kevin Lu
27
Amelia Mosley
28
Jadeyn Mabry
$5
29
Justin Worthington
30
Kyle Lawrence
31
Elijah Melchor
32
Destiny Johnson
$14
33
William Robbins
34
Silas Phillips
35
Abby Franklin
36
Ryan Perry
Qualifying Leaders
Scratch
Handicap
1
Schenck +183
Villalobos +220
2
Sweigart +178
Ylvisaker +183
3
Duster +128
C Robbins +178
High Games
Scratch
Handicap
1
Oviatt 279
Ylvisaker 282
2
C Chamot 269
Hedges 277
3
Devlin 268
Villalobos 274
4
Duster 268
Villalobos 271
5
Devlin (x2), Fung 267
M Ross 271
Girls Scratch side event
1
Chamot +70
2
Croutch -36*
3
Toala -51
4
K Hurley -97
5
Mosley -156
U-17 scratch side event
1
Roque +35
2
C Robbins +28*
3
Garrett +12
4
Ylvisaker +8
5
Todeschi -13
Round Leaders
Scratch
Handicap
1
Sweigart
Flowers
2
Sweigart
Ylvisaker
3
Schenck
Villalobos
4
Schenck
Villalobos
5
Schenck
Villalobos
TOTAL AWARDED THIS EVENT: $1,269