MILWAUKIE BOWL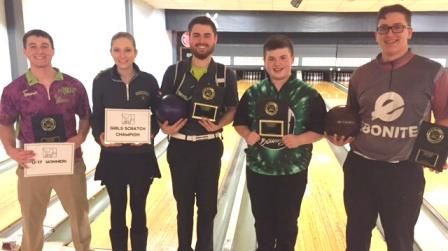 champs Ryan Nikolas & Joe Brooks with Tommie McNeal, Kelsey Abrahamsen, & Seth Chilcutt
Two Oregonians defended their home turf with wins in exciting JBT Pacific Northwest Conference action at Milwaukie Bowl.
Brian DeLuisa Anderson, an enormous Blazers fan, had a crucial game to get to, but it would have to wait as he opened round one of the scratch division stepladder finals with a 179-172 win over Andy Herrmann. Brian kept rolling on, defeating Tyler Hogstrom 193-171 in round two. Fellow fan Ryan Nikolas (now his ride to the game) then doubled in teh tenth to beat DeLuisa-Anderson 217-211 to advance to the title match.
Top seed Tommie McNeal brought as much as he could to the "use watcha bring" format, electing to throw five balls, two per frame, in the title game. He came up with a 223 which was brilliant under the circumstances, but Nikolas got locked in, and threw the back seven strikes for a 249 game, and the 15th title of his JBT career with the win.
Seth Chilcutt began a climb up the handicap division stepladder finals with a 239-201 win over rookie Kaleb Cupp. Seth then beat Vincent Oberto 242-201, and followed with a 219-163 win over Bradley Baltazar to reach the title game.
Top seed Joe Brooks blasted lots of high games today in his home center, but found himself in a tough fight against a determined Chilcutt. Needing to fill 20 pins in the tenth to win, Brooks struck on his first shot, then spared a 5-8 for a thrilling 208-207 win and his second career JBT title.
McNeal gained some revenge in the U17 event, also throwing five balls in a 10-168 win over Baltazar. Kelsey Abrahamsen and AJ Schock, in the middle of a terrific battle in Girls Scratch for the second straight year, went at it in another title game, this time with Kelsey earning the 188-160 win.
Thanks to Dave & Michelle Husted and the team at Milwaukie for hosting our Tour. Want in on all the fun for all ages? Just check out our schedule and come on down!
Milwaukie Bowl- final results and scholarship winners
4/8/2017
Scratch Division
rank
bowler
prize
1
Ryan Nikolas
$278
2
Tommie McNeal
$167
3
Brian DeLuisa-Anderson*
$75
4
Tyler Hogstrom
$50
5
Andy Herrmann
$44
6
Brandon Jensen
7
Kelsey Abrahamsen
8
AJ Schock
9
Ryan DeFazio
10
Jerry Jennings
$5
11
Aidghan Ziegler
12
Collin Young
13
Jake Mullen
14
Kris Tomer
15
Shannon Bliquez
16
Tyler Bishop
Handicap Division
1
Joseph Brooks
$200
2
Seth Chilcutt
$100
3
Bradley Baltazar
$102
4
Vincent Oberto
$40
5
Kaleb Cupp
$30
6
Amber Sparks
$25
7
Mikayla Bumpus
$62
8
Paul Rosales
$42
9
Kerissa Andersen
10
Tyler Coates
11
Perrin Easley-Clark
12
Colt Jance
$14
13
AJ Hooper
14
Bailey Peters
15
Jacob Frazier
16
Wendy Jo LaTurner
17
Marcus Turner
18
Mathew Salinas
19
Payton Edwards
$5
20
Andrew Martin
21
Jonathan Lorey
22
Brendan Hopkins
23
Tyler DeLorm
24
Reagan Lorey
25
Cosmo Castellano
26
Jordan Muir
27
Lohrghan Ziegler
28
Hannah Abney
29
Natasha Richardson
30
Olivia Kolppa
31
Hunter Bower
$10
32
Alejandro Moser-Hernande
33
Michael Strothman
34
Sara Harris
35
Elizabeth Tuholski
36
Brittany Bland
37
Madison Bash
38
Lailani Wallin
39
Derek Haight
High Games
Scratch
Handicap
1
Tomer 279
Coates 299
2
Abrahamsen 263
Chilcutt 273
3
Mullen 256
Brooks 267
4
McNeal 255
Rosales 264
5
Young 254
Hooper 264
Girls scratch side event
1
Abrahamsen +44
2
Schock -16
3
Peters -36
4
Andersen -37
5
R Lorey -99
U-17 scratch side event
1
McNeal +69*
2
Baltazar +22
3
DeLuisa-Andersen +11
4
Frazier -19
5
Coates -24
Round Leaders
Scratch
Handicap
1
Young
Brooks
2
Young
Andersen
3
McNeal
Coates
4
McNeal
Andersen
5
McNeal
Andersen
6
McNeal
Brooks
7
McNeal
Brooks
8
McNeal
Brooks
TOTAL AWARDED THIS EVENT: $1,249