BRC PREMIER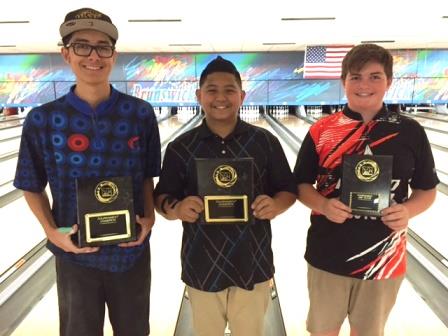 champs Cortez Schenck & Caleb Rothstein; runner-up Erik Hagen
Cortez Schenck and Caleb Rothstein came up with big wins in exciting JBT Southern California Conference action at BRC Premier Lanes in Chula Vista.
Ryan Lee opened the day with 298 (with a pocket 7-10!) and cruised to the scratch division top seed. He defeated previous day's champ Anthony Cando 260-221 in his semifinal match. On the other side of the bracket, Cortez Schenck was keeping up with Lee's striking pace, beating Sergio Torres 266-176 to move on to the title match. Schenck finds himself in the unfamiliar position of being #2 on the all-conference points list, and he made a big dent in that deficit over the weekend, finishing second the day before and finishing off Lee with a blistering 278-200 final score for the 88th title of his JBT career.
Scores were high in the handicap division as well, but none higher than Cameron Criss, who thrilled the crowd in matchplay with his first career 300 game. He fell in the quarterfinals though to #4 Erik Hagen, and Hagen kept the momentum going with a win over Simon Ortega to reach the title match. Rothstein emerged from the other side of the bracket with wins over Cameron's brother Brandon, Justin Phillips, and Patrick Sablan. Bowling confidently in his home center, Rothstein beat Hagen 250-188 in the finale to earn his second career JBT title.
Kaylee AmKhong defeated Michaela Buhain for the day's Girls Scratch side event win, while Solomon Slama won yet another U17 event with a win over Jose Luis Morales.
The day's prize fund was again augmented by huge contributions from Priorty Girl Magazine, MSC Inc,and our title sponsor Ebonite. Thanks to Premier for another great job hosting our events. Want in on this fun? Just check out our schedule and come on down!
BRC Premier- final results and scholarship winners
4/30/2017
Scratch Division
rank
bowler
prize
1
Cortez Schenck
$414
2
Ryan Lee
$200
3
Sergio Torres
$207
4
Anthony Cando
$125
5
Kyle Reed
$100
6
Kyle Gilbert
$14
7
Anthony Schanen
8
Ricky Pollom
9
Solomon Salama
10
Zach Wojciechowski
11
Matt Alford
12
Dustin Yauney
13
Brandon Loss
14
Elijah Lomotan
15
Costa Gastouniotis
16
Kyle Andrews
17
Carlos Perez
18
Tim Hill
19
Kennison Andrews
20
Brittany Kolatzny
21
Daryus Alo
Handicap Division
1
Caleb Rothstein
$405
2
Erik Hagen
$214
3
Patrick Sablan
$165
4
Simon Ortega
$125
5
Nicholas Taylor
$100
6
Cameron Criss
$75
7
Justin Phillips Jr
$50
8
Lazaro Berger
$40
9
Jose Luis Morales
$30
10
Joshua Abigania
$45
11
Brandon Criss
$30
12
Alberto Bernal
13
Brandon Lim
$29
14
Yairi Lubag
$30
15
Avery Domaguin
$15
16
Michaela Buhain
17
Trevyr Geronimo
18
Nolan Am-Khong
19
Lawrence Buhain
20
James McGough
21
Ranelle Ulanday
$14
22
Chris Hill
$15
23
Phillip Sauve
24
Jared Schiada
$5
25
Gael Egana
$5
26
Zian Sasaki
27
Renee Gentry
28
Jaclyn Acevedo
29
Katelyn Abigania
$14
30
Connor Steelmon-Hill
$88
31
Silas Phillips
32
Dante Villa
33
Kaylee Am-Khong
34
Ryland Pimentel
35
Rieley Ulanday
36
Yael Salama
37
Maikala Villa
38
Aislinn Lubag
39
Allison Azvedo
40
Hillari Hampton
41
Miguel Meraz
42
Lindsay Griem
43
Secilia Kalvelage
44
Parker Templin
45
Freddy Ramirez
46
Zach Greim
47
Kaitlynn Martin
48
Dawson Reese
49
Israel Ramirez
High Games
Scratch
Handicap
1
Lee 298
C Criss 332
2
Schenck 279
N Taylor 315
3
Schanen 278
Morales 291
4
Schenck 278
Hagen 286
5
Torres 269
Morales 281
High Female
1
Buhain -41
2
AM-Khong -58
3
Gentry -62
4
K Abigania -81
5
R Ulanday -96
Qualifying Leaders
Scratch
Handicap
1
Lee +234
N Taylor +270
2
Schenck +232
Morales +222
3
Torres +188
J Abigania +175
U-17
1
Salama +182*
2
Morales +162
3
Pollom +107
4
J Abigania +85
5
Bernal +32
Round Leaders
Scratch
Handicap
1
Lee
J Phillips
2
Lee
J Abigania
3
Lee
N Taylor
4
Lee
N Taylor
5
Lee
N Taylor
Total Awarded This Event: $2,479