SILVA LANES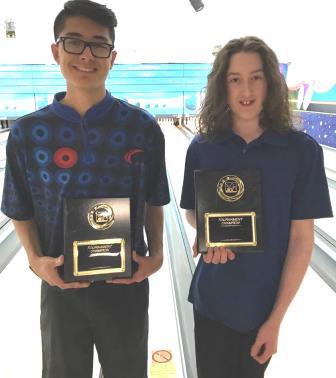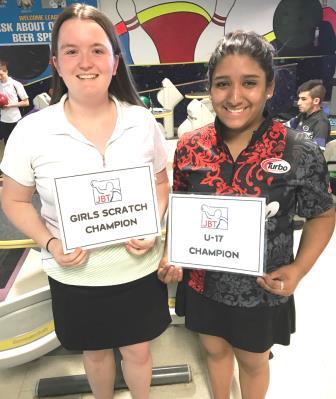 champs Cortez Schenck & Deo Benard; Girls winner Adel Wahner & U17 winner Aileen Linares
Cortez Schenck and Deo Benard captured JBT titles to wrap up the 2016-17 New Mexico-Texas Conference regular season with wins at Silva Lanes in Albuquerque.
Kyle Duster won round one of the stepladder finals with a 257-201 win over Zach Harvey. Duster rolled on past Angel Ortega 242-215 in round two, and struck even more in the semifinal with a 258-205 win over Nick Devlin to advance to the title game.
Top seed Cortez Schenck took over the lead in game five and never looked back. Scores were lower in the title game, but in the end Cortez had enough for a 214-199 win and the 89th title of his JBT career.
Matt Ross continued a hot streak of late with a 199-158 win over John Green to begin the handicap stepladder finals. Kyle Perry, who already accomplished his mission by making the top 10, did even better by beating Ross 206-167 in the next round. Newcomer Alek Rakov then stopped Perry 218-170 to advance to the final match.
Rakov fired a wonderful 224 in the title match, but could only admire top seed Deo Benard, who trusted his ball out to a 1-board break point repeatedly, including the tenth frame strike that locked it up. His 263-224 final score win was good for the first title of his JBT career.
Adel Wahner, off a successful freshman season at Vanderbilt, beat Aileen Linares for the day's Girls Scratch title. Linares got her revenge in the U17 title match though, beating Daniel Hall to win that event.
Big thanks as always to the crew at Silva for hosting us. The field is now set for the NM-TX Invitational, with $1,000 top scholarships up for grabs!
Silva Lanes- final results and scholarship winners
5/20/2017
Scratch Division
rank
bowler
prize
1
Cortez Schenck
$325
2
Kyle Duster
$125
3
Nick Devlin
$134
4
Angel Ortega
$80
5
Zach Harvey
$40
6
Joey Balistreri
7
Stefan Wood
8
Zach Wojciechowski
9
Blayne Hurst
10
Harley Sweigart
11
Aileen Linares
12
Adel Wahner
13
Chris Ortega
14
Daniel Hall
15
Noah Martinez
16
Carson Opela
17
Ben Groves
18
Bradley Edwards
19
Bree Vargas
20
Dante Rohe
$5
21
Mateo Bergonzi
22
John Ellis
23
Brad Harvey
24
Josh Demick
25
Mariano Garcia
26
Jonah Seawright
27
Matteo Gonzalez
28
Nathan Nguyen
Handicap Division
1
Deo Benard
$200
2
Alek Rakov
$100
3
Kyle Perry
$75
4
Matt Ross
$50
5
John Green
$69
6
Angela Romero
$60
7
Montana Cdebaca
$25
8
Avery Domaguin
$78
9
Sammy Vallejos Jr
10
Yarelis Alvarez
11
Holly Redfearn
12
Morgan Ellis
13
Josie Herson
14
Audrey Campbell
15
Kloey Kielich
16
Taylor Ross
17
Alex Thompson
18
James Fine
19
Jay Heffer
20
Kara Thompson
21
Bailey Dodson
22
Lucas Rodriguez-Naaz
23
Lindsey Sanchez
24
Bryce Jensen
25
Bernadette Davis
$14
26
Kambree Rogers
27
Kallista Fritts
28
Taylor Herson
29
Jacob Marquis
$29
30
Jeremy Perlinski
31
Reagan Russ
32
Cassie Robinson
33
Luis Garcia
34
Lara Wood
35
Colin Richardson
36
Sierra Jones
37
Lauren Jaramillo
$5
38
Toby Cdebaca
39
Tressa Robinson
40
Eric Gauna
41
Trevor Dodson
42
Alyssa Williams
43
Donius Jeffries II
Qualifying Leaders
Scratch
Handicap
1
Schenck +143
A Romero +38
2
Devlin +141
Benard +33
3
Duster +125
Y Alvarez +12
High Games
Scratch
Handicap
1
Devlin 268
B Dodson 263
2
A Ortega 267
Benard 263
3
Duster 258
Rakov 253
4
Duster 257
Benard 253
5
Duster 257
Benard 252
Girls Scratch side event
1
Linares -53
2
Wahner -55*
3
M Cdebaca -84
4
Alvarez -93
5
Vargas -107
U-17 scratch side event
1
Linares -53*
2
Hall -60
3
M Cdebaca -84
4
Alvarez -93
5
Benard -107
Round Leaders
Scratch
Handicap
1
Devlin
Benard
2
Devlin
B Davis
3
Devlin
A Romero
4
Devlin
A Romero
5
Schenck
A Romero
6
Schenck
Benard
7
Schenck
Benard
8
Schenck
Benard
TOTAL AWARDED THIS EVENT: $1,524