SPARE TIME LANES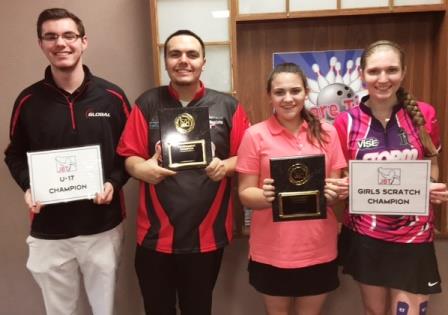 champs Tyler Hogstrom & Hannah Abney with U17 and Girls winner Johnny Leggett & Kelsey Abrahamsen
Tyler Hogstrom and Hannah Abney captured JBT titles in exciting Pacific Northwest Conference action at Spare Time Lanes in Kennewick.
Bowlers competed in the exciting super-survivor format, where the lowest game and the lowest overall totals are eliminated round by round. After Kelsey Abrahamsen and Andy Herrmann were eliminated in third and fourth with fine performances, Johnny Leggett and Tyler Hogstrom were left standing to play for the title. Both bowlers performed great on a fairly low scoring day, but in teh end Hogstrom had just enough for a 247-235 win, earning his second career JBT title.
Veteran Hannah Abney reached the title match in the handicap division, and had to face Gabriel Potter, bowling in his first event this season after a successful rookie season last year. This match, too, was very well bowled, and in the end Abney earned a long awaited first career JBT title with a 240-230 victory over Gabriel.
Kelsey Abrahamsen continued her hot start in the girls scratch division with a win over Abney for the win in that event. The U17 title match finished off the high scoring title matches, as Johnny Leggett finally found his way to the winner's circle after many runner-up performances this season, beating Jerry Jennings 260-244 for the U17 side event win.
Thanks as always to Alan Cook and the team at Spare Time for hosting our Tour. Want in on all the fun for all ages and all averages? Just check out our schedule and come on down!
Spare Time- final results and scholarship winners
10/29/2016
Scratch Division
rank
bowler
prize
1
Tyler Hogstrom
$250
2
Johnny Leggett
$125
3
Kelsey Abrahamsen
$75
4
Andy Herrmann
$50
5
Jeff Jonker
$30
6
Jerry Jennings
$45
7
Tommie McNeal
8
Hayden Childs
$30
9
Ryan Harris
10
Jordan Jonker
11
AJ Schock
12
Ryan DeFazio
13
Shannon Bliquez
14
Kyle Jonson
15
Tyler Ficek
16
Tyler Boe
17
Kris Tomer
18
Tyler Headley
19
Brian DeLuisa-Anderson
Handicap Division
1
Hannah Abney
$335
2
Gabriel Potter
$145
3
Kerissa Anderson
$70
4
Alexa Lanning
$50
5
Miranda Verduzco
$40
6
Bailey Peters
$45
7
Ethen Maxwell
8
Tyler DeLorm
9
RayAnn Davis
10
Vincent Oberto
11
Brendan Hopkins
12
Bradley Baltazar
13
Jonathan Lorey
14
Evan Smith
$5
15
Derek Haight
$5
16
Colt Jance
$35
17
Alejandro Moser-Hernandez
18
Seth Chilcutt
19
Joey Wissenfels
20
Jamas Middleton
21
Annashod Beitz
22
Sara Harris
23
Jacob Frazier
24
Thomas Middleton
25
Reagan Lorey
26
Michael Strothman
27
Caleb Dreiling
28
Nicole Olmor
29
Amber Sparks
30
Cosmo Castellano
31
Payton Edwards
32
Olivia Kolppa
33
Hunter Bower
34
Sean Ross Anthony
35
Tyler Coates
Qualifying Leaders
Scratch
Handicap
1
Leggett +43
G Potter +200
2
Abrahamsen +41
Abney +183
3
Hogstrom +34
R Davis +146
High Games
Scratch
Handicap
1
Leggett 267
G Potter 299
2
Herrmann 266
Lanning 285
3
Leggett 260
Frazier 274
4
Abrahamsen 255
Peters 270
5
Hogstrom 250
Lanning 267
Andersen 267
Girls scratch side event
1
Abrahamsen +41*
2
Abney -7
3
Peters -24
4
Lanning -43
5
Schock -56
U-17 scratch side event
1
Leggett +43*
2
Jennings +20
3
McNeal 0
4
Peters -24
5
Childs -29
Round Leaders
Scratch
Handicap
1
McNeal
Peters
2
Jeff Jonker
Lanning
3
Hogstrom
Abney
4
Jeff Jonker
Abney
5
Leggett
Potter
TOTAL AWARDED THIS EVENT: $1,335