SPIN ALLEY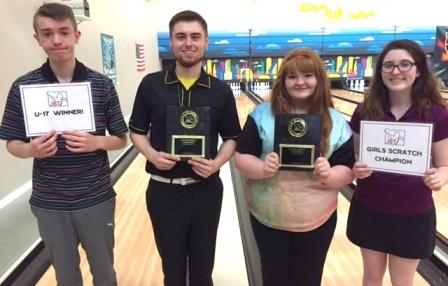 champs Ryan Nikolas & Olivia Kolppa with U17 and Girls winners Jacob Mullen and Reagan Lorey
Ryan Nikolas and Olivia Kollpa captured JBT titles in exciting action at Spin Alley in Shoreline.
Kelsey Abrahamsen, who already had an exciting day, running the front nine strikes twice and finishing with 299 on the second attempt, began the scratch division stepladder finals with a 233-177 win over Aidghan Ziegler. Jake Mullen then took advantage of the day's 'endless tenth' format to outstrike Abrahamsen 237-225 in round two. Mullen, who was under the weather, was somehow up to the task again, putting an endless tenth win on Tyler Boe to advance to the title game.
Top seed Ryan Nikolas was as steady as always, taking over the lead with a big final game. Mullen used a lot of energy to get through the previous matches, and finally slowed down in the finale. He did strike on his last shot to trigger one more endless tenth attempt, but it would take seven in a row against Nikolas' solid 238 effort. Jake was able to get one strike, but when the second shot didn't fall, Ryan locked up the 14th win of his JBT career, extending his lead in the season points race in the process.
Hunter Bower began a climb up the handicap ladder with a 222-208 win over Tyler DeLorm. Bower then beat first-time JBT bowler Thomas Harpring 228-213. Defending Bowler of the Year Payton Edwards then stopped Bower 234-190 to advance to the title game.
Olivia Kolppa had been trying to break through for a top 5 finish, and finally did so in style here by earning the top seed. Edwards, meanwhile, was trying to finally break through for a title, having finished runner-up four previous times. The match came down to the tenth frame, and when Payton didn;t get the strike he needed, Kolppa notched her first career JBT title with the 221-214 win.
Mullen was consoled with a win over Edwards for the day's U17 title, while Kelsey's outstanding day finished with a but more frustration, as Regan Lorey defeated her for the first Girls Scratch win of her JBT career.
Thanks to Spin Alley for hosting our Tour for the first time. Want in on all the fun for all ages and averages? Just check out our schedule and come on down!
Spin Alley- final results and scholarship winners
2/11/2017
Scratch Division
rank
bowler
prize
1
Ryan Nikolas
$307
2
Jake Mullen
$125
3
Tyler Boe
$143
4
Kelsey Abrahamsen
$50
5
Aidghan Ziegler
$30
6
Collins Davis
$30
7
Daniel Rutter
8
Andy Herrmann
$12
9
Tommie McNeal
10
Ryan DeFazio
11
Kris Tomer
12
Elisa Couch
13
Kyle Jonson
14
Michael Creel
15
Tyler Higstrom
16
AJ Schock
17
Andi Valdez-Hicks
18
Dominic Flataker
19
Collin Young
20
Brian DeLuisa-Anderson
21
Isaac Richardson
22
Alana Brown
Handicap Division
1
Olivia Kolppa
$224
2
Payton Edwards
$136
3
Hunter Bower
$60
4
Thomas Harpring
$50
5
Tyler DeLorm
$40
6
Bradley Baltazar
$68
7
Michael Strothman
8
Natasha Richardson
$5
9
Trevor Born
10
Reagan Lorey
11
Tyler Coates
12
WendyJo LaTurner
13
Evan Smith
14
Vincent Oberto
15
Amber Sparks
16
Hannah Abney
$14
17
Colt Jance
18
Andrew Martin
19
Cosmo Castellano
20
Emma Waldroup
21
Alejandro Moser-Hernandez
22
Alexa Lanning
$10
23
Madison Bash
24
Jacob Frazier
25
Lohrghan Ziegler
26
Bailey Peters
27
Bryan Zeutenhorst
28
Tori Camp
29
Lailani Wallin
30
Hilary Zuniga
High Games
Scratch
Handicap
1
Abrahamsen 299
LaTirner 309
2
Mullen 289
Bower 280
3
Boe 278
Kolppa 275
4
A Ziegler 277
A Martin 267
5
Boe 276
Lorey 266
Girls scratch side event
1
Abrahamsen +32
2
Lorey +12*
3
E Couch -19
4
Kolppa -28
5
LaTurner -86
U-17 scratch side event
1
J Mullen +235*
2
Edwards +104
3
A Ziegler +27
4
Bower +15
5
Coates +10
Round Leaders
Scratch
Handicap
1
Boe
LaTurner
2
Mullen
R Lorey
3
Mullen
Edwards
4
Mullen
Edwards
5
Mullen
Edwards
6
Boe
Edwards
7
Boe
Edwards
8
Nikolas
Edwards
TOTAL AWARDED THIS EVENT: $1,313