SPIN ALLEY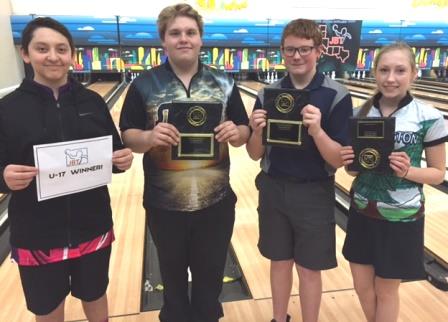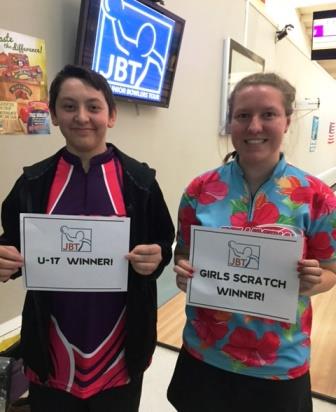 champs Andy Herrmann & Payton Edwards with U17 champ Jacob Frazier and handicap runner-up Madison Bash; Frazier & girls champ AJ Schock
Andy Herrmann and Payton Edwards each scored major breakthroughs in capturing JBT titles in exciting action at Shoreline's Spin Alley.
The tough Rome pattern challenged bowlers in both divisions. AJ Schock was the leader after seven games in the nervewracking 'super survivor' format, but had the low game in game eight, to bow out along with the low overall total, fellow female talent Kelsey Abrahamsen. That left Andy Herrmann and Tyler Boe standing, and the final game stayed close throughout. Needing to double in the tenth to win, Boe's first shot left a 4-pin, and Herrmann finally claimed a long sought after first scratch JBT title, to go along with two handicap division victories. Boe did have one earlier highlight, getting a most unusual 5-count to win the '21' jackpot and a quick $100 bonus!
The handicap division was carved down to three bowlers after six rounds, and the ensuing penultimate game was as close as it could be, with Madison Bash's 200 and Payton Edwards' 198 escaping from Natasha Richardson's 194, advancing Madison and Payton to the title game.
Bash was looking for her first career singles title, while Edwards suffered his fifth runner-up finish without a win just the day before. He bounced back brilliantly by getting to the title game again, and this time pulled away in the late frames, finally capturing his first JBT title with a 233-188 win over Bash.
Kelsey and AJ would meet again in the Girls Scratch finals, with Schock coming away with the win, while Kelsey's runner-up finish completed a super strong weekend for her.
Jacob Frazier won his first U17 event with a win over Jake Mullen in that title match.
Thanks to the team at Spin Alley for tireless work getting the center ready to host its first event of this magnitude ever. Want in on all the fun and awards for all ages and averages? Just check out our schedule and come on down!
Spin Alley- final results and scholarship winners
2/12/2017
Scratch Division
rank
bowler
prize
1
Andy Herrmann
$250
2
Tyler Boe
$225
3
Kelsey Abrahamsen
$119
3
AJ Schock
$75
5
Collins Davis
$50
5
Ryan DeFazio
$79
7
Michael Creel
8
Collin Young
$15
9
Jake Mullen
$10
10
Elisa Couch
11
Tyler Hogstrom
12
Kyle Jonson
13
Brian DeLuisa-Anderson
14
Isaac Richardson
15
Aidghan Ziegler
16
Tommie McNeal
17
Kris Tomer
18
Dominic Flataker
Handicap Division
1
Payton Edwards
$200
2
Madison Bash
$100
3
Natasha Richardson
$60
4
Vincent Oberto
$60
5
Michael Strothman
$40
6
Paul Rosales
$85
7
Andi Valdez-Hicks
8
Jacob Frazier
9
Evan Smith
$30
10
Reagan Lorey
11
Olivia Kolppa
$15
12
Tyler DeLorm
13
Tyler Coates
14
Lohrghan Ziegler
15
Hannah Abney
16
Cosmo Castellano
17
Harmony LaTurner
18
Amber Sparks
19
Jonathan Lorey
20
Hilary Zuniga
21
Alexa Lanning
22
Colt Jance
$29
23
Alana Brown
24
Bradley Baltazar
$29
25
Lailani Wallin
26
Bailey Peters
27
Hunter Bower
$5
28
Brittany Bland
29
Alejandro Moser-Hernandez
30
WendyJo LaTurner
31
Andrew Martin
32
Bryan Zeutenhorst
33
Spencer Dessart
High Games
Scratch
Handicap
1
Schock 268
Edwards 285
2
Herrmann 246
Edwards 247
3
Boe 246
Oberto 247
4
Schock 242
N Richardson 238
5
Abrahamsen 237
N Richardson 237
Girls scratch side event
1
Abrahamsen +7
2
Schock -45
3
Lorey -96
4
Couch -105
5
Bash -113
U-17 scratch side event
1
Mullen -56
2
Frazier -94*
3
Lorey -96
4
Bash -113
5
DeLuisa-Anderson -134
Round Leaders
Scratch
Handicap
1
Boe
Oberto
2
Davis
Bash
3
Boe
Bash
4
Boe
Bash
5
Abrahamsen-Boe
Bash
TOTAL AWARDED THIS EVENT: $1,431