STARLITE LANES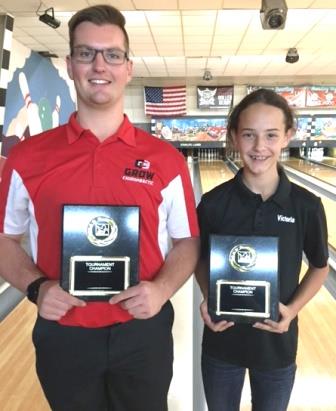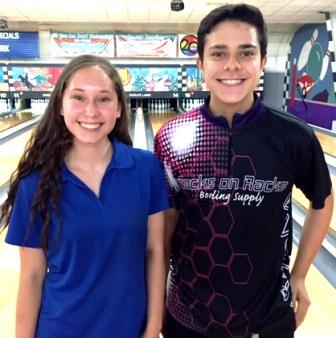 champs Harley Sweigart & Victoria Potter; girls champ Stefanny Toala & U-17 champ Jerod Walker
Harley Sweigart remained on a red-hot early season roll, while Victoria Potter claimed victory for the first time, in the season-opener of the 21st season of Arizona Conference JBT action at Flagstaff's Starlite Lanes.
After five games, bowlers competed in head to head matchplay. Last year's All-Conference Bowler of the Year Cortez Schenck roared to the top seed, but it's been one of his contenders, Harley Sweigart, who has gotten off to the best start this season, winning in New Mexico and knocking out Schenck here in round two. In his semifinal match, he went up against tough ASU bowler Russ Oviatt, and was brilliant in running the first eleven strikes before a ringing 7-pin gave him a 299-187 win. In the other semi, Kyle Duster took out another Sun Devil, Matthew Zweig, 223-214, to set up the title match.
Duster could not get lined up on the left lane in the title game, while after a few early 7-pins Sweigart started striking again, and the 247-208 final score was good for the 15th title of his excellent JBT career.
In the handicap division, Ryan Zent had a great qualifying round to grab the top seed, but #8 Josh Grissom upset him in the second round. Grissom was stopped by Ryan Perry 268-212 in the semifinals. Veronica Potter, who has been steadily improving, advanced through Josh Mabry and Silas Phillips to face Perry for the title. In the finale, Potter remained steady while Ryan was unable to find the line on the championship pair, and the 211-151 result was good for the first title of Veronica's JBT career.
Stefanny Toala defeated Abby Franklin for the first girls scratch title of the new AZ season, while Jerod Walker beat his friend Cristian Roque 258-196 for the first win in the new U17 side event.
Big thanks to Ron Gatto and his team at Starlite for another great job hosting our Tour. Want in on all the fun for all ages and averages? Just check out our schedule and come on out to the next JBT event!
Starlite Lanes- final results and scholarship winners
9/17/2016
Scratch Division
rank
bowler
prize
1
Harley Sweigart
$292
2
Kyle Duster
$125
3
Russ Oviatt
$75
4
Matt Zweig
$50
5
Cortez Schenck
$227
6
Carson Opela
7
Dante Rohe
8
Keith Fung
$28
9
Zack Long
10
Sergio Torres
11
Nick Devlin
$14
12
Joshua Mabry
$5
13
Austin Muldoon
14
Kyle Reed
15
Cristian Roque
16
Jerod Walker
$15
17
Kyle Gilbert
18
John Newton
19
Josh Demick
20
Stefanny Toala
21
Justin Worthington
$28
22
Max Polhill
23
Mathew Adragna
24
Josh Fearing
25
Zach Rapp
Handicap Division
1
Victoria Potter
$200
2
Ryan Perry
$100
3
Silas Phillips
$60
4
Joshua Grissom
$45
5
Ryan Zent
$167
6
Sarah Halligan
$20
7
Jadeyn Mabry
8
Destiny Johnson
$24
9
Mark Sauve
$48
10
Abby Franklin
11
Seth Krich
$12
12
Sebastian Polhill
13
Madison Holman
14
Shawn Seng Jr
15
Phillip Sauve
$10
16
Corbin Hirsch
$24
17
Tyler Hedges
$5
18
Emily Frerichs
19
Brittany Bland
20
Elijah Melchor
21
Cody Graham
22
Kyle Perry
23
Skyler Yazzie
24
Hayden Hull
25
Jennifer Peterson
26
Deo Benard
27
William Robbins
28
Clifford Robbins
29
Alex Seng
30
CJ Todeschi
31
Kyle Lawrence
32
Jerry Moreno
33
Andrew Thomas
Qualifying Leaders
Scratch
Handicap
1
Schenck +149
Zent +145
2
Oviatt +146
Halligan +103
3
Zweig +144
R Perry +94
High Games
Scratch
Handicap
1
Sweigart 299
Potter 282
2
Zweig 269
Potter 272
3
Muldoon 267
R Perry 268
4
Zweig 258
Hedges 268
5
Oviatt 256
Graham 258
Girls Scratch side event
1
Franklin -93
2
Toala -101*
3
Johnson -122
4
Bland -165
5
Peterson -181
U-17 scratch side event
1
Roque -67
2
Walker -77*
3
Franklin -93
4
Zent -100
5
Toala -101
Round Leaders
Scratch
Handicap
1
Zweig
Potter
2
Zweig
R Perry
3
Zweig
R Perry
4
Zweig
Zent
5
Schenck
Zent
TOTAL AWARDED THIS EVENT: $1,574