STARLITE LANES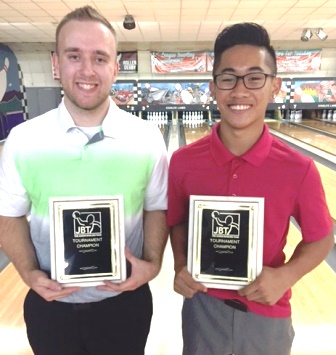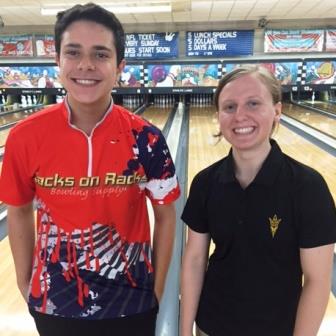 champs Nick Devlin & Alexander Seng; U17 and girls winners Jerod Walker & Emily Frerichs
Nick Devlin and Alexander Seng captured JBT titles in exciting Arizona Conference action at Starlite Lanes in beautiful Flagstaff.
Devlin led much of the day but a bad final game meant he had to start from the bottom of the stepladder. Things started well with a 223-194 win over Matthew Zweig. In match two, he struck on his fill ball for a 181-179 grind-out win over Russ Oviatt to get to the title match.
New Mexico bowler Carson Opela was outstanding in claiming the #1 seed for the stepladder finals for the first time, and he and Devlin battled in a low scoring but exciting match. In the end, Devlin snuck by for a 190-185 win, earning the 15th title of his JBT career, matching Harley Sweigart's milestone of the day before.
Ryan Perry, the runner-up the day before, began the handicap division stepladder finals with a 238-208 win over first time finalist Shawn Seng Jr. Shawn's brother Alexander was up next, and he avenged the family with a 233-208 win to advance to the title match.
9 year-old Kendall Bollea has been knocking on the door of a JBT win, and was terrific in gaining the top seed here. However, Seng came up with a massive 255 scratch game for the high handicap game of the day in a 283-200 win over Bollea, good for the first title of his JBT career.
Emily Frerichs won her first girls scratch event with a win over Destiny Johnson. Johnson was also the #2 qualifier for the U17 scratch event, but Jerod Walker defeated her in that final, sweeping the weekend in that side event.
Thanks as always to Ron Gatto and the team at Starlite for a terrific hosting job. Want in on all teh fun for all ages and averages that JBT offers? Just check out our schedule and come on down!
Starlite Lanes- final results and scholarship winners
9/18/2016
Scratch Division
rank
bowler
prize
1
Nick Devlin
$271
2
Carson Opela
$125
3
Russ Oviatt
$75
4
Matt Zweig
$50
5
Cortez Schenck
$30
6
Jerod Walker
7
Harley Sweigart
$14
8
Kyle Gilbert
$43
9
Kyle Duster
10
Sergio Torres
11
Kyle Reed
$22
12
Keith Fung
13
Cristian Roque
14
Austin Muloddn
15
Dante Rohe
16
Josh Demick
17
Zack Long
18
John Newton
$50
19
Mathew Adragna
20
Justin Worthington
21
Max Polhill
Handicap Division
1
Alexander Seng
$200
2
Kendall Bollea
$136
3
Ryan Perry
$50
4
Shawn Seng Jr
$30
5
Destiny Johnson
$20
6
Cody Graham
7
Andrew Thomas
8
Kyle Lawrence
$12
9
Ryan Zent
$12
10
Clifford Robbins
11
Emily Frerichs
12
Sebastian Polhill
13
Abby Franklin
$5
14
Corbin Hirsch
15
Jennifer Peterson
16
Phillip Sauve
$12
17
Mark Sauve
18
Brandon DeLucas
19
CJ Todeschi
20
Tyler Hedges
21
Joshua Grissom
22
William Robbins
23
Silas Phillips
$5
24
Kyle Perry
25
Brittany Bland
26
Elijah Melchor
27
Tyler Scott
Qualifying Leaders
Scratch
Handicap
1
Devlin +128
S Seng +148
2
Opela +127
Johnson +135
3
Torres +77
Bollea +127
High Games
Scratch
Handicap
1
Torres 279
A Seng 283
2
Devlin 257
Johnson 276
3
Opela 257
Zent 258
4
Walker 257
A Seng 257
5
Oviatt 256
A Thomas 251
Girls Scratch side event
1
Johnson -15
2
Frerichs -83*
3
Franklin -104
4
Peterson -143
5
Bland -242
U-17 scratch side event
1
Walker +45*
2
Johnson -15
3
Roque -17
4
S Seng -30
5
A Seng -60
Round Leaders
Scratch
Handicap
1
Devlin
Bollea
2
Devlin
A Thomas
3
Opela
Johnson
4
Opela
S Seng
5
Devlin
S Seng
6
Opela
Bollea
7
Opela
Bollea
TOTAL AWARDED THIS EVENT: $1,187