STRIKE ZONE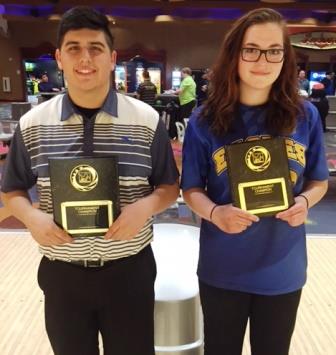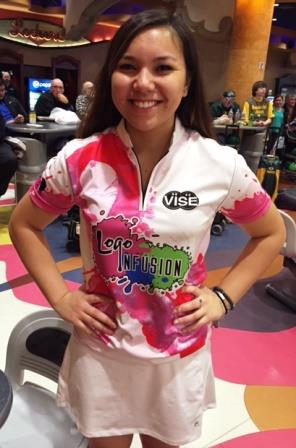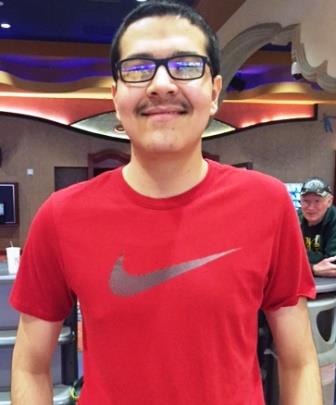 champs Sergio Torres & Abigail Harling; Girls winner Leah Glazer; U17 winner Kyle Wilson
Sergio Torres swept the weekend again, while Abigail Harling made her JBT debut a big success, in exciting Mojave Conference action at Strike Zone in Henderson.
TJ Rock escaped round one of the scratch division stepladder finals with a 196-195 win over Skyler McGowan. Rock, despite being down 3-1 in available 'mulligans', then still got by Joe Gerencser 218-193. Torres then defeated Rock 236-202 to advance to the title match for the second consecutive day.
Top seed Cortez Schenck took over the lead from Torres, and had all four of his mulligans still to use, to Sergio's two. Both respecting the others' ability to strike, they burnt through most of these do-overs in the first part of the match. Eventually, a solid-10 on Schenck's final mulligan proved to be the final nail in the coffin, and Torres pulled away for a 256-228 win. It's the 5th win in his career, and second sweep of a Mojave weekend this season, having pulled it off at Sam's Town as well.
David Jepsen broke through for his first career top five finish, and capitalized on that with a 225-212 win over Kyle Wilson to begin the handicap stepladder finals. Jepsen then got by Tyler Hedges 212-200, before Harling stopped him with a 237-222 semifinal win to advance to the title match.
William Robbins may be an Arizona resident, but he clearly loves bowling in Vegas, as the 2014 Main Event champ has most of is JBT success here, including a blistering top-seed performance here. However, newcomer Harling remained poised in the title game, while Robbins suddenly found carry trouble. Abigail's resulting 214-191 win was good for the first title of her JBT career, in her debut event!
Leah Glazer fired a 269 game to leap into the Girls Scratch final, and consolidated that with a 194-166 win over Kaylee Am-Khong for the win in that division. The two fifth place finishers in the main tournament, Wilson and McGowan, then went at it in the U17 final, with Kyle doubling in the tenth for a 188-180 win there.
Tim Hill became the first bowler to win our new "21" game twice, rolling a Vegas-worthy 7-7-7 for the magic number and another $100 bonus prize.
Big thanks to Strike Zone for hosting our event- want in on all the fun for all ages? Just check out our schedule and come on down!
Strike Zone- final results and scholarship winners
1/22/2017
Scratch Division
rank
bowler
prize
1
Sergio Torres
$265
2
Cortez Schenck
$185
3
TJ Rock
$75
4
Joe Grencser
$50
5
Skylar McGowan
$25
6
Leah Glazer
7
Harley Sweigart
8
Tim Hill
$105
9
Cristian Roque
10
Zack Long
$14
11
Kyle Gilbert
12
Chris Tucker
13
Cerell Cardines
14
Brendan Lindsey
15
Marco Lerma
16
Dominic Olivares
17
Elijah Lomotan
Handicap Division
1
Abigail Harling
$200
2
William Robbins
$100
3
David Jepen
$70
4
Tyler Hedges
$40
5
Kyle Wilson
$30
6
Chris Hill
$20
7
Brett McEachern
8
Kaylee Am-Khong
9
Emi Leong
$15
10
Ryland Gregorich
11
Clifford Robbins
12
Phillip Sauve
$73
13
Kyle Rendon
14
Jopfel Gafate
15
Ranelle Ulanday
$29
16
Leanna Orlando
17
Alayna Purdy
18
Mark Sauve
19
Alyssa Tucker
20
Deo Benard
21
Devyn Patalina
22
April McDonnell
23
Rieley Ulanday
24
Sam Espiritu
25
Noel Gregorich
26
Brandon Duffy
27
Nolan Am-Khong
28
Samantha Conti
29
Silas Phillips
30
Sonny Geronimo Jr
31
Jason Aguon
High Games
Scratch
Handicap
1
Torres 279
W Robbins 283
2
Schenck 277
K Am-Khong 269
3
Glazer 269
W Robbins 264
4
Gerencser 268
Emi Leong 264
5
Torres 256
Hedges 256
High Female
1
Glazer +63*
2
K Am-Khong -50
3
Emi Leong -95
4
A Tucker -95
5
McDonnell -130
Qualifying Leaders
Scratch
Handicap
1
Schenck +144
W Robbins +133
2
Torres +122
K Wilson +113
3
Glazer +63
A Harling +85
U-17
1
K Wilson +55*
2
McGowan +23
3
Rock -7
4
Roque -26
5
Rendon -26
Round Leaders
Scratch
Handicap
1
Torres
Harling
2
Torres
Hedges
3
Torres
Wilson
4
Schenck
P Sauve
5
Schenck
W Robbins
6
Schenck
Wilson
7
Schenck
W Robbins
8
Schenck
W Robbins
Total Awarded This Event: $1,296