SUNCOAST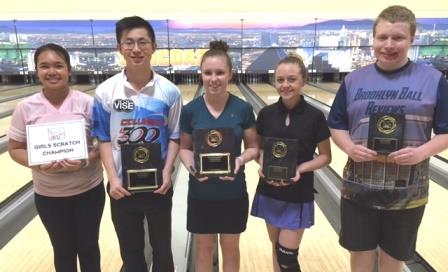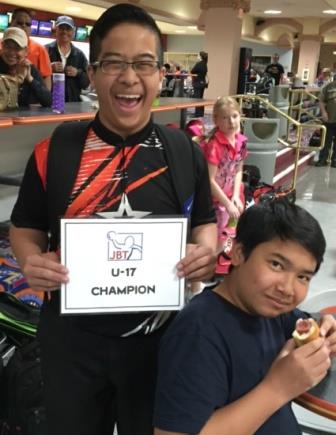 Girls champ Kaylee Am-Khong, scratch champ Wesley Low, handicap champ Alyssa Tucker, handicap runners-up Destiny Johnson & William Robbins, U17 champ Cerell Cardines, and a hungry Nolan Am-Khong
Wesley Low and Alyssa Tucker escaped the 'rising tide' to capture JBT titles in exciting Mojave Conference action at Suncoast Bowling Center in Las Vegas.
In the rising tide format, and increasing number of bowlers with the lowest overall pinfall totals are eliminated round by round until the rising tide whisks all but the champion away. Low had a prohibitive lead when the scratch division got down to three bowlers, but not an insurmountable one with the 50-pin'lifeline' bonus available to the high game. Joe Gerencser, coming off a 259 the game before, made it very interesting, stringing strikes while Low struggled, but a missed spare from Gerencser gave Wesley the room he needed. Low struck out from there, earning the 25th title of his fantastic JBT career. Chris tucker finished third, Russ Oviatt 4th, Nick Devlin 5th, and Cerell Cardines 6th.
The handicap division was reduced from 18 down to three in the rising tide rounds, with Destiny Johnson enjoying a 50-pin lead over William Robbins and an 80-pin margin over Alyssa Tucker. Robbins came out firing strikes while Destiny struggled a bit, as her 189 dropped her to +193. Robbins rolled a fine 234 to appear to lock things up, but Tucker responded with a 10th frame double to outscore Robbins with 236, and the 60-pin lifeline bonus that came with it pushed her over the top to earn her first career JBT title. Early round leader Noel Gregorich finished in fourth, William's brother Clifford came in fifth, and David Jepsen stayed afloat until 6th place.
Cardines kept his roll going in the U17 side event, beating Dominic Olivares to earn the win and take over the U17 points lead. Kaylee Am-Khong officially qualified for the Girls Scratch TPC with a win over April McDonnell, her third of the season.
Thanks to the team at Suncoast for a great job hosting a busy weekend. Want in on all this fun for all ages and all averages? Just check out the JBT schedule at our website and come on down!
Suncoast- final results and scholarship winners
3/19/2017
Scratch Division
rank
bowler
prize
1
Wesley Low
$250
2
Joe Gerencser
$125
3
Chris Tucker
$75
4
Russ Oviatt
$50
5
Nick Devlin
$89
6
Cerell Cardines
$45
7
Teagan Smale
$14
8
Brandon Rouse
9
Cortez Schenck
10
Sergio Torres
11
Dominic Olivares
12
Harley Sweigart
13
Zack Long
14
Skyler McGowan
15
Donovan Koff
16
John Newton
17
Andrew Guba
18
Josh Demick
19
Kyle Reed
$5
20
Leah Glazer
21
Dante Rohe
Handicap Division
1
Alyssa Tucker
$205
2
Destiny Johnson
$100
3
William Robbins
$80
4
Noel Gregorich
$50
5
Clifford Robbins
$40
6
David Jepsen
$30
7
Jairo DeAlba
$20
8
Kaylee Am-Khong
$20
9
Kendall Bollea
$15
10
Devyn Patalina
11
Brandon Duffy
12
Silas Phillips
13
Mark Sauve
$44
14
Ruben Mendoza
15
Connor Steelmon-Hill
$45
16
Phillip Sauve
17
Brett McEachern
18
Tanner Ferguson
19
Toby Ferguson
20
David Galvan
21
Tyler Hedges
$15
22
Sam Conti
$15
23
Nolan Am-Khong
24
Abigail Harling
25
Ryland Gregorich
26
Jopfel Gafate
27
April McDonnell
28
Kyle Wilson
29
Jason Aguon
30
Josue DeAlba
31
Darren Fletcher
32
Deo Benard
33
Beatrix Cacao
34
Sophia Ferguson
35
Alexiz Bustamante
36
Tyler Castronova
37
Caitlin Farr
38
Zachary Gonzalez
39
Kyle Rendon
High Games
Scratch
Handicap
1
Devlin 269
N Gregorich 257
2
Gerencser259
D Johnson 257
3
B Rouse 258
Glavan 255
4
Low 255
W Robbins 249
5
Oviatt 246
W Robbins 247
High Female
1
Am-Khong -65*
2
McDonnell -132
3
A Tucker -148
4
D Johnson -163
5
Glazer -184
Qualifying Leaders
Scratch
Handicap
1
Low +84
N Gregorich +88
2
Devlin +42
W Robbins +69
3
Oviatt +21
A Tucker +32
U-17
1
Cardines +2*
2
Olivares -59
3
K Am-Khong -65
4
McGowan -70
5
Guba -90
Round Leaders
Scratch
Handicap
1
Oviatt
Duffy
2
Oviatt
N Gregorich
3
Devlin
N Gregorich
4
Devlin
N Gregorich
5
Low
N Gregorich
Total Awarded This Event: $1,332